A CAD professional or formerly known as a draughtsperson creates technical drawings and plans – also known as draughting – for products and parts used in the engineering, construction, and manufacturing industries. You will be working on the CAD software. There are various skills and knowledge which you need to develop to become a successful CAD professional. Moreover, CAD is one of those skills that can open various opportunities. It is widely desired by employers & loved by students who use it for various assignments and projects. Hobbyists utilize the potential of CAD to take their hobbies to next level.
Roles and Responsibilities
There are various responsibilities on the shoulder of a CAD professional. To begin with, you will be responsible for working with architects and design engineers to understand the requirements of their initial designs and turn them into accurate and detailed technical drawings in 2D and 3D models. Moreover, being creative and full of designs is one of the most important skills required to become a successful CAD professional. To add on, you will be building projects starting from estimating cost and feasibility to creating the blueprints for manufacturing and instructions for installation.
Vskills Certified CAD Professional : Exam Overview
With the Vskills CAD Professional certification, you will gain the required knowledge and skills. Also, It enhances the candidate's thinking and analytic ability. To add on, you will be able to create and design the technology products & architects also can use it to design skyscrapers & houses. Moreover, if you are an artist you will be able to design jewelry, furniture, or sculptures on CAD.
Benefits of the Certification
A CAD professional is a person who loves and enjoys creative work. It will open many career opportunities for hobbyists, engineers, architects, and artists. Also, animators can use it to create wonderful Computer Generated special effects & characters you see in movies & video game designers use CAD to create astonishing scenes & characters in for games.
The Vskills CAD Professional Certification will help you get job opportunities in big companies, such as Bosch, Atlas Copco, TCS, HCL, and Adecco.
Vskills being India's largest certification provider gives candidates access to top exams as well as provides after exam benefits. This includes:
Become a Government Certified Professional
The Certification is valid for life.
Candidates will get lifelong e-learning access.
Access to free Practice Tests.
Test Details
Exam Duration: 60 minutes
Number  of questions: 50
Maximum marks: 50
Passing marks: 25 (50%).
There is NO negative marking in this module
It is an online examination.
Career as a CAD Designer
CAD Designer are people who enjoy tinkering and creating. Fortunately, CAD Designers may select from a number of disciplines, such as architecture or engineering, each with its own set of income prospects and employment development statistics. Let us know about Career as a CAD Designer!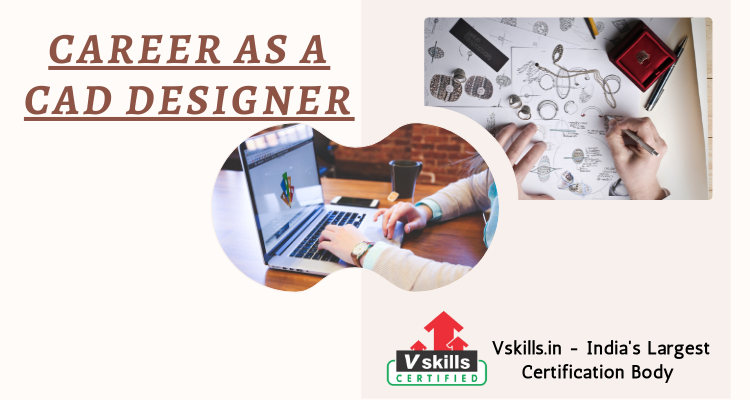 Course Outline
Introduction to CAD
AutoCAD User Interface
AutoCAD Drawing File
CAD Work Process
Precision Tools
Drawing Views
CAD Drawing
Objects
Blocks
3D Views
3D Models
Shading and Rendering
Annotate Drawings
Plot, Publish and Share Drawings
Preparatory Guide for Vskills Certified CAD Professional
For preparing for any examination, it is recommended to follow a structure for preparation. Here we are providing you with the best learning resources to qualify for the exam:
Exam Objectives
It is important to know the course outline and guide. After you've gone through the basic exam details. It's time to hit the exam guide. For the CAD Professional Certification, here are exam objectives:
Introduction to CAD
AutoCAD User Interface
AutoCAD Drawing File
CAD Work Process
Precision Tools
Drawing Views
CAD Drawing
Objects
Blocks
3D Views
3D Models
Shading and Rendering
Annotate Drawings
Plot, Publish and Share Drawings
Refer: Vskills CAD Professional Certification Broucher
Vskills E-Learning
For the Vskills CAD professional examination, our team has provided online study material. Also, this online material for this is regularly updated. Furthermore, e-learning is bundled with hard copy material which helps candidates to improve and update the learning curve for superior and better opportunities
Refer: Vskills CAD Professional Certification Sample Chapter
Reference Books
Books are man's best friend. It is important to prepare for the right books. To ease out your hunt for books we have provided a list of books which you can refer to:
AutoCAD Release 12: The Professional Reference by Rusty Gesner
AutoCAD Plant 3D 2018 for Designers By Prof. Sham Tickoo
Engineering Graphics Essentials with AutoCAD 2019 Instruction
Evaluate yourself with Practice Test
It is very important to practice what you have learned so that you are in a position to analyze your practice, by practicing you will be able to improve your answering skills that will result in saving a lot of time. Moreover, the best way to start doing practice tests is after completing one full topic as this will work as a revision part for you.
Job Interview Questions
Prepare for your upcoming job interview with Vskills latest online interview questions, these questions will help beginners and professionals. Checkout now !