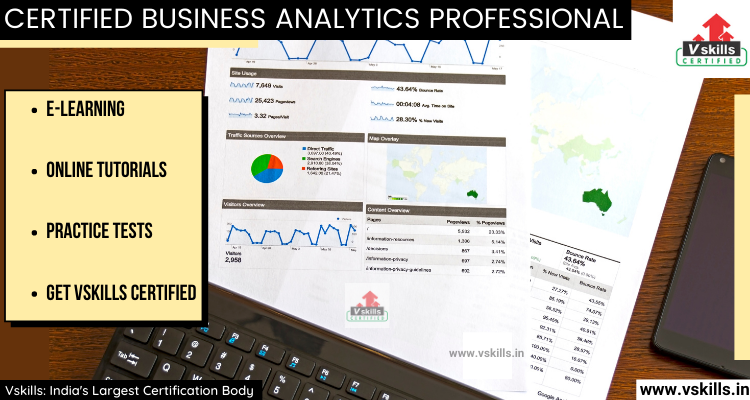 A Business Analytics professional helps in improving the competitiveness and performance of a company. They also determine the needs of an organization and provide a system based solutions for improving the efficiency levels to its optimum level. To know more, check the below tasks performed by Business Analyst Professionals.
Roles and Responsibilities
Business Analyst Professional has skills to identify, define and document business objectives, problems, input and output requirements as well as levels of systems access.
They analyze the practicability and developing requirements for new systems including upgrades to existing systems.
Business Analyst Professional also provide surety for the system design as per the needs of the users. Moreover, they also help in developing a comprehensive change in management strategy for the court.
They also develop a training curriculum as well as conduct formal training sessions. And, they define and document customer business functions and processes
Lastly, they use their techniques to improve existing business processes and also identify the steps to support the implementation of new features.
Business Analytics Career Opportunities
Business Analytics is an important tool for modern businesses. This will teach you data analytics to avoid common pitfalls in a business & become a leader in business organizations and will help you earn a good fortune. Let us now look at the career opportunities for Business Analytics.
Vskills Certified Business Analytics Professional
Vskills Business Analytics Certification will help candidates to learn about data analytics and become a leader in business organizations. However, this certification will cover various topics that include decision models, statistics, probability, predictive modeling, data visualization, regression analysis, etc. Further, this will also cover concepts of forecasting, data mining, optimization, and decision analysis for enabling candidates to meet challenges related to analyzing business data. Vskills Business Analytics certification will help candidates to improve business performance using data, statistical analysis, quantitative analysis as well as predictive modeling. Candidates in this will also learn all the concepts of business analytics, it's application as well as will gain the skills to improve their performance.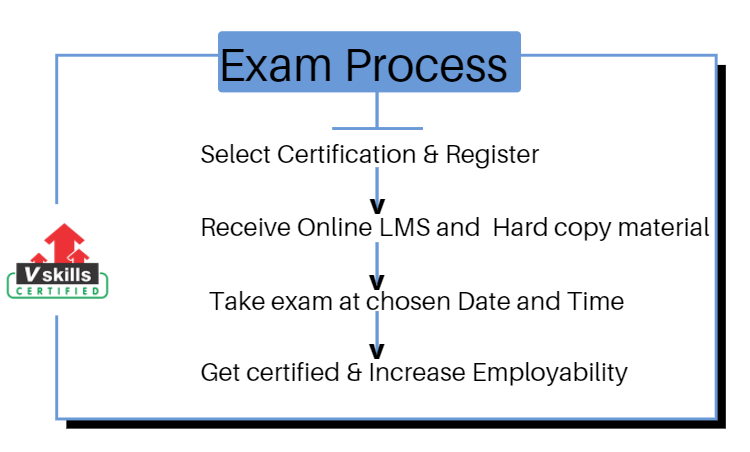 Vskills being India's largest certification providers gives candidates access to top exams as well as provides after exam benefits. This includes:
The certifications will have a Government verification tag.
The Certification is valid for life.
Candidates will get lifelong e-learning access.
Access to free Practice Tests.
Candidates will get tagged as 'Vskills Certified' On Monsterindia.com and 'Vskills Certified' On Shine Shine.com.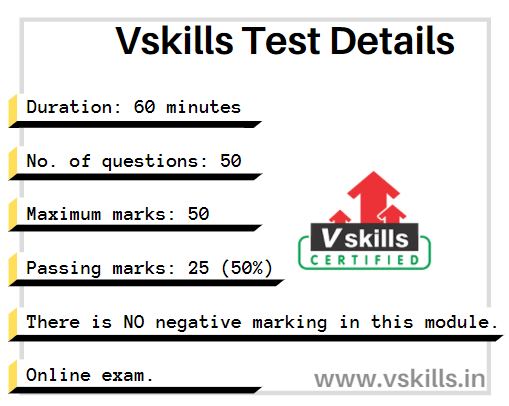 Course Outline for Certified Business Analytics Professional
Certified Business Analytics Professional covers the following topics –
Introduction
Analytics and Spreadsheets
Visualizing Data
Descriptive Statistical Measures
Probability Distributions
Sampling and Estimation
Statistical Inference
Predictive Modeling
Regression Analysis
Forecasting Techniques
Simulation and Risk Analysis
Data Mining
Linear Optimization
Integer Optimization
Nonlinear and Non-Smooth Optimization
Optimization Models with Uncertainty
Decision Analysis
R Programming Language
Preparation Guide for Vskills Certified Business Analytics Professional
Candidates before starting preparing for the should get all the exam-related resources so that they can start preparation in a proper manner. Moreover, doing this will not only help them understand things better but it will also help them to quickly complete the syllabus. Further, this will provide an advantage to better understand the concepts. However, in the Certified Business Analytics Professional exam preparation guide, we will discuss some of the most important resources to help you prepare well for the exam.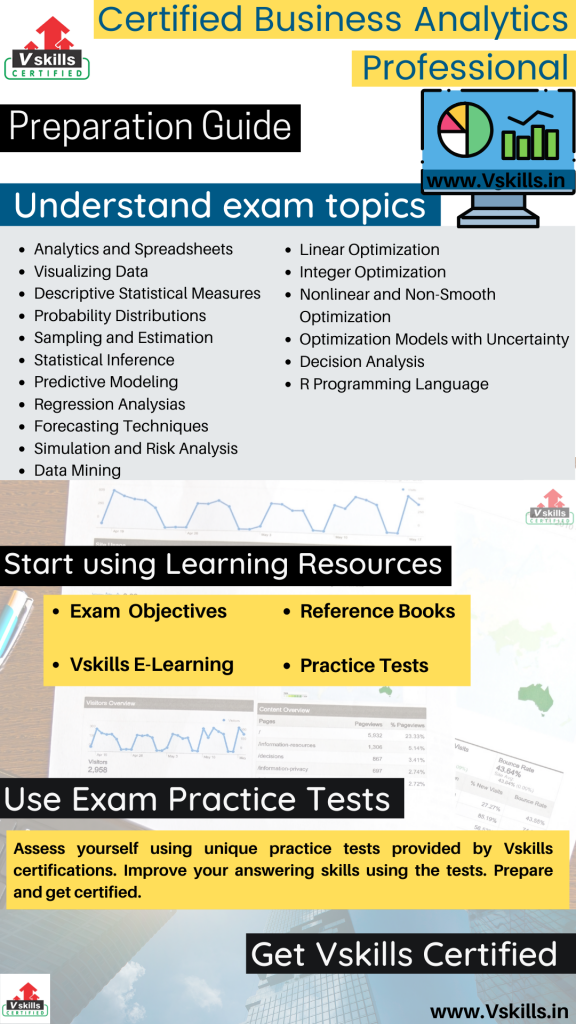 Refer Exam Objectives
Understanding exam objectives is essential for any exam as it provides a huge benefit to candidates during the preparation time. So, the first task should be to get all the exam-related details that include the important contents and its resources. Doing this will help candidates to understand things more accurately. For the Certified Business Analytics Professional topics include:
Analytics and Spreadsheets
Visualizing Data
Descriptive Statistical Measures
Probability Distributions
Sampling and Estimation
Statistical Inference
Predictive Modeling
Regression Analysis
Forecasting Techniques
Simulation and Risk Analysis
Data Mining
Linear Optimization
Integer Optimization
Nonlinear and Non-Smooth Optimization
Optimization Models with Uncertainty
Decision Analysis
R Programming Language

Vskills E-Learning
Vskills Certified Business Analytics Professional helps candidates to prepare for the exam using the online learning material for a lifetime. The online material for this is regularly updated. Moreover, the e-learning that is provided comes with hard copy material for helping candidates to improve and update the learning curve for getting better opportunities.
Refer: Certified Business Analytics Professional Sample Chapters
Books for Reference
While preparing reference books can provide an advantage to learn and understand things more accurately. For the Certified Business Analytics Professional exam, there are various books available which you can find online or in libraries. Some of the books are as follows:
Business Analytics: Data Analysis & Decision Making Book by S. Christian Albright and Wayne L. Winston
FUNDAMENTALS OF BUSINESS ANALYTICS Book by R. N. Prasad and Seema Acharya
Evaluate yourself with Practice Test
After completing the topics for the Certified Business Analytics Professional exam, candidates should start assessing using practice tests. Using practice tests will help them for better preparation. Moreover, it will provide an advantage to candidates as by examining and assessing with these tests they will know about their weak areas and improve them.

Job Interview Preparation
Here are the top job interview questions on business analytics, crack any typical job interview with our expert curated interview questions, checkout now !