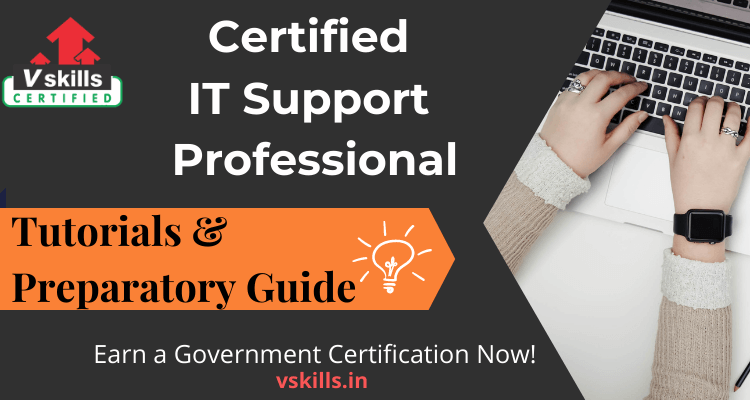 The overwhelming IT industry has gained momentum with utmost buzz in the past few years. In today's multidimensional world, which is constantly updating itself, professional certifications such as Certified IT Support Professional have a great significance. They act as a bridge for your career advancements. Additionally, they equip you with the industry relevant skills and validate your expertise.
Roles and Responsibilities
Certified IT Support Professional provide organizations with Information IT support to optimize their operational efficiency. They play a key role in maintaining the hardware and software of the firm and improving the IT systems. Moreover, they have the following responsibilities:
Primarily, installing and configuring computer hardware, software, systems, networks, printers and scanners
Secondly, monitoring and maintaining computer systems and networks
Then, responding in a timely manner to service issues and requests
Further, providing technical support across the company
Also, repairing and replacing equipment as necessary
Training more junior staff members
Moreover, Maintaining databases and ensuring system security.
Eventually, Keeping track of technological advancements and trends in IT support
Vskills Certified IT Support Professional Overview
Vskills Certified IT Support Professional strategize an organization's IT policy and provide support to their customers. Almost all the organisations need well trained and efficient IT support to grow and perform their functions effectively. This certification validates your organization and time management, stress management, self-analysis, self-promotion and professional development skills. They are responsible for performing IT support tasks such as keeping maintaining the systems and troubleshooting problems for smooth functioning of the organisation.
Why become a Certified IT Support Professional ?
The demand for Certified IT Support Professional has soared really high. This certification provides an opportunity for those who wish to work in an organization as an IT support professional. Moreover it is indented for candidates who wish to work in banks, schools, corporate, travel and tourism, hotel Industry etc. as IT support staff. Practically every business needs an IT support professional and this certification can enhance your visibility. Major recruiters include Tata Consultancy Services Ltd, Wipro, Tech Mahindra, Satyam, HCL, IBM services.
Vskills is India's largest certification providers. They provide candidates access to top exams as well as after exam benefits. Moreover Vskills certification guarantee the following benefits:
To begin with, the certifications will have a Government verification tag.
Then this certification is valid for life.
Also, you get Lifelong e-learning access.
Moreover, access to Free Practice Tests is also offerred
Further, you will get tagged as 'Vskills Certified' On Monsterindia.com and 'Vskills Certified' On Shine.com.
Exam Details
Exam Code: VS-1026
Duration: 60 minutes
No. of questions: 50
Maximum marks: 50
Passing marks: 25 (50%).
There is NO negative marking
This is an Online exam.
Exam Process
Course Outline: Certified IT Support Professional
This exam covers the following topics:
Preparatory Guide: Certified IT Support Professional
This much valued credential makes your academic records shine. Moreover, preparing for the same is not that easy. Access to the right tools and resources can help you prepare effectively. Here we provide you with the step by step preparatory guide to smoothen your journey for this exam
Step 1- Deeply Analyse the Exam Objectives
Now that you've reviewed the exam details regarding the exam. It's time to make sure that you are up to date with the Course Outline. The course outline provides descriptive details about the exam objectives. You should deeply analyse these exam objectives and have utmost clarity about them. The topics covered in this exam are:
Electronics basics
Computer Basics
Introducing Hardware
Chassis Or Cabinet
Motherboard
Processor
Memory
Storage Devices
Display Devices
Keyboard & Mouse
Printers
Peripherals Devices
Laptop
Operating System
Networking Basics
Step 2- Choose the Right Resources
Your resources determine how well you pass the exam. Therefore choosing your learning resources from authentic sources is of great importance. Given the wide variety available in the market it becomes difficult to make a wise choice. But don't worry as Vskills offers your its own official resources. You get lifetime access to E-Learning Study Material. Also, these resource are regularly updated to enrich your learning. Lean with Vskills Official Resources to pass the exam with flying colours.
Refer: Certified IT Support Professional Sample Chapter
Step 3- Books to your rescue
Preparation for any exam without books seems unreasonable and unproductive at the same time. You should refer the right books to gain in depth knowledge about the exam. You should choose relevant and credible books to enhance your learning. Further refer the following books to supplement your learning and preparations:
Firstly, Does IT Matter? Information Technology and the Corrosion of Competitive Advantage by Nicholas Carr
Scondly, The Soul of a New Machine by Tracy Kidder
Thirdly, The Art of Software Support :by Francoise Tourniaire, Richard Farrell
Step 4- Its time to Practice!
Lastly, practice tests can be one of the advantageous tools which can back you up for the exam. Practice or mock tests are somewhat similar to the actual exam. Moreover, the main aim of designing practice tests is to provide the candidate with the real exam environment. Thus, going through practice tests helps you find your strengths and iron out your weaknesses. They make you understand the areas you're lacking behind and work upon them. Most importantly, make sure that you are going through practice tests once you have gone through the whole syllabus. It will help you in your evaluating your performance as well as building your confidence. Lets self- evaluate with free practice test now!
Job Interview Preparations
Prepare for your upcoming job interview with our latest online interview questions. The questions are designed by experts to help you to brush up your knowledge.

Validate your skills and advance your career with the Certified IT Support Professional exam. Start your preparations now!