Print spool is the printer icon in notification area of taskbar in windows. It shows present printing jobs and all of the queued jobs. It is used to cancel any print job in any problem. Common troubleshooting steps are discussed and then for specific printer are taken.
Check for proper positioning of power and signal cables and if needed change sockets or cable.
Print a self-test page by usually holding down a button or buttons on the printer. If it prints correctly, so printer is working else problem with the printer. Check information on test page is correct as per printer configuration else upgrade firmware or problem with printer.
Check for cartridge or ribbon in the printer
Check for paper jam, enough paper to print, paper is correct to feed, tray or door is in proper position.
Check user guide or Web site for troubleshooting suggestions else take the printer to a certified repair shop.
Check for OS related problems as in windows they are shown in the device manager.
Connect and print from different PC.
Run diagnostic software provided by the printer manufacturer.
Print different file from the same or another application software.
Add more memory to the printer if spool errors are coming.
Remove and reinstall the printer drivers.
Some printers show error codes their LCD. Observe and check on website or manual
Check for any need of printer routine maintenance
Paper jamming involves removing of paper without jerking, but by pulling paper evenly with care.
Clean the printer.
Verify if economode to use less toner may be enabled.
Upgrade the computer's memory or the CPU if slow printing.
Poor paper quality affects print quality
Network or Shared Printer Troubleshooting
Check if printer or PC is powered off or offline.
Check for default printer selected by users on network.
Check printer's configuration and ping its IP address.
Change network cable for the printer.
Observe indicator lights on the printer network port.
Print a test page from PC with which printer is attached.
Laser Printers Troubleshooting
Faded or wavy printouts are poor prints usually due to low toner or any components error present in the toner cartridge thus, replace the toner cartridge.
Check for proper positioning and alignment of printer components.
Check with printing more sheets of paper.
White bands appear in the print is solved by redistributing toner supply or replacing the toner or corona wire
Spots in print appear due to faulty toner or laser drum.
Image distortion imprints come due to paper or waste deposit in printer
Problems with image drum or toner can result in ghost images being printed
Jam paper or broken parts make printer noisy
Inkjet Printer Troubleshooting
The nozzles of an inkjet printer become dry, when printer remains unused and during printing lines or dots may be absent
Check ink levels and also remove and reinstall cartridge as per printer's documentation
Clean nozzle if clogged as it result in poor or no printing
Bands appear imprints due to dust so clean the printer
DMP Printers Troubleshooting
Print ribbon should advance along with the carriage
Print head and plate spacing should be proper else adjust by connected levers
Print head should be cleaned by cotton if dirty which result in poor quality prints
Install New Toner

Open cover by notch (A) Put toner by its handle (A) Close cover
Remove Paper Jam Steps –

1. Remove toner 2. Remove paper 3. Put back toner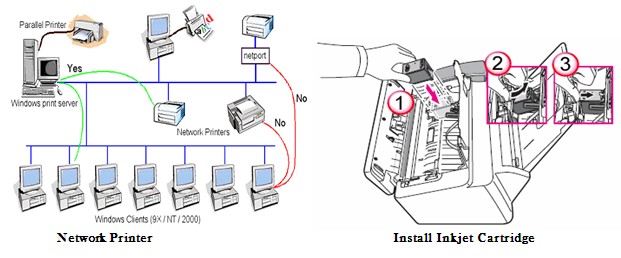 Apply for IT Support Certification
https://www.vskills.in/certification/certified-it-support-professional