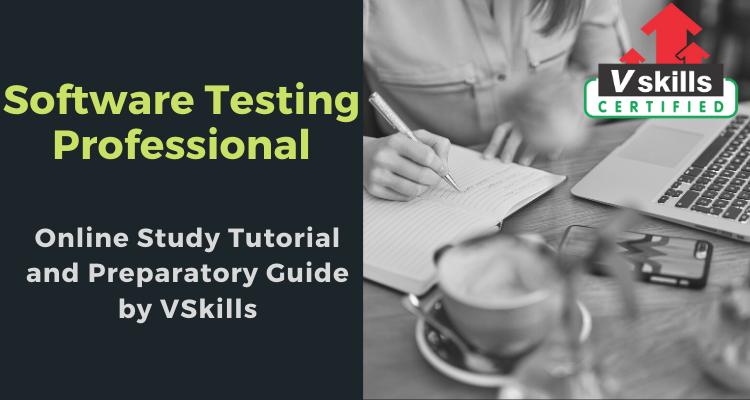 Software Testing certifications are widely renowned credential used to showcase the candidate's skills and expertise. Certifications prove that you are committed towards your development and growth and will prove to be an asset for the organization you are working for. Software Testing is the backbone of any IT product, Services Company. Industry size is about USD$13 billion globally and is one of the biggest recruiters and job creators around the world.
One needs to have specialization in the field in order to get hired. This exam will serve your purpose and make you a preferred candidate for the job. Let us start knowing about the details of the exam and then moving on to the study guide which will ultimately help you achieve your aim.
Why should you take Vskills Certified Software Testing Professional?
This certification is the right choice if you want to advance your career into this field. A number of career options have evolved in the testing industry. It is looked as a good professional career for many software professionals. For example, from being test engineer one can move to senior test engineer, test lead to test manager; else can become Quality Assurance lead, Quality Assurance Manager. Thus options available in the testing domain are huge.
There is always a demand for good performance testers who can analyze the performance test results, identify the bottlenecks and suggest tuning techniques. There are a lot of companies, specializing in software testing, open source and integration services. International job consultants also are constantly looking for Software Testing Professionals for overseas jobs. The skill is also greatly in demand in super specialized government projects.
Who should take this exam?
Software Testing is the backbone of any IT product, Services Company. Industry size is about USD$13 billion globally and is one of the biggest recruiters and job creators around the world. Software testing can be manual and automated. Any person with the knowledge of this domain is deemed to be fit for this certification.
Career Path in Software Testing
Software Testing is indispensable to provide a quality product without any bug or issue. There are many career options in this domain which can help you fetch a good job with handsome salary. Let us have a look at Career Path in Software Testing.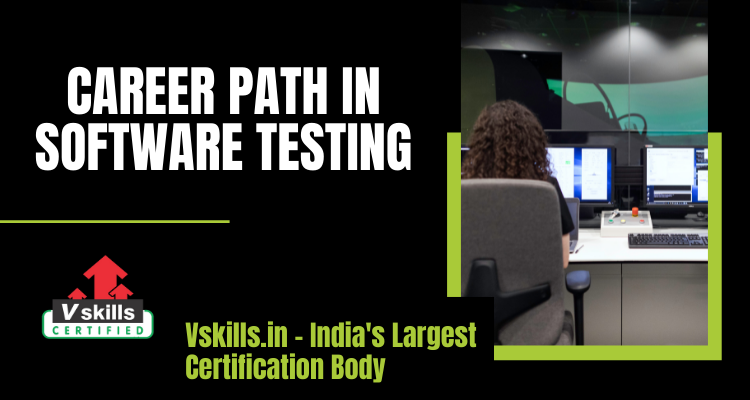 Benefits of Certification
Test Details
Duration: 60 minutes
No. of questions: 50
Maximum marks: 50, Passing marks: 25 (50%).
There is NO negative marking in this module.
Online exam.
Certification Process
Select Certification & Register
Receive a.) Online e Learning Access (LMS) b.) Hard copy – study material
Take exam online anywhere, anytime
Get certified & Increase Employability
Content Outline
Introduction & Overview
Software Testing Topics
White Box Testing
Black box testing
Unit Testing
Integration testing
System testing
Miscellaneous Testing Levels
Non-functional testing
The Testing Process
Automated testing
Testing Artifacts
Preparatory Guide for Certified Software Testing Professional
Always remember that the resources that you will choose will make the difference. Clearing the exam will be easier if you choose the right set of resources. There are unlimited resources available for preparation which are available for the prescribed syllabus. Let us have a look at handful of them-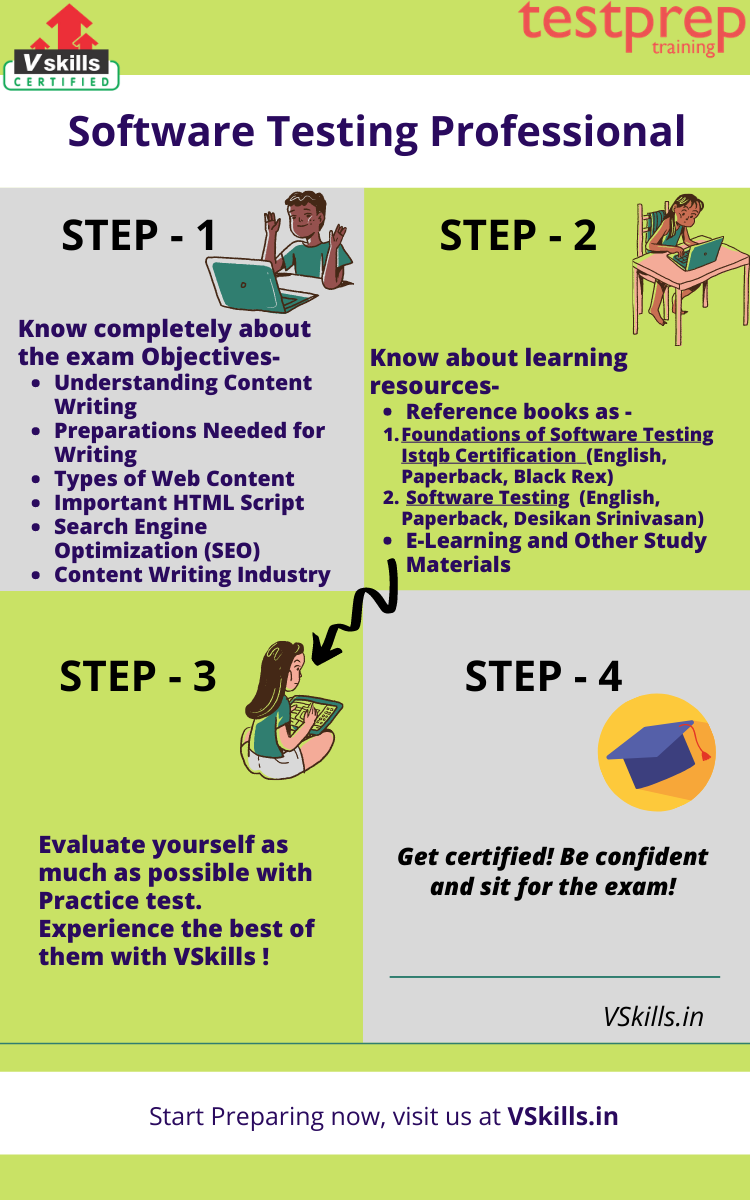 Step 1 – Review the exam objectives
The first and foremost thing before you start preparing is to get well versed with the objectives of the exam. Knowing in detail about the exam objectives will let you understand the way through which you will prepare for the exam and then help to pass that with the flying colors. Software Testing is the backbone of any IT product, Services Company. This exam covers the following topics –
Introduction & Overview
Software Testing Topics
White Box Testing
Black box testing
Unit Testing
Integration testing
System testing
Miscellaneous Testing Levels
Non-functional testing
The Testing Process
Automated testing
Testing Artifacts
Refer: Certified Software Testing Professional Brochure
Step 2 – Refer to the books
Books are the best resources and always the first way that comes in our mind while preparing. You can choose the books as per your ease and level of understanding. There are many books that are available that can be used to clear your concepts and can provide you with insightful other topics too. This can be used to deal with the tricky part of the paper too. Some books that can be referred are –
Foundations of Software Testing Istqb Certification (English, Paperback, Black Rex)
Software Testing (English, Paperback, Desikan Srinivasan)
Step 3 – E-Learning and Study Materials
Learning for the exam can be fun if you have the right set of resources matching your way of studying. Vskills offers you its E-Learning Study Material to supplement your learning experience and exam preparation. This online learning material is available for a lifetime and is updated regularly. You can also get the hardcopy for this material, so, you can prefer either way in which you are comfortable.
Refer: Certified Software Testing professional Sample Chapter
Step 4 – Evaluate yourself with practice tests
Practices makes a man perfect. You can also find the problems you are facing in your strategy. We all are quite well versed with this saying and also with the truth in this. Practice papers and test series help you in identifying the loopholes in the preparation. Practicing as much as you can will help in identifying various parts of the syllabus that need more attention and that are fully prepared. This is the best way to know your level of preparation. Start practicing now!

Give a boost to your career and secure your dream job by being a Certified Software Testing Professional. Start preparing now!
Prepare for Job Interview
If you are a software testing professional and looking for a new job opportunity, then these interview questions will surely help you to prepare for the upcoming job interview, checkout these questions and improve your chances of getting placed.