A webcam (or web camera) is a video camera to capture digital video to give live video on the Internet. It usually connects to PC by USB, FireWire or composite video. They are also used for video chat sessions and videoconferencing. They can be installed by connecting them to the PC and installing the driver and utility software which comes along with it. If present, connect audio into speaker out and microphone ports of PC. They can connect directly to internet or a network via ethernet or wifi. They are used for
Video calling and conferencing – As webcam capabilities have been added to instant messaging, text chat services such as AOL Instant Messenger, and VoIP services such as Skype. Video calling support has also been added to several popular instant messaging programs.
Video security – Webcams are also used as security cameras. Software is available to allow PC-connected cameras to watch for movement and sound, recording both when they are detected; these recordings can then be saved to the computer, e-mailed or uploaded to the Internet.
Input control devices – Special software can use the video stream from a webcam to assist or enhance a user's control of applications and games.
Webcam Technology
Webcams typically include a lens, an image sensor, and some support electronics. Image sensors can be CMOS or CCD, the former being dominant for low-cost cameras. Most consumer webcams are capable of providing VGA-resolution video at a frame rate of 30 frames per second. Support electronics are present to read the image from the sensor and transmit it to PC.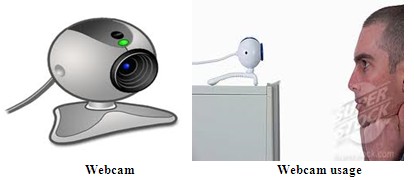 Apply for IT Support Certification
https://www.vskills.in/certification/certified-it-support-professional