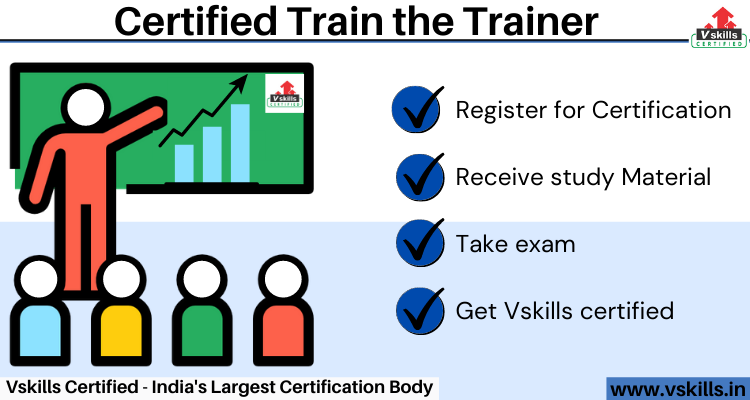 In the training and development area, the Train the trainer refers to a framework for training potential instructors or subject matter experts for enabling them to train other people in their organizations. The benefit of training the trainer is to teach new skills to a wide range of people within an organization.
Responsibilities
A trainer develops a schedule for assessing training needs and conducting employee surveys and interviews.
They consult with other trainers, managers, and leadership as well as track and compile collected data
They communicate training needs and online resources and then create training strategies, initiatives, and materials.
Trainer contact and utilize outside vendors and resources for instructional technology. Further, they test and review created materials.
Lastly, they maintain a database of all training materials and instruct employee training and onboarding.
Career as a Corporate Trainer
When you serve as a corporate trainer, your primary aim would be to help people advance in their careers. They are aware of the career paths of the workers with whom they work, competency mapping, and the importance of professional development in the overall employee experience and involvement. Let us know about the Career as a Corporate Trainer.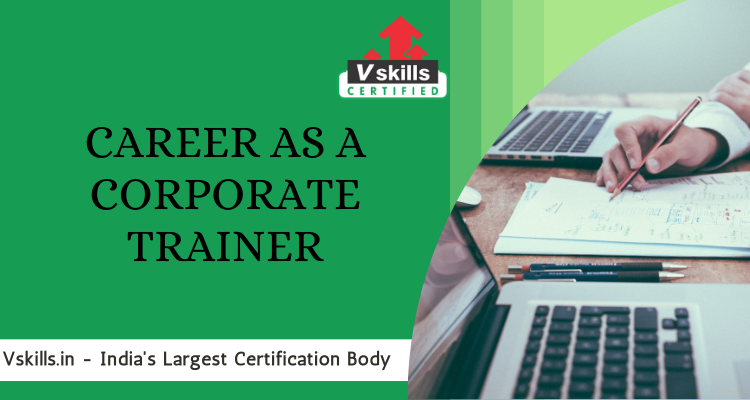 Overview: Vskills Certified Train the trainer
Vskills certification on Train the Trainer has been designed to help the candidates in building instructional skills and cultivating learning culture thereby giving multiple opportunities for designing and evaluating training events. However, this certification examines the candidate's skills and knowledge in various areas in the Training process, lesson planning, learning process, training techniques, training aids, and training evaluation methods.
Vskills Certified Train the trainer course is intended for professionals and new trainers who want to excel in their chosen areas. Next, it is best fit for those who are already working and would like to take certification for further career progression.Candidates who are looking for new opportunities in Training, Learning and Development, Coaching and Mentoring departments then, this certification can be the key to improve skill set for making CV stronger and to get a better job.
Vskills being India's largest certification providers gives candidates access to top exams as well as provides after exam benefits. This includes:
The certifications will have a Government verification tag.
The Certification is valid for life.
Candidates will get lifelong e-learning access.
Access to free Practice Tests.
Candidates will get tagged as 'Vskills Certified' On Monsterindia.com and 'Vskills Certified' On Shine Shine.com.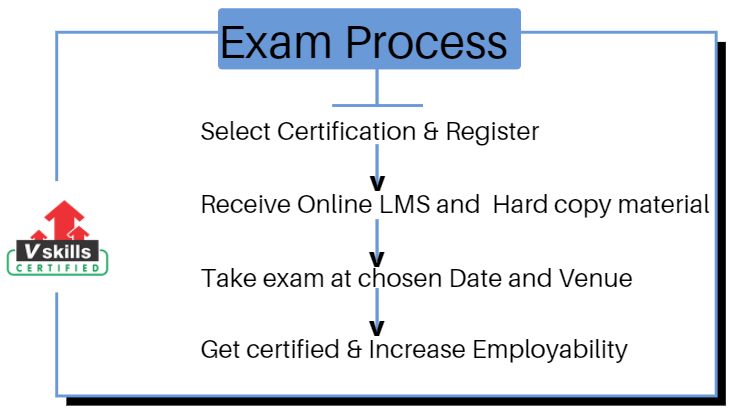 Test Details
Exam Duration: 60 minutes
Vskills Exam Code: VS-1439
Number of questions: 50
Maximum marks: 50
Passing marks: 25 (50%).
There is NO negative marking in this module.
Course Outline for Certified Train the trainer
Certified Train the trainer covers the following topics –
Training Essentials
Developing Training Skills
Training Competency
Commandment of Training of Trainer
Introduction
Rationale and Need for Training
Objectives of Training
Importance of Training
Changing Components of Training
Trainers – Roles and Responsibilities
Training Need Identification (Environmental Perspective)
Understanding Training Needs
Scope of Training Needs
Significance of Identifying Training Needs
Matrix of Training Needs
Training Need Statement – Components
Process of Designing a Training Programme
In-House Training
Outsourced Training
Handling Training Operations
Training Evaluation
Training Effectiveness
Environment and Pedagogy Training
Good Organizational Environment
Physical and Psychological Training Environment
Training Pedagogy
Axioms of Teaching
Process of Developing Training Modules
Types of Training
Methods of Training
Off-the-job Training
Vestibule Training
Choosing Suitable Training Methods
Training Aids – Purpose
Commonly used Training Aids
Organizing Training Objectives
Instructional Behavior Objectives
Unit Planning
Lesson Planning
Lesson Plan – Format
Fundamentals of Good Lesson Plan
Herbartian Steps Theory
Learning Theories
Theory and Doctrines of Learning
Learning Curve
Management Development
Virtuous Learning Cycle
Principles of Learning
Principles of Adult Learning
Characteristics of Adult Learners
Applying Adult Learning Theory
Learning Principles
Retention and Recall
Concentration and Attention Span
Cardinal Rules of Memory
Learning Styles Continuum
Implementing Training Programs
Measuring Training Effectiveness
Evaluation Post Training
Training Evaluation Techniques
Techniques for conducting a successful Training Session
Make Training Memorable
Training Day Checklist
Qualities of Effective Trainers
Classroom or Instructor-Led Training
How to Use Handouts
Perfect PowerPoint
Training Pitfalls
Training Psychology
Evolution of Training and Development
Status of Training & Development before 1991
Training Programmes in India
Training through Quality Circles
Training Challenges
Preparation Guide for Vskills Certified Train the trainer
Candidates preparing for the exam should understand the importance of exam resources. As during the exam preparation, it is essential to get all the required exam study resources. This will provide an advantage to understand the concepts and meaning more accurately. In the Certified Train the trainer exam preparation guide, we will discuss some of the most important resources to help you prepare well for the exam.
Study Resource: Exam Objectives
For every examination, the first task should be to get all the exam related details including the important contents and its topic. This will help candidates to easily start preparing for the exam and to understand things more accurately. For Certified Train the trainer exam the topics include:
Training as a Trainer
Trainer and Training Process
Assessment of Training Needs
Organization and Management of Training
Training Environment and Pedagogy
Training Techniques and Methodology
Training Aids and Facilities Planning
Lesson Planning and Instructional Objectives
Learning Process
Adult Learning
Process of Training Evaluation
Guidelines for effective Training
Training and Development in India
Study Resource: Vskills Online LMS
Vskills Certified Train the trainer provides candidates access to prepare for the exam using the online learning material for a lifetime. The online material for this is regularly updated. Furthermore, e-learning is bundled with hard copy material which helps candidates to improve and update the learning curve for superior and better opportunities.

Study Resource: Reference Books
Reference Books can provide an advantage to learn and understand things more accurately. For the Certified Train the trainer exam, there are various books available which you can find online or in libraries. Some of the books are as follows:
Training And Development: Indian Text edition by B. Janakiram
Study Resource: Practice Test
After understanding and learning about the Certified Train the trainer exam topics, it is time for practice tests. That is to say, practice tests are important for better preparation as by assessing yourself with these tests you will know about your weak and strong areas. Moreover, you improve your answering skills for getting better results. So, make sure to find the best practice sources.

Train the Trainer Interview Questions
Preparing for a role as Trainer, then you must checkout these interview questions to prepare for the upcoming interview, these can prove handy in clearing the job interview, checkout for free !