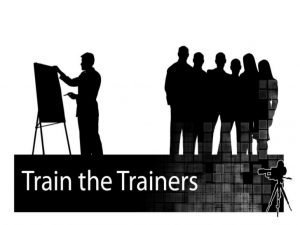 Train the Trainer Tutorial
Train the Trainer certification program is meant for individual seeking to develop and upgrade the skills to train and evaluate the workforce. The tutorial focuses on knowledge-based skills required for imparting training to candidates.  Train the Trainer Tutorial has been designed to build instructional skills and cultivating learning culture thereby giving multiple opportunities to design and evaluate training events. Vskills certification on Train the Trainer tests the candidates on various areas in the Training process, lesson planning, learning process, training techniques, training aids and training evaluation methods.
Table of Content
Training Essentials
Developing Training Skills
Training Competency
Commandment of Training of Trainer
Introduction
Rationale and Need for Training
Objectives of Training
Importance of Training
Changing Components of Training
Trainers – Roles and Responsibilities
Training Need Identification (Environmental Perspective)
Understanding Training Needs
Scope of Training Needs
Significance of Identifying Training Needs
Matrix of Training Needs
Training Need Statement – Components
Organisation and Management of Training
Process of Designing a Training Programme
In-House Training
Outsourced Training
Handling Training Operations
Training Evaluation
Training Effectiveness
Pedagogy and Environment Training
Environment and Pedagogy Training
Good Organizational Environment 
Physical and Psychological Training Environment
Training Pedagogy
Axioms of Teaching
Process of Developing Training Modules
Training Techniques and Methodology
Types of Training
Methods of Training
Off-the-job Training
Vestibule Training
Choosing Suitable Training Methods
Training Aids and Facilities Planning
Training Aids – Purpose
Commonly used Training Aids
Lesson Planning and Instructional Objectives
Organizing Training Objectives
Instructional Behavior Objectives
Unit Planning
Lesson Planning
Lesson Plan – Format
Fundamentals of Good Lesson Plan
Herbartian Steps Theory
Learning Theories
Theory and Doctrines of Learning
Learning Curve
Management Development
Virtuous Learning Cycle
Principles of Learning
Principles of Adult Learning
Characteristics of Adult Learners
Applying Adult Learning Theory
Learning Principles
Retention and Recall
Concentration and Attention Span
Cardinal Rules of Memory
Learning Styles Continuum
Process of Training Evaluation
Implementing Training Programs
Measuring Training Effectiveness
Evaluation Post Training
Training Evaluation Techniques
Guidelines for effective Training
Techniques for conducting a successful Training Session
Make Training Memorable
Training Day Checklist
Qualities of Effective Trainers
Classroom or Instructor-Led Training
How to Use Handouts
Perfect PowerPoint
Training Pitfalls
Training Psychology
Development and Training in India
Evolution of Training and Development
Status of Training & Development before 1991
Training Programmes in India
Training through Quality Circles
Training Challenges
Take Free Mock Test on Train the Trainer
Apply for Vskills Govt. Certification Exam !!