A certified Corporate Finance Analyst is a practitioner who basically analyses historical data and makes projections, types of financial analysis ratio, and company performance and keeps the record on excel using a spreadsheet. The Vskills Certified Corporate Finance Analyst certification evaluates candidates as per the company's requirements for the finance department. It will assess you on areas like financial statement analysis, bonds and stock valuations, NPV, risk statistics, capital asset pricing model, capital budgeting, long term financing, capital budgeting, dividends, issuing securities, and long term debts.
Why become a Certified Corporate Finance Analyst?
The Corporate Finance Analyst course is primarily designed for the professionals and graduates who aspire to shine in their respective fields, and would like to attempt this certification for their further progress in the finance department. Vskills Corporate Finance Analyst certification will help you stand out from the crowd in this competitive world and increase your employment opportunities and help you earn potential as well.
Who should take this certification?
Candidates who wish to improve their skills and want to make their CV's stronger, especially newly graduate students, must take the Corporate Finance Analyst certification. This certification will help you get the best job opportunity in the organisation.
Roles and Responsibilities of a Certified Corporate Finance Analyst
Knowing what are the tasks that we have to undertake after completing the certification prepares us for the future, therefore always get a glimpse of the responsibilities you have to undertake. The following are the duties of a Certified Corporate Finance Analyst.
To report and operate metrics tracking and also perform financial forecasting
To develop financial decision models for decision making and keep track of financial performance
To analyze previous results, perform variance analysis, recognize trends, and recommend ideas for improvement
To create and enforce policies and procedures and guide the cost analysis accordingly
To recognize trends and recommend ideas for optimization based on the analysis of the trends
To increase productivity and smooth function by developing automated reporting/ forecasting tools.
To perform and maintain market research, data mining, business intelligence, and valuation comps.
To develop a strong financial analysis base developing forecasts and models.
Career in Corporate Finance
If you want to get paid the most as a corporate finance analyst, being employed by a company such as Google or Yahoo would be a smart choice, as they are the highest paying companies in this field. Let us get into details of corporate finance career opportunities.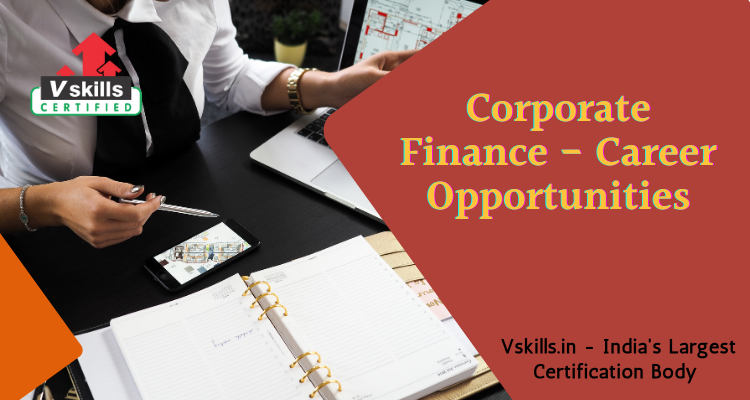 Benefits of taking Vskills Certification
Vskills being India's largest certification provider gives candidates access to top exams as well as provides after exam benefits. This includes:
The certifications will have a Government verification tag.
The Certification is valid for life.
Candidates will get lifelong e-learning access.
Access to free Practice Tests.
Candidates will get tagged as 'Vskills Certified' On Monsterindia.com and On Shine.com.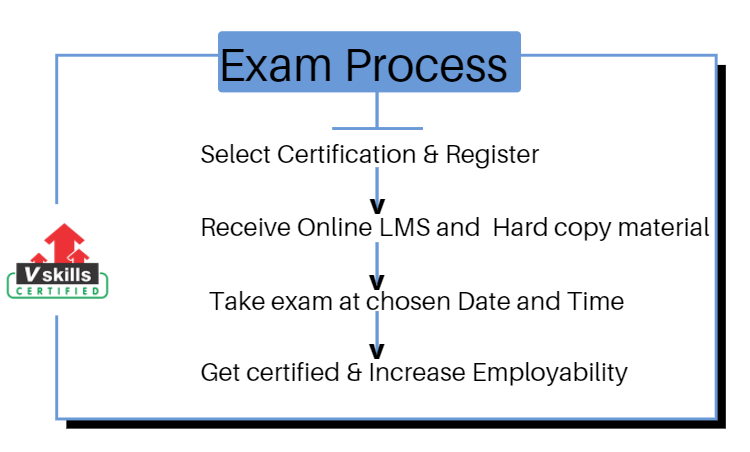 Exam Details
Exam Duration: 60 minutes
Vskills Exam Code: VS-1130
Number of questions: 50
Maximum marks: 50
Passing marks: 25 (50%)
Exam Mode: Online
There is NO negative marking in this module.
Course Details
Certify and Increase Opportunity.
Be
Govt. Certified Corporate Finance Analyst

Generational forms of Business

Organization Chart & Finance Function

Finance Function-Organization, Objectives & Decisions

Financial Statements, Analysis and Information

Cash Flow Statement

Corporate Income Tax

Time Value of Money

The Financial Securities

The Financial Markets

International Financial Markets

Financial Institutions

Interest Rates

Basic Valuation Model

Risk

Investment Decision Rules

Cash FLow

Incremental Analysis

Break-Even Analysis

Project Proposals

Investment Decisions

Capital Budgeting Techniques

Financial Structure – Capital

Financial Distress – Remedial Options

Corporate Restructuring Options

Cost of Debt

Cost of Capital

Financial Leverage

Dividend Policy

Forms of Dividend

Dividend Model & Its Decisions

Financial Ratios

Working Capital Management

Bank Credit

Preparation Guide for Certified Corporate Finance Analyst Exam
We always need a guide who can show us the right path to reach our destination but, it is also important to choose the right guide in that process. A good preparation guide should consist of all the essential resources for the preparation of a certification exam so that an individual doesn't face difficulty at the last moment. The preparation guide below will guide you with the right directions.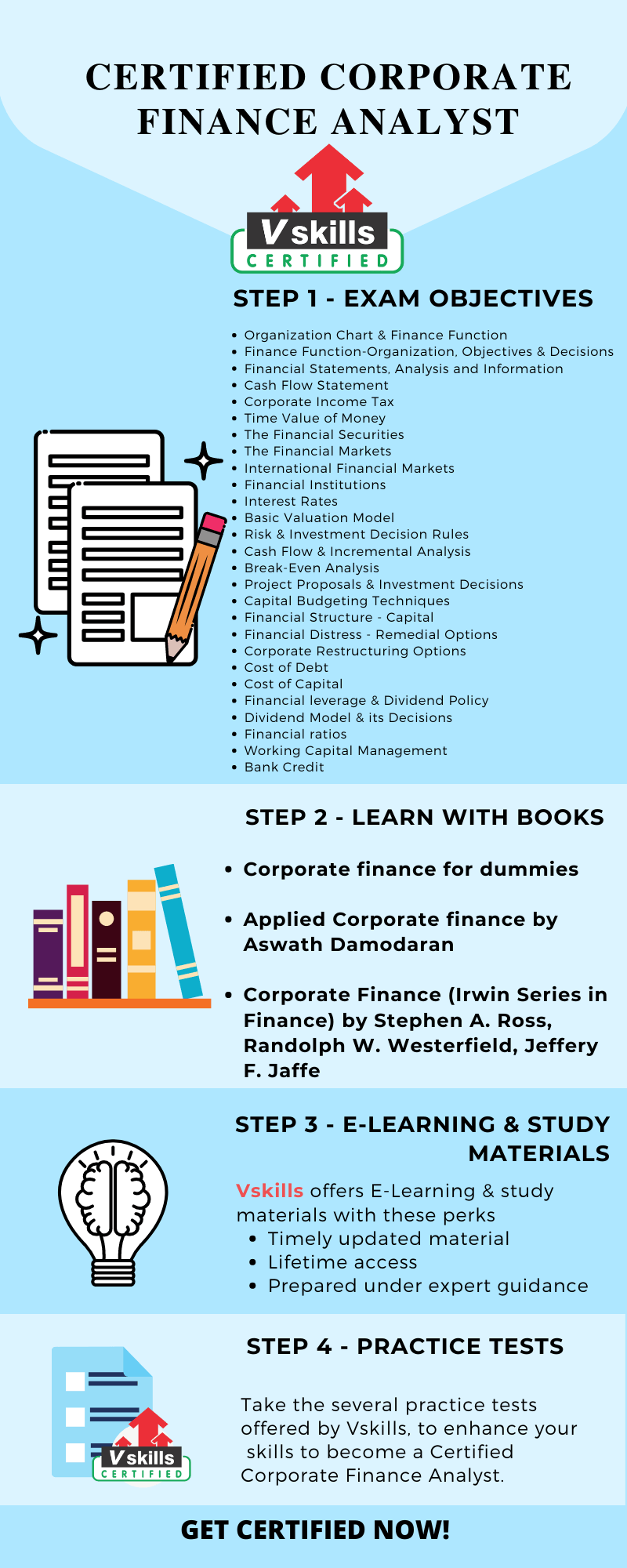 Step 1 – Review the Exam Objectives
There is always a curiosity of knowing what we are going to learn during any course, as it is necessary also because it keeps us motivated and attentive. The following are the exam topics that we will cover in this certification exam.
Organization Chart & Finance Function
Finance Function-Organization, Objectives & Decisions
Financial Statements, Analysis and Information
Cash Flow Statement
Corporate Income Tax
Time Value of Money
The Financial Securities
The Financial Markets
International Financial Markets
Financial Institutions
Interest Rates
Basic Valuation Model
Risk & Investment Decision Rules
Cash Flow & Incremental Analysis
Break-Even Analysis
Project Proposals & Investment Decisions
Capital Budgeting Techniques
Financial Structure – Capital
Financial Distress – Remedial Options
Corporate Restructuring Options
Cost of Debt
Cost of Capital
Financial leverage & Dividend Policy
Dividend Model & its Decisions
Financial ratios
Working Capital Management
Bank Credit
Refer: Certified Corporate Finance Analyst Brochure
Step 2 – Learning with Books
Books have been the most sincere method of studying. All around the globe, books still have the same value like they had before the technology came into existence. It gives you all the knowledge that you should know about that particular domain, covering all the topics and sub topics in detail. The mention below are the top 3 books for this certification exam.
Corporate finance for dummies. This book is considered one of the best introductory books for finance students. It will give detailed knowledge regarding the corporate methods and theoretical concepts on the pragmatic application of principles. The book focuses on critical areas like mergers and acquisitions.
Applied Corporate finance by Aswath Damodaran. This book displays the context of six real-world companies and clears the decision making concepts for the firm. It will give you a pragmatic approach towards the concept of the finance department and will motivate you to do better.
Corporate Finance (Irwin Series in Finance) by Stephen A. Ross, Randolph W. Westerfield, Jeffery F. Jaffe. This book consists of the most challenging aspects of the study of corporate finance, including integrating all the complex aspects into a coherent whole. It will give illustrations on the real-world examples and case studies
Step 3 – E-Learning and Study Materials
E-learning is a very efficient source of delivering courses online. The online resources are available anytime and anywhere, which are easily accessible. Web-based learning makes the learning process fun and helps to grab knowledge in a short time. There are various ways of learning online, you can choose yours and learn accordingly. This will improve your knowledge in your particular domain. Study materials are the modern type of notes, which are ready for you to study.
Vskills offers E-Learning Study Material for the Certified Corporate Finance Analyst exam. One very special advantage of Vskills learning material is its timely updates and lifetime access. In addition to supporting your e-learning, Vskills also provides study materials in hard copy for the candidates preferring offline study methods.
Refer: Certified Corporate Finance Analyst Sample Chapter
Step 4 – Check your Progress with Practice Tests
How do you know you are prepared for the examination? The best answer can be only given after you self-evaluate yourself through practice tests. Practice tests help you improve your weaker sections and correct them in time. Multiple practice test keeps you updated about your progress, hence always attempt practice test before examination.

Strengthen your concepts and make your resume stand out with the Corporate Finance Analyst certification. Start Practicing Now
Prepare for Job Interview
Are you preparing for finance? then you must checkout these corporate finance interview questions, these questions will enhance your knowledge and helps you to clear the interview. Checkout now !