Technology is upgrading and transforming itself to the best of the need of the present as well as the future. But, we can never forget the fact that every machine is man-made. It is the human brain and talent that makes the technology or any other resource, worthy of its ability and function. It is always the people who are going to be the driving force to an organization & indeed the best asset to the firm! Human Resource managers are the ones who provide their professional services to maximize the human capital of any organization.
If you wish to get yourself in the same stream and want to know more about this as a career choice, then you're on the right page.
About Human Resource Management
In simple terms, a Human Resource Manager, is a person who manages the people of an organization. Starting off with framing the workforce of the company to leading and motivating the people to maximize their performance, a human resource manager optimizes the company's performance.
Human Resource Management is basically that organizational function which is responsible for managing all of the issues related to the people in an organization. Following are the quarters that defines the role of Human Resource Management:
Recruitment & Selection
Recruiting is the process of hiring new people. Whereas Selection is the process of picking up the suitable one among all the candidates. So, recruiting the candidates and selecting the best ones among them is the key job of HR. An HR uses various methods to recruit the right people for the right position. It includes aptitude tests, interviews, etc., each one with a more in-depth assessment successively.
Performance Management
Now once the right people fill in the right positions, managing their performance becomes the next task of HR. Performance Management involves planning, monitoring & reviewing the performance, categorizing according to their potential, and rewarding based on the performance. The only aim of performance management is to help and motivate the employees to perform better.
Learning & Development
The purpose of Learning & Development is to help employees improve their performance. It basically involves providing training to certain people with the purpose to add advancement to the organization's objectives. The type of L & D that is to be provided to the employees depends on the potential of the people which has been derived from monitoring the performance.
Succession Planning
Succession Planning is one of the very crucial role played by the HR. It is basically preparing for any contingencies in case any employee quits. What an HR do here is, he keeps a replacement ready. This ultimately guarantees the endurance of the firm and doesn't let the drive hamper because of lack of human resource.
Compensation & Benefits
The objective here for HR is to reward people with the purpose to motivate them to keep working consistently and to the best of their ability. The Compensation & Benefits involve primary reward as well as secondary reward. Primary being the one paid directly for the work delivered that is monthly salary or performance-based pay. Whereas. the secondary being the one paid as non-monetary rewards like flexible working hours, paid leaves, etc.
Human Resources Information Systems
HRIS is basically a data-entry system wherein all the functions of an HR are managed digitally. This involves
Keeping track of applicants and recruitment
Tracking the performance
Providing training approvals
Keeping a track of a budget
HR actively keeps the track of all the critical data which ultimately helps to make more data-driven decisions.
Requirement of Knowledge in Human Resource Management
Now if you wonder about what are the skills and knowledge required in the career of a Human Resource Manager, then it is not just the education & training but also major soft skills. HR demands integrity, confidentiality & a high-level of interpersonal skills.
Soft Skills
Communication Skills
HR must have excellent communication skills. HR Professional is the one likely to deal with the employees at various levels. So the ability to communicate in clear terms verbally as well as in writing is a major skill requirement in regard to HR.
Time Management Skills
A Human Resource Manager is engaged in a huge variety of tasks as we just discussed above. He/She is always juggling multiple tasks at a time under a high-pressure environment. So, to be able to manage all the responsibilities and tasks efficiently, strong time management skills are important.
Interpersonal Skills
HR deals closely with people. They are the ones responsible for not only welcoming the people on board but also to understand them, and encourage them to stay motivated at work. So to be able to manage these different personalities, they require empathy along with strong interpersonal skills.
Education & Training
People in the field of HR come from variety of backgrounds but what is common is a degree in Human Resources or related subjects. If you're starting out or thinking about switching to a career in Human Resources today, you need to obtain a degree. You will find yourself competing for jobs with other individuals who may have as much experience as you do and who also have a degree.
Considering a master's degree and seeking professional certifications can definitely enhance your stature in the field and be beneficial for the advancement.
Switching to HR Career
Professionals enter the HR domain through widely divergent paths. Some start in administration and then begin to focus on HR tasks while others may decide to move into HR, take appropriate courses, earn certifications, and then enter the field.
Academic degrees have been the traditional way out for beginning a career in Human Resource Management. However, employers are looking out for candidates with work experience. Moreover, they desire certified individuals who are willing to further their education and human resources training.
Human Resource Certifications
To enhance your stature in the field of HR and gain a competitive advantage you must consider seeking professional certifications. Some of the top certifications for HR include: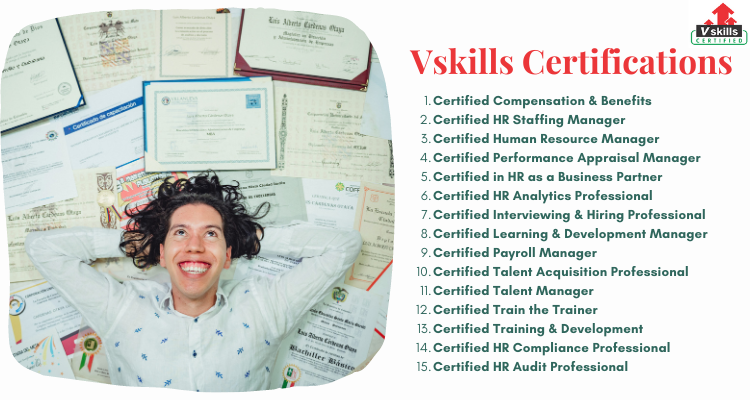 Certification Providers
After getting to know about various Human Resource Management certification, the next thing that comes in mind is to prepare for that. There are various certification providers out there that provide training with expert assistance. The certification providers include,
Edureka
Udemy
Simplilearn
Coursera

Job Opportunities
Now after you've completed all the steps successfully, learn about the job prospects. Following are job titles and what people do at each position as you begin your career in Human Resources:
Human Resource Manager
HR Manager is the one who is basically involved in planning, directing, and coordinating the administrative functions of an organization. They are responsible for recruiting new staff. They frame the workforce and motivate them to perform to the best of their potential. Eventually, they play a huge role in optimizing the company's performance.
Compensation and Benefits Manager
The Compensation and Benefits Manager is responsible for evaluating every job profile and determine the accurate market value for that job. They administer a company's compensation and benefits policies including salaries, bonuses, pensions, and even insurance. Moreover, they also create and manage the budget for training the personnel.
Training and Development Specialists
The Training and Development Specialist is the one involved in planning, organizing, and implementing training and development programs for the employees of the organization. They identify the training need and requirements, and it is then their job to introduce effective training and development sessions and measures to help employees improve their job skills.
Payroll Manager
The Payroll Manager is responsible for supervising the operations of an organization's payroll department. He/She implements, maintains as well as reviews the processing systems ensuring timely and accurate processing of payroll transactions including salaries, benefits, taxes, etc. Moreover, they are also responsible to resolve any payroll-related discrepancies.
Human Resources Information System (HRIS) Analysts
Human Resources Information System (HRIS) Analyst work with the company's information system in the HR department. They are in charge of maintaining the system, implementing, making improvements, ensuring the quality of the data as well as analyzing & making reports on the data in the HRIS.
Average Salary
Human Resource Management Professionals will find employment in top companies like Capgemini, Tata Consultancy Services Limited, EY (Ernst & Young), Bajaj Capital Limited, Ikya Human Capital Solutions, and HCL Technologies Ltd., etc.
Also, the earning potential as per experience is as follows:
To begin with, an entry-level Human Resources (HR) Manager with less than 1 year of experience can earn an average total compensation of ₹365,785.
Secondly, a Human Resources (HR) Manager with 1-4 years of experience can earn an average total compensation of ₹437,788.
Thirdly comes a mid-career Human Resources (HR) Manager with 5-9 years of experience. They can earn an average total compensation of ₹714,880.
Also, for an experienced Human Resources (HR) Manager with 10-19 years of experience, they can earn an average total compensation of ₹1,013,132.
Prepare for your interview with Top HR Management Interview Questions
Human Resource Management : The Future
The future of Human Resource Management is full of endless possibilities. It is the core part of every organization and is growing rapidly. Organizations are focusing on creating a digital workplace for enabling high productivity and flexibility globally. Therefore Strategic thinking will become Human Resource Management Professional's new core competence. Also, in the near future HR Professionals will likely transition into HR Business Professionals who not only understand HR implications but also business operations and strategy. Additionally, HR will utilize analytics and big data to augment its value to the firm. Moreover, managing a remote workforce will be the new norm given today's scenario.
Wrapping Up
As we discussed, Human Resource Management boils down to – optimizing company performance through better management of human resources. Human Resources Management as a career offers exceptional opportunities for people starting out in the workforce. Before entering the field, learn everything you can about your industry, your competitors, and the business scenario. Moreover, you need to get ahead of the curve, hone your skills and become a certified professional. Therefore, earning a professional certification will be a valuable addition to your CV. Also, you can take up online courses and refer tutorials to boost your chances to become a Certified Human Resource Management Professional.

Elevate your career and become a Certified Human Resource Management Professional. Start Preparing Now!