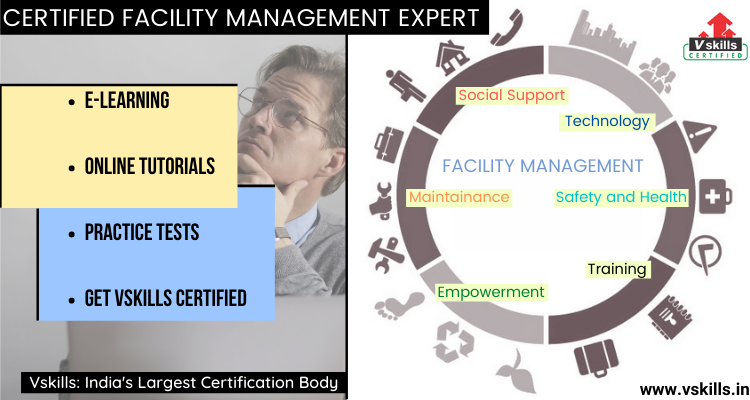 The facility management Expert handles the security, maintenance and services of work facilities for meeting the needs of the organization. They plan and coordinate all installations and refurbishments as well as inspect buildings' structures for determining the need for repairs.
Roles and Responsibilities
Facility managers oversee the contracts including the providers for services with security,, cleaning, catering, technology, etc. Moreover, they supervise the multi-disciplinary teams of staff that also include cleaning, maintenance, grounds and security.
They maintain the basic facilities, such as water and heating and also manage the budget with ensuring cost-effectiveness.
Next, they also manage space between buildings for making sure that facilities meets all the government regulations and security standards.
Lastly, they also keep financial and non-financial records as well as perform analysis and forecasting.
Facility Management Career Path
Facilities management is a diverse field that is constantly in demand, pays well, and has a relatively low barrier to entry. Let us look at the Facility Management Career Path.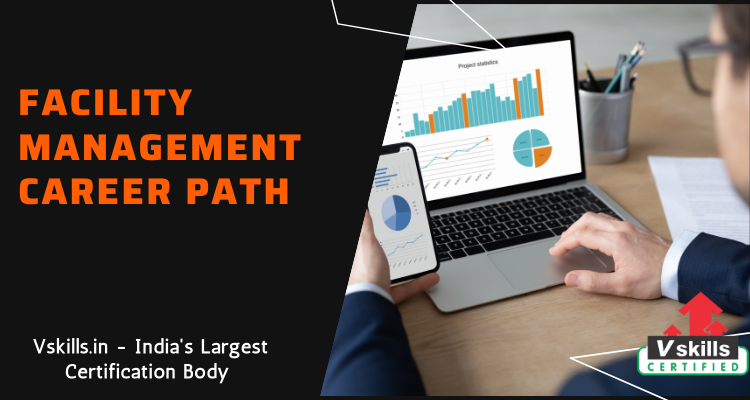 Vskills Certified Facility Management Expert: Exam Overview
The facility management department is surrounded by multiple disciplines for ensuring the functionality of the built environment by integrating people, place, process, and technology. However, a facility management expert can get employment in all sectors with a range of job titles such as operations, estates, technical services, asset,s, or property manager. Candidates looking to find employment in facility management or maintenance departments of various companies can start their careers by earning the Vskills Facility Management Expert certification. That is to say, various public and private companies also need facility managers for their maintenance or facility management departments.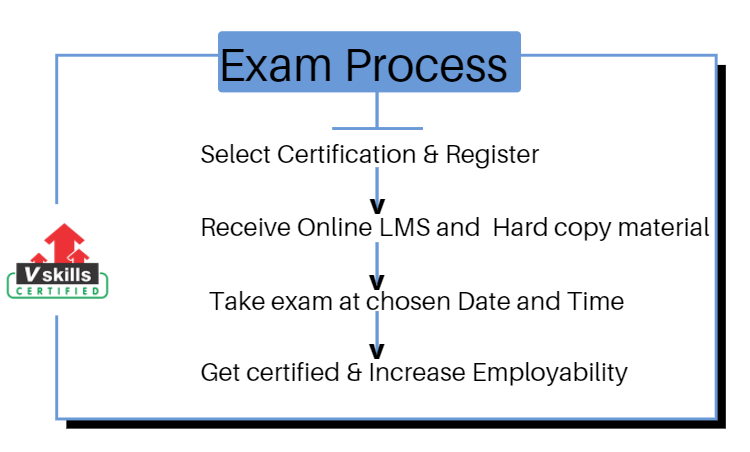 Vskills being India's largest certification providers gives candidates access to top exams as well as provides after exam benefits. This includes:
The certifications will have a Government verification tag.
The Certification is valid for life.
Candidates will get lifelong e-learning access.
Access to free Practice Tests.
Candidates will get tagged as 'Vskills Certified' On Monsterindia.com and 'Vskills Certified' On Shine Shine.com.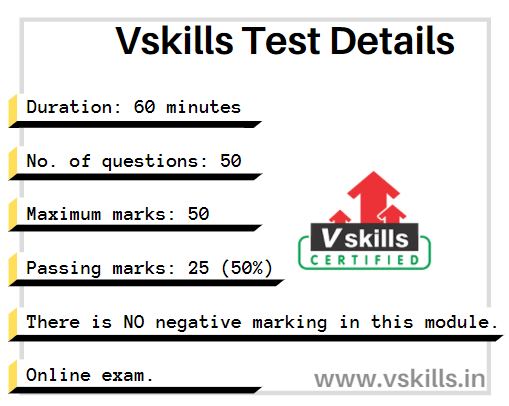 Course Outline for Certified Facility Management Certification
Certified Facility Management covers the following topics –
Facility Management Basics
Civil Maintenance
Water Supply and Sanitary
Electrical and Airconditioning
Work Management
Maintenance Management
Financial Management
Leadership and Strategy
Health and Safety
Environmental Sustainability
Application of Technology
Preparation Guide for Vskills Certified Facility Management Expert
Study resources are essential during the exam preparation time. Having all the resources will help candidates to start preparing for the exam in an accurate manner. Moreover, it will save a lot of time researching for the exam contents and topics. Further, this will provide an advantage to better understand the concepts. However, in the Certified Facility Management Expert exam preparation guide, we will discuss some of the most important resources to help you prepare well for the exam.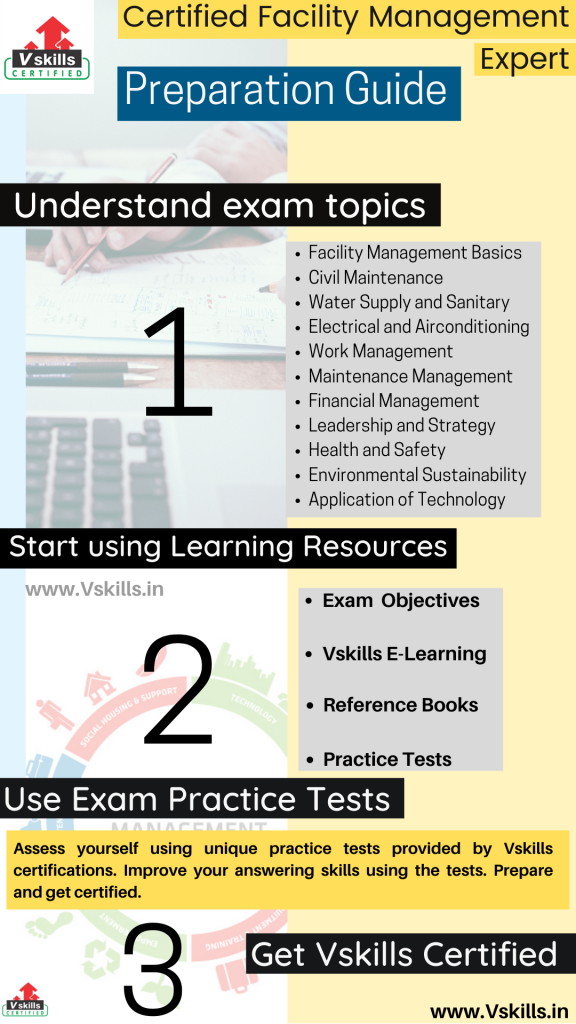 Refer Exam Objectives
The very first task for candidates should be to get all the content and topics related to the exam. As it provides a huge benefit to candidates during the preparation time. Doing this will help them to understand things more accurately. For the Certified Facility Management Expert topics include:
Facility Management Basics
Civil Maintenance
Water Supply and Sanitary
Electrical and Airconditioning
Work Management
Maintenance Management
Financial Management
Leadership and Strategy
Health and Safety
Environmental Sustainability
Application of Technology

Vskills E-Learning
Vskills Certified Facility Management Expert helps candidates to prepare for the exam using the online learning material for a lifetime. The online material for this is regularly updated. The E-learning include hard copy material for helping candidates in improving skills and staying up to date with the learning curve for getting better opportunities.
Refer: Certified Facility Management Expert
Books for Reference
Candidates should start taking help from reference books as it can provide an advantage for understanding things more accurately. However, for the Certified Facility Management Expert exam, there are various books available which you can find online or in libraries. Some of the books are as follows:
The Facility Management Handbook Book by Kathy O. Roper and Richard P. Payant
The facility management handbook Book by David G Cotts
Evaluate yourself with Practice Test
After completing the topics for the Certified Facility Management Expert exam, candidates should start assessing using practice tests. By doing so, they will be able to learn about their weak areas and can improve them at time. Moreover, it also gives an advantage to candidates to improve their aswering skills to save time during the certification exam. So, get prepared and become certified.

Facility Management Interview Questions
Checkout these latest interview questions on Facility management to prepare for different job interviews. The questions are based on recent facility manager job interviews. Prepare now !