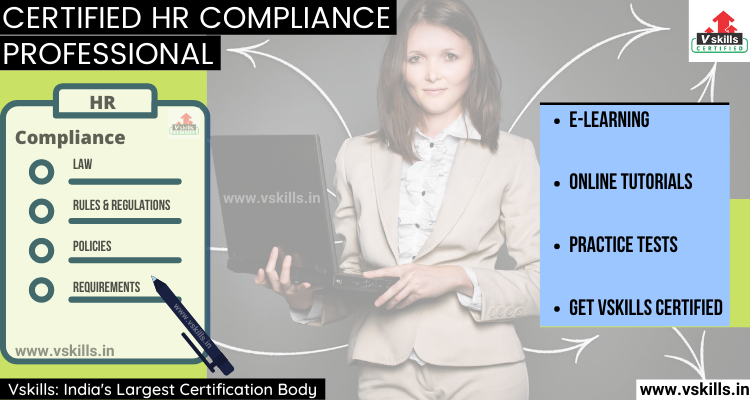 HR compliance professional is responsible for managing the organization's program for dealing with employee health and safety issues. They also develop and manage systems and methodologies for informing employees of the Company's health and safety programs. Related to this, they also provide training to employees with respect to compliance issues related to accidents, injuries, illness, etc. Further, HR compliance professionals also manage all leave of absence notices and requests from employees.
Moreover, they develop control systems for preventing or dealing with violations of legal guidelines. And, also evaluate the efficiency of controls and improve them continuously. Next, the draft, modify, and implement company policies as well as link with corporate counsels and HR departments for monitoring enforcement of standards and regulations. Lastly, they review the work of colleagues when required to identify compliance issues and provide advice or training.
Vskills Certified HR Compliance Professional
Human resources compliance or HR compliance is nowadays a requirement for companies for having legal environments with employees having a high awareness of their rights. However, the Vskills HR compliance certification prepares the candidate to gain skills to meet compliances for labour law legislation, compensation and laws related to sexual harassment. Further, the certification also enhances candidate knowledge in upcoming compliance requirements for equality and diversity.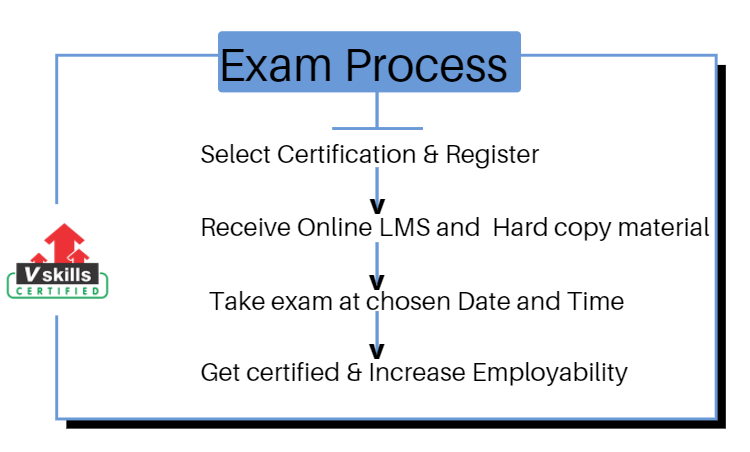 Vskills being India's largest certification providers gives candidates access to top exams as well as provides after exam benefits. This includes:
The certifications will have a Government verification tag.
The Certification is valid for life.
Candidates will get lifelong e-learning access.
Access to free Practice Tests.
Candidates will get tagged as 'Vskills Certified' On Monsterindia.com and 'Vskills Certified' On Shine Shine.com.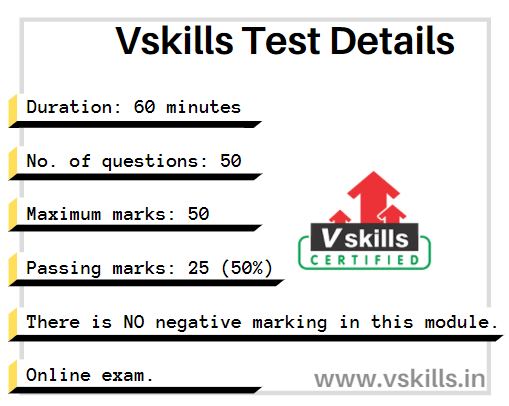 Course Outline
Certified HR Compliance Professional covers the following topics –
Compliance Basics
Labour Law Compliance
Compensation Compliance
Organizational HR Compliance
HR Compliance Submissions
International HR Compliance
Preparation Guide for Vskills Certified HR Compliance Professional
Candidates before starting preparing for the should get all the exam-related resources so that they can start preparation in a proper manner. Moreover, doing this will not only help them understand things better but it will also help them to quickly complete the syllabus. Further, this will provide an advantage to better understand the concepts. However, in the Certified HR Compliance Professional exam preparation guide, we will discuss some of the most important resources to help you prepare well for the exam.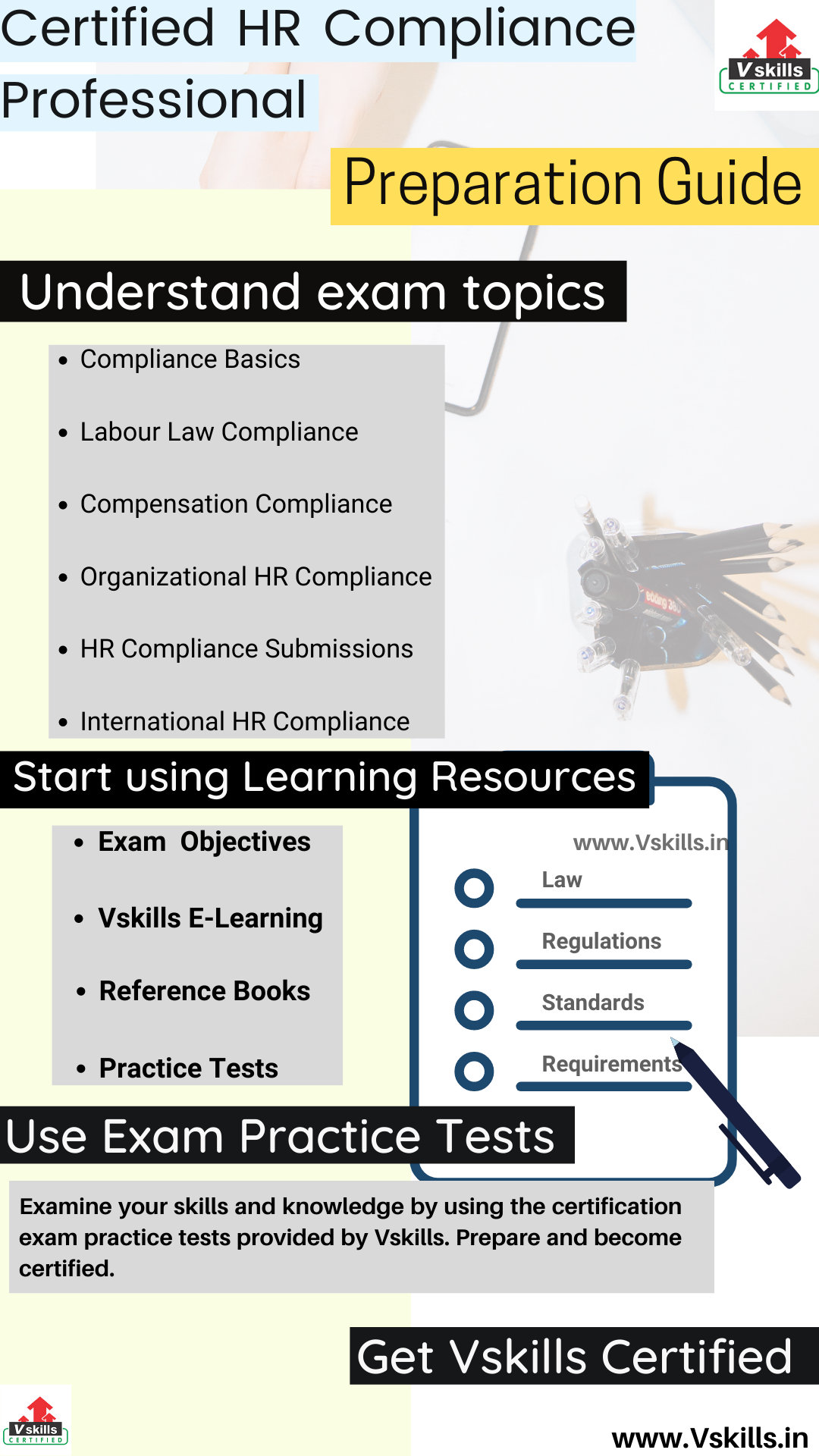 Refer Exam Objectives
Understanding exam objectives is essential for any exam as it provides a huge benefit to candidates during the preparation time. So, the first task should be to get all the exam-related details that include the important contents and its resources. Doing this will help candidates to understand things more accurately. For the Certified HR Compliance Professional topics include:
Compliance Basics
Labour Law Compliance
Compensation Compliance
Organizational HR Compliance
HR Compliance Submissions
International HR Compliance
Vskills E-Learning
Vskills Certified HR Compliance Professional helps candidates to prepare for the exam using the online learning material for a lifetime. The online material for this is regularly updated. Moreover, the e-learning that is provided comes with hard copy material for helping candidates to improve and update the learning curve for getting better opportunities.
Refer: Certified HR Compliance Professional
Books for Reference
While preparing reference books can provide an advantage to learn and understand things more accurately. For the Certified HR Compliance Professional exam, there are various books available which you can find online or in libraries. Some of the books are as follows:
HR Compliance A Complete Guide by Gerardus Blokdyk
Compliances under Labour Laws by H L Kumar
Evaluate yourself with Practice Test
After completing the topics for the Certified HR Compliance Professional exam, candidates should start assessing using practice tests. Using practice tests will help them for better preparation. Moreover, it will provide an advantage to candidates as by examining and assessing with these tests they will know about their weak areas and improve them.

Job Interview Preparations
Preparing for a role in HR Compliance, then you must checkout these interview questions to prepare for the upcoming job interview, these can prove handy in clearing the job interview, checkout for free !