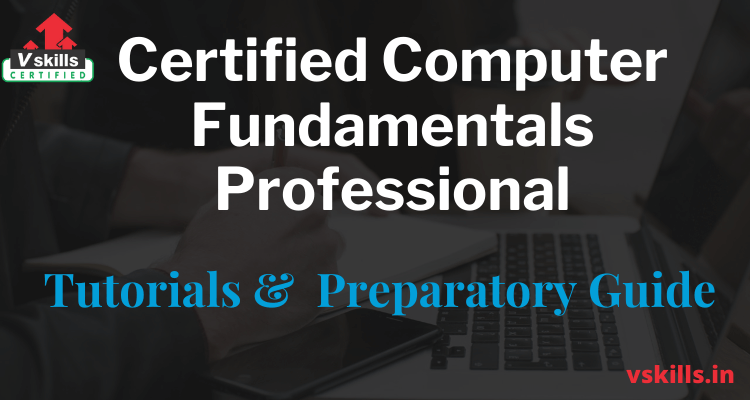 MS-Office suite of office applications has made it really easy to undertake daily operations of an organisation. They allow organisations to support and connect disparate business systems efficiently and effectively. By earning a certification in Computer Fundamentals MS Office you set yourself apart from the crowd. It is an essential certification to portray your expertise in using MS-Office software for day to day office work.
Role and Responsibities
Certified Computer Fundamentals (MS Office) holds expertise in the entire Microsoft Office Suite. They play a key role in the day to day operations of an organisation. Certified Professionals are bestowed with the following responsibilities:
Firstly, they provide data entry support to superiors
Secondly, they prepare communication, reports, presentations and other products by operating Microsoft Word, Excel, and Powerpoint
Also, oversee the clerical support function of an office, business or based on client specific requirements
Moreover, schedule reviews, meetings, and conferences as, and when, required by the client or business
Further, perform time-based office work related to finance, administration and other departments
Additionally, coordinate backup for the front desk
Finally, monitor and respond to email communication
Vskills Certified Computer Fundamentals Professional Overview
Vskills Certified Computer Fundamentals Professional certification concentrate on Computer Basics, MS-DOS, MS-Windows and MS-Office that are used extensively in office environment. Given the high demand of certified professionals in MS-Office it makes this certification all the more desirable. A Vskills Certified Computer Fundamentals (MS Office) professional would have employment opportunities in all offices using MS Office for their day to day work.
Target Audience
This certification is specially designed for those who wish to make a career in office administration, facility management and front office management. Moreover, beneficial for professionals who are already working and want to acquire knowledge in this segment of industry. Also, professionals already employed and looking for job switch must consider this certification. Primarily this certification is indented for technical novices seeking a career in corporates.
Why become a Vskills Certified Computer Fundamentals Professional?
Earning a professional certification unlocks new opportunities in your career. It enhances your employability and makes your academic records shine! A Certified professional makes use of certified knowledge to increase the productivity of an organization. Moreover, Vskills Certified Computer Fundamentals (MS Office) Professional can find employment in all kind of companies like Accenture, HCL Technologies, Tata Consultancy Services Ltd, Vinove Software and Services Pvt Ltd, Deloitte, FCS Software Solutions Ltd.
Vskills is India's largest certification provider and gives candidates access to top exams as well as offers after exam benefits. This includes:
This certification will have a Government verification tag.
Also, the Certification will have lifetime validity.
Further, you will get Lifelong e-learning access.
Moreover, you get access to Free Practice Tests.
Additionally, You will get tagged as 'Vskills Certified' On Monsterindia.com and 'Vskills Certified' On Shine.com.
Exam Details
Exam Code: VS-1021
Duration: 60 minutes
No. of questions: 50
Maximum marks: 50
Passing marks: 25 (50%).
There is NO negative marking
This is an Online exam.
Exam Process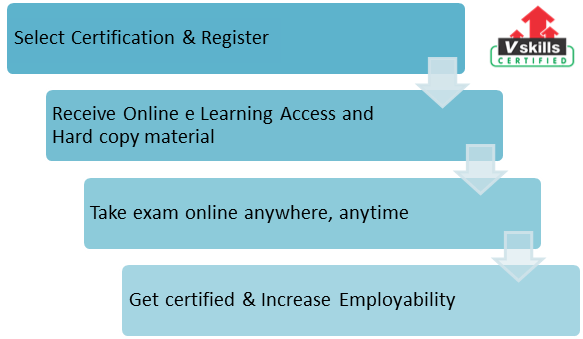 Course Outline: Certified Computer Fundamentals Professional
The Topics covered in this certification exam are
Preparatory Guide: Certified Computer Fundamentals Professional
Preparing for an exam is the real task. Consistency and determination are the essential keys to unlock your certification. However, preparing from the genuine resources and being on the right track is also important. Look no further as we present you our step by step preparatory guide. Resources in the guide will help you refresh your skills and concepts related to the exam while providing you with all the important insights.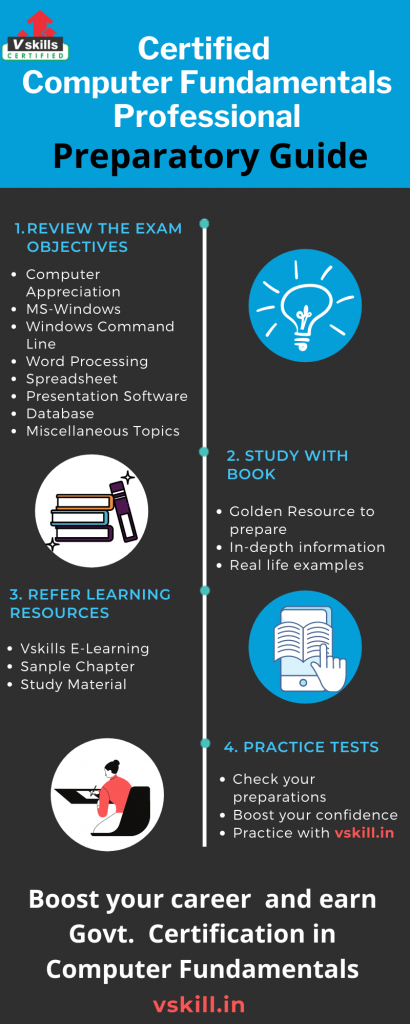 Step 1- Start with the Exam Objectives
Before heading towards your preparation journey, you must get yourself familiar with the main objectives of the Certified Computer Fundamentals Professional exam. A thorough analysis will let you align yourself more deeply with the chief objectives if the exam. This will help you to gain the required command to earn your desired certification. This exam covers the following topics:
Computer Appreciation
MS-Windows
Windows Command Line
Word Processing – MS-Word 2013
Spreadsheet – MS-Excel 2013
Presentation Software – MS-PowerPoint 2013
Database
Miscellaneous Topics
Step 2- Enhance up your studying game with books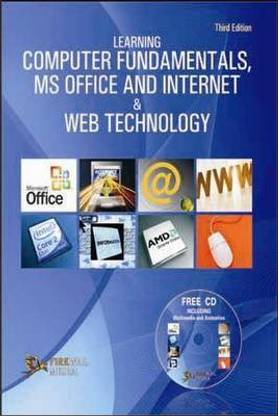 Preparing with books have been the traditional way. They are the go-to resource for any exam. These Books help you gain in-depth clarity about the exam domains. Most important of all, you can find real-time examples of the different concepts you learn for this certification exam. As a result, you can strengthen your knowledge about the application of these concepts. We suggest you to include the following books in your preparation journey:
Firstly, Computer Fundamental MS Office by Anupama Jain
Secodnly, Mastering Ms Office by Kumar
Thirdly, Learning Computer Fundamentals by Dinesh Maidasani
Step 3- Enrich your learning with the Right Resources
Choosing the right resources is important to successfully pass the exam. Make sure the content is precise and reliable enough. The resources that you'll pick will determine how well you prepare and pass the exam. To help you out Vskills offers its own Learning Resources. The E-Learning Study Material helps broaden your knowledge and familiarise with the exam concepts. Moreover, it offers revised and updated content to supplement your learning experience and exam preparation.
Refer: Certified Computer Fundamentals Professional Sample Chapter
Step 4- Self-Evaluate with Practice Tests
Finally, we're on the last step of your preparation guide. This step will provide the you with the exact insights of where you need to work upon. Your practice is an important determiner of how well you pass the exam. Are you ready to self-evaluate? Make sure you're going through sample tests only after you have gone through the whole syllabus. Moreover, all the sample test mock test/ practice tests are designed in such a way that you encounter the real exam environment around you. After completing sample tests, you can easily understand the areas you're lacking behind and work upon them. Remember the more you practice, better the result. Lets Self-Evaluation your preparations with Free Practice Tests!

Upgrade your knowledge and enhance your skills with Certified Computer Fundamentals Professional exam. Start your Preparations Now!