AML-KYC Compliance Officers oversee internal anti-money laundering policies and remain compliant with important regulations, banks, credit unions, and similar financial institutions. They ensure compliance with current AML regulations and other relevant legislation. Moreover, they develop and maintain a risk assessment framework for products and services, clients, and customers.
Responsibility of a Compliance Officer
AML-KYC Compliance Officers implement various inspections and audits from third-party organizations.
They oversee and implement an ongoing AML training program for other employees.
AML-KYC Compliance Officers determine the risk level of customers when opening a customer account as well as implement the company's anti-money laundering compliance policy.
They follow AML regulations and laws and take protective measures against financial crimes to the company.
Further, they detect suspicious transactions and then report for it.
Vskills Certified AML-KYC Compliance Officer: Overview
Vskills certification in AML-KYC Compliance Officer is one of the first certifications in this area of banking sector. Vskills Certified AML-KYC Compliance Officer will get a chance to explore various employment areas in top banking ancillary firms, security and audit firms, and other small and medium enterprises. Moreover, the certification is aimed at enhancing the quality of compliance with the directions of RBI in combating illegal operations and movement of funds through the use of banking channels.
Vskills being India's largest certification providers gives candidates access to top exams as well as provides after exam benefits. This includes:
The certifications will have a Government verification tag.
The Certification is valid for life.
Candidates will get lifelong e-learning access.
Access to free Practice Tests.
Candidates will get tagged as 'Vskills Certified' On Monsterindia.com and 'Vskills Certified' On Shine Shine.com.
Test Details
Exam Duration: 60 minutes
Vskills Exam Code: VS-1092
Number of questions: 50
Maximum marks: 50
Passing marks: 25 (50%).
There is NO negative marking in this module.
Course Outline for Certified AML-KYC Compliance Officer
Certified AML-KYC Compliance Officer covers the following topics –
Preparation Guide for Certified AML-KYC Compliance officer
Candidates preparing for the exam should understand the importance of exam resources. As during the exam preparation, it is essential to get all the required exam study resources. This will provide an advantage to understand the concepts and meaning more accurately. In the Certified AML-KYC Compliance Officer preparation guide, we will discuss some of the most important resources to help you prepare well for the exam.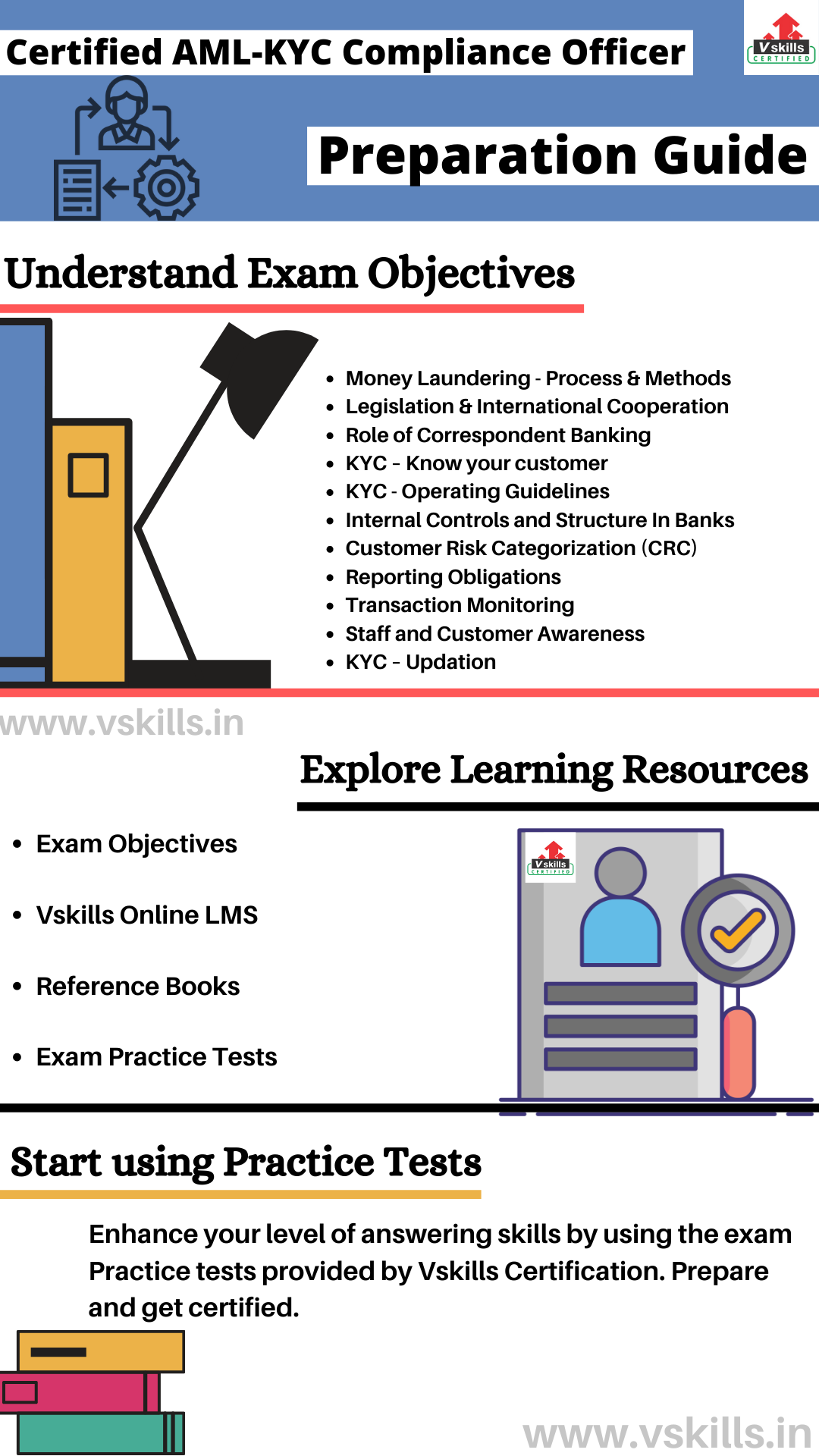 Study Resource: Exam Objectives
For every examination, the first task should be to get all the exam related details including the important contents and its topic. This will help candidates to easily start preparing for the exam and to understand things more accurately. For the Certified AML-KYC Compliance Officer exam the topics include:
Money Laundering – Process & Methods
Legislation & International Cooperation
Role of Correspondent Banking
KYC – Know your customer
Internal Controls and Structure In Banks
Customer Risk Categorization (CRC)
Reporting Obligations
Transaction Monitoring
Staff and Customer Awareness
KYC – Updation
Study Resource: Vskills Online LMS
Vskills Certified AML-KYC Compliance Officer exam provides candidates access to prepare for the exam using the online learning material for a lifetime. The online material for this is regularly updated. Furthermore, e-learning is bundled with hard copy material which helps candidates to improve and update the learning curve for superior and better opportunities.

Study Resource: Books for Reference
Reference Books can provide an advantage to learn and understand things more accurately. For the Certified AML-KYC Compliance Officer exam, there are various books available which you can find online or in libraries. Some of the books are as follows:
AML Auditing – Understanding KYC Compliance (Volume 1) 1st Edition by Bob Walsh
Study Resource: Practice Test
After understanding and learning about the Certified AML-KYC Compliance Officer exam topics, it is time for practice tests. That is to say, practice tests are important for better preparation as by assessing yourself with these tests you will know about your weak and strong areas. Moreover, you improve your answering skills for getting better results. So, make sure to find the best practice sources.

AML KYC Best Interview Questions
Checkout these latest Online interview questions to prepare for AML KYC compliance role in Banking industry as well as in corporates. The questions are based on recent interviews conducted. Prepare now !