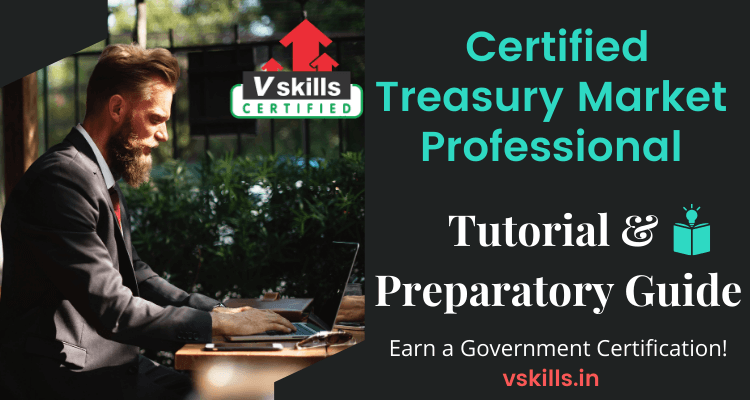 Curious to learn about the world of finance and risk management? Then the Certified Treasury Market Professional is just for you. A Treasury Market Professional has experience in cash management and financial products of the treasury department. This certification validates your expertise and unlocks various opportunities for you. The demand for Certified Treasury Market Professionals is accelerating as they provide innovative financial solutions to facilitate business strategy and manage risk.
Vskills Certified Treasury Market Professional Overview
Vskills Certified Treasury Market Professional exam helps you learn the fundamentals & the core elements of treasury management. This certification validates your skills in various financial products in the treasury department and the risk management techniques used in the treasury. Treasury Market Professionals also ensure that a company's financial statements are correct and in line with accounting and regulatory rules. Moreover, it is relevant to anyone who needs a good understanding of treasury and aimed at professionals working within the treasury, bankers, corporate financiers, risk managers and treasurers.
Benefits of this Certification
Given the high competition in the job market, professionals certifications help you highlight your skills and make you academic records shine. The Treasury Market Professional certification introduces you to functions of a Treasury Department in a bank or corporate. Treasury continues to be a high profile career and is also seen as a stepping stone to other senior finance roles.
Vskills is India's largest certification provider and gives candidates access to top exams as well as offers after exam benefits. This includes:
This certification will have a Government verification tag.
Also, the Certification will have lifetime validity.
Further, you will get Lifelong e-learning access.
Moreover, you get access to Free Practice Tests.
Additionally, You will get tagged as 'Vskills Certified' On Monsterindia.com and 'Vskills Certified' On Shine.com.
Who is this certification for?
A Vskills Certified treasury market professional certification is designed for who are looking for employment in various retail banks, investment banks, trading and research, and treasury departments of various MNCs. Multinational companies like HDFC, ICICI Bank, Axis Bank, Habsons Jobsup Limited, Kotak Mahindra Bank, IndusInd Bank are known for recruiting Certified treasury market professionals.
Career as a Treasury Manager
Treasury management is a rewarding, fascinating, and varied vocation that contributes to the future financial strategy of an organisation. Let us know about Career as a Treasury Manager.
Role and Responsibilities: Certified Treasury Market Professional
The aim of a Certified Treasury Market Professional is to ensure the financial success of the companies by managing their money and financial risks. Primary role includes helping organisations increase profitability by assessing periodic liquidity needs, determining funding sources and investing excess cash in capital markets. Their typical responsibilities are:
Firstly, assessing, reviewing and protecting financial wellbeing of their company
Secondly, ensuring cash flow is adequate
Thirdly, handling daily cash balances and the money market
Moreover, managing major projects such as company refinancing
Additionally, making decisions about company funding options, insurance contracts and other financial issues
Also, negotiating and evaluating overdrafts and loans with bankers
Further, recruiting, training and supervising junior staff
Likewise, keeping up-to-date with developments within the profession/industry.
A treasury specialist also partners with internal and external auditors to ensure that controls and procedures around financial reporting mechanisms are adequate and functional
Exam Details
Exam Code: VS-1016
Duration: 60 minutes
No. of questions: 50
Maximum marks: 50, Passing marks: 25 (50%).
There is NO negative marking in this module.
Exam Process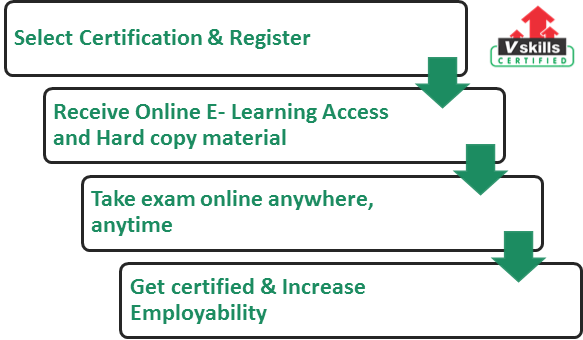 Course Outline of Certified Treasury Market Professional
This certification exam covers the following topics:
Preparatory Guide: Certified Treasury Market Professional
Preparation for an exam is one of the most essential yet difficult journeys. Further, the key to successfully pass an exam is by preparing right. Preparations demand consistency and determination. Also, there are plenty of resources available. You must have the right information and tools to crack the exam. We present you our specially curated preparatory guide to help you achieve this certification.
Start with the Exam Objectives
A denser look at each and every domain of the Certified Treasury Market Professional exam can give a further indication regarding the aspirations of the exam. You should be very clear with the syllabus. This will unquestionably put you on the right track and help you ace your preparations. the topics covered in this exam are:
Intrroduction
Treasury Management
Teasury Risk Management
Treasury Policies and Procedures
Investment Market & its Operations
Security Market and Emerging Trends
Portfolio Management
Derivatives
Hedging
Depository
Mutual Funds
Stock Exchange/ Screen Based Trading
Foreign Capital Issuance
Investors protection, Grievance and Education
Time Value of Money
Ratio Analysis
Choose the Right Learning Resources
The importance of choosing the right learning resources is really high. As a matter of fact, there are various resources to choose from. This makes it difficult to select the authentic and genuine ones. Therefore Vskills offers its own E-Learning Study Material which is the most reliable and helpful resource for gaining the knowledge and successfully passing the exam. This online learning material is available for lifetime and is updated regularly. Moreover, these e-learning resources also come with hard copy study material to supplement your learning experience.
Become a Bookworm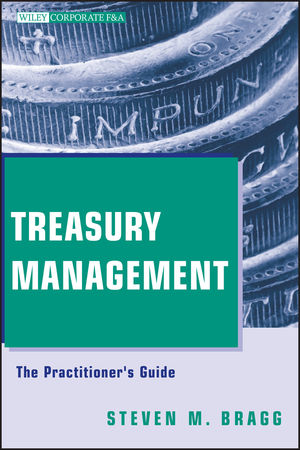 Preparation for any exam without books seems unreasonable and unproductive at the same time. So, you should also search for relevant and credible books by expert authors for your exam preparation. Books are a comprehensive source of information for candidates to prepare. We suggest you to include the following books in your preparation journey:
Firstly, Treasury Management: The Practitioner's Guide
Secondly, The Treasury Bond Basis
Also, Treasury Markets and Operations
Further, The Handbook of Global Corporate Treasury
Attempt Practice Tests
Mistakes are inevitable, but surely, they can be limited. When it comes to exams, practice papers help a lot in limiting the mistakes. Moreover, training the brain is very essential. Practice papers give that simulation in which the brain needs to get used to the actual exam. Other than knowledge, there are many factors that can affect your performance in the exam. Also, these include confidence, speed, understanding the marking scheme, physical and mental alertness and concentration, and more. Thus, going through practice tests helps you find your strengths and iron out your weaknesses. They make you understand the areas you're lacking behind and work upon them. Most importantly, make sure that you are going through practice tests once you have gone through the whole syllabus. Try outperforming yourself with each subsequent test. Get Ready to Self Evaluate your preparations with Practice Tests!

Prepare for Job Interview
These job interview questions on Treasury Markets will help you to crack your interview whether you are a fresher or looking to upgrade your career. These interview questions are solely designed to serve the purpose to enrich you with knowledge.