Choosing a career in the field of human resource management is a choice one makes having managerial and people skills. As we are seeing the organizations are now focusing on creating a digital workplace for high productivity, flexibility and mobility across the globe. This as a result is shifting business processes from legacy systems to digital HR. In short, this has increased the demand for HR by providing people with chances to create a good career in the Human Resource Department.
However, many candidates may have difficulty in understanding the HR Department as it is a big chain of opportunities and roles. So, in this blog, we will talk about the Human Resource Management department from basic to advanced as well as the pathways to enhance your career. Moreover, we will also cover the various certifications and professional job roles available to make the best career choice.
So, starting with a brief overview of Human Resource Management. Let's have a look!
Human Resource Management: Overview
Human resource management or we can say the central pillar for many organizations is responsible for activities bridging a wide variety of core functions. In other words,
Human resource management (HRM) is for describing a set of tasks pointed at effectively managing an organization's employees or human resources. However, the professionals in Human Resource Management oversee the business of managing people in an organization that includes compensation, benefits, training and development, staffing, etc.  
Talking about today's competitive environment, HR plays a vital role in differentiating one business from another. Further, there are major areas in human resource management that will make things more clear for you.
Human Resource Management : Functional Areas
Some of the major areas in the human resource management include:

Recruitment And Selection
For every growing company, there is a need for professionals to check the recruitment and selection department. This is done so there is a well-motivated workforce that can take the organization to further success. HR recruiters use effective recruitment and selection processes to track prospective employees that mix with the company's culture and have the skills to drive the company forward. 
Certified Talent Acquisition Professional
Compensation And Performance
For remaining competitive in a highly flexible business environment, companies offer salaries and benefit packages to select the strongest applicants to come on board. For this, Human Resource departments use various tools for measuring performance, including self and peer evaluations, targets for individuals or groups, and employee appraisals. However, good performance management is important to track the employees who consistently underperform and may not be a good fit with the company and may have to be let go.
Certified Compensation and Benefits Manager
Certified Performance Appraisal Manager
Training And Development
Training and development are important components that the HR department uses for retaining employees. Moreover, these components improve the performance of a company's workforce and allow employees to grow in their professions. Further, HR managers prepare action plans for assessing the investment in training and development programs.
Certified Training and Development Manager
HR Data and Analytics
HR data analytics is for keeping track of critical data through HR metrics or HR KPIs. These refers to HR Reporting that are specific measurements that explain how a company is doing on a given measurement. However, the reporting focuses on the current and past state of the organization. 
Certified HR Audit Professional
In the next section, we will look at the major challenges of human resources that HR professionals have to deal with.
Human Resource Management : Key Roles and Challenges
Human resources management is important for driving productivity by ensuring skillful employees are hired in organization. This also builds coordination between organizational departments. However, without having a good human resources management in organization, the departments can face difficulty in handling the processes. Further, HR management ensures employee satisfaction and maintains a healthy work culture.
Talking about the challenges, as a HR Professionals you must have ability to handle situations arising at the workplace. And, if you have decided to choose HR as your profession, then patience and flexibility are the two important things you will need to interact with people with different levels of experience. Moreover, you will be involved in compliance-related work that requires close attention to detail and a strong knowledge of business communication skills.
Above we have got an idea about the working and major areas of human resource management. Now, in the next section, we will understand what basic skills and abilities you must have to have advanced progress in the HR career pathway.
Basic HRM Skills you should have
In this we will learn and understand about the basic skills that a HR Professional must have.
Firstly, as an HR Professional, the important skill is to have good communication both in oral and written. That is to say, the human resource field requires a lot of talking as the team is in charge of recruitment that entails a series of interviews. Moreover, there is a need to deal with a lot of people day in and day out, listening to their issues whether work-related or not.
Next comes the organization skill. As an HR manager, you have to check all functions with a systematic way of going through all the processes. Moreover, HR involves a lot of paperwork that must be filed such as employee profiles and legal documents.
Thirdly, HR has to deal with a lot of decision making during the recruitment process for finding good talent. This requires strategy, experience, and intuition.
Fourthly, as the world is emerging with the latest technologies this is applying to the HR department as well. That is to say, HR managers now rely on visual planning software, digital spreadsheets, and online databases for completing their job tasks. And, giving importance to time management, there is more time saving by going digital.
Lastly, negotiation skills. There must be various issues in the HR Management department in which the HR manager diffuses conflict by negotiating with employees. This can be like when a new employee with extensive experience or a college degree requests a higher salary than the normal starting rate. Or an employee refuses to work with a specific manager.
Top HR Certifications
To get the best outcome from the Human Resource Management department, it is essential to hold a certification. As holding a certification itself increases the value in the job market sector. So, some of the top certifications related to HR includes: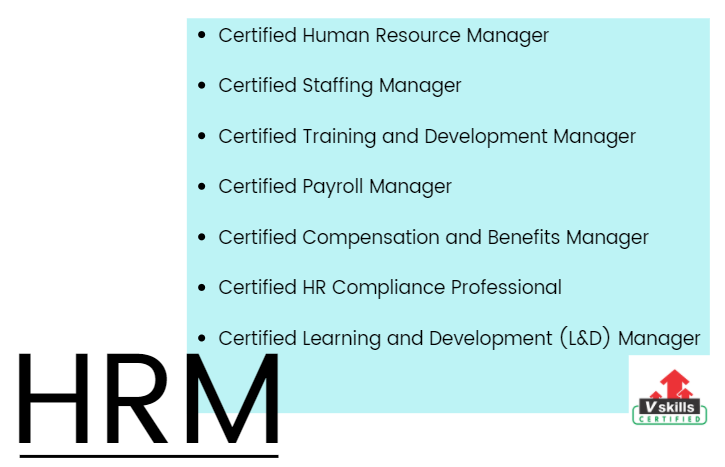 Certification Providers
After getting to know about various Human Resource Management certification, the next thing that comes in mind is to prepare for that. For this, there are various certification providers out there that provide training with expert assistance. The certification providers include,
Vskills – India's Largest Certification Body
Edureka
Udemy
Simplilearn
Coursera
Above we have understood the brief about Human Resource management as well as the top certification in this field. Now, in the coming section, we will learn about the HR market value and various roles that you can apply for.
Is Human resource management trending in the market?
Human Resource Management that is better known as one of the core parts of any organization is growing rapidly. Moreover, the demand for human resources professionals is now higher than the national job growth average for other professions. Organizations are focusing on creating a digital workplace for enabling high productivity and flexibility globally. And, even many companies are improving their employee engagement and efficiency by developing better employee experience platforms. Further, organizations are using human resource management solutions for strategizing recruitment and ensuring proper internal communications.
Coming on to the major job roles, that you can choose to take your career to the next level in Human resource.
Human Resource Management: Roles to fit in!
Some of the roles that you can apply for in HRM include:
Human Resource Manager
Human resources (HR) managers are responsible for planning, directing, and coordinating the administrative functions of an organization.
Secondly, they handle the process like recruitment, interview, and hiring of new staff. Moreover, they consult with top executives on strategic planning.
Thirdly, they develop and implement HR strategies and initiatives linked with the overall business strategy.
They support present and future business needs using development, engagement, motivation and preservation of human capital.
Further, they also develop and monitor overall HR strategies and handle the planning and coordination of an organization's workforce to best use employees' talents.
Lastly, they handle staffing issues that include mediating disputes and directing disciplinary procedures.

Compensation and benefits manager
Compensation and benefits managers are responsible for setting the organization's pay and benefits structure.
They determine competitive wage rates for developing or modifying compensation plans.
Thirdly, they also create and manage training budgets.
Lastly, they teach training methods and skills to instructors and supervisors.
Human Resources Specialist
Human resources specialists perform tasks like consulting with employers for identifying employment needs.
Secondly, they take interviews of applicants to understand about their experience, education, and skills.
They also perform background checks on job applicants as well as inform applicants about job details, such as duties, benefits, and working conditions.
Lastly, they conduct new employee orientation and keep employment records and process paperwork.
Payroll Manager
Payroll managers are responsible for supervising the operations of an organization's payroll department.
Secondly, they ensure that all aspects of payroll are processed correctly and are on time.
Next, they administer payroll procedures as well as prepare reports for the accounting department, Moreover, they also resolve payroll problems or discrepancies.
You should know that getting certified as a Human Resource Manager can help you to explore various new opportunities with a good pay scale. And to better understand the payscale check the below section.
HRM : Salary
On the basis of top Companies
For the Human Resources (HR) Manager job role, some of the top companies such as EY (Ernst & Young), Capgemini and Tata Consultancy Services Limited have different salary bases. Firstly, for EY (Ernst & Young), the average pay is ₹1,300,000.
Secondly, for Tata Consultancy Services Limited and Wipro, the earning is around ₹1,297,495 and ₹1,200,000, respectively.
Thirdly, HCL Technologies Ltd. is paying HR Managers around ₹665,000.
Lastly, for Accenture and Cognizant it is ₹725,000 and ₹898,585, respectively.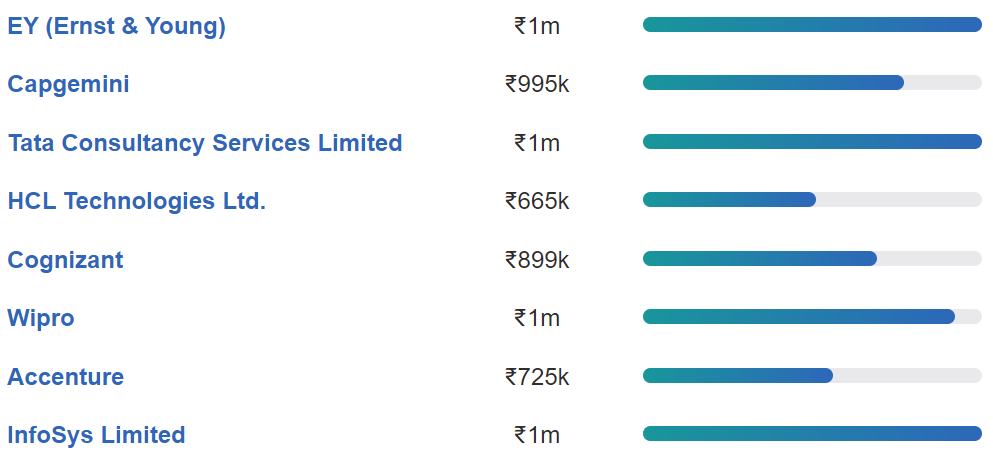 Experience Based Salary
An entry-level Human Resources (HR) Manager with less than 1 year of experience can earn an average total compensation of ₹365,785.
Secondly, a Human Resources (HR) Manager with 1-4 years of experience can earn an average total compensation of ₹437,788.
Then comes a mid-career Human Resources (HR) Manager with 5-9 years of experience. They can earn an average total compensation of ₹714,880.
And, for an experienced Human Resources (HR) Manager with 10-19 years of experience, they can earn an average total compensation of ₹1,013,132.
Roadmap to become a Successful HR Manager
This can be considered as the important part for this blog. In this we will learn about the ways you can take help to have progress in your career for HRM.
Firstly, stay focused and maintain the passion. That is to say, while hiring for new people they forget about the ones they already have. And, by staying focused you will be able to inspire the people you're trying to recruit, as well the current workers in the organization.
Secondly, try to communicate with the employees not only when they are facing transitions, but on a daily basis.
Thirdly, keep tabs on everyone as you cannot inspire them to do a better job with generalized motivational talks. If you help them to move towards their personal goals, however, you'll be on the right track.
Then, learn about the individual needs of each department so that you handle the recruitment and selection process more accurately.
You have to stay up to date with new technologies, so that you can keep improving your effectiveness as a HR manager.
Lastly, try to find a vision that not only increases your HR manager growth level but also enhances the growth of the entire organization.

Experts Corner
To sum it up, human resource management is the area that can help you take your career to the next level. Above we have learned that getting certified as a human resource manager can provide you many different career opportunities to explore. So, you have a chance to enhance your knowledge and skills in HRM and improve your career. But, one thing you should consider is that due to the HRM trending market value, the competition level has risen. That is to say, you need to study and know well about various HR departments. For this, you can take help from various tutorials for a human resources available. At last, prepare yourself well and become an HR Professional.