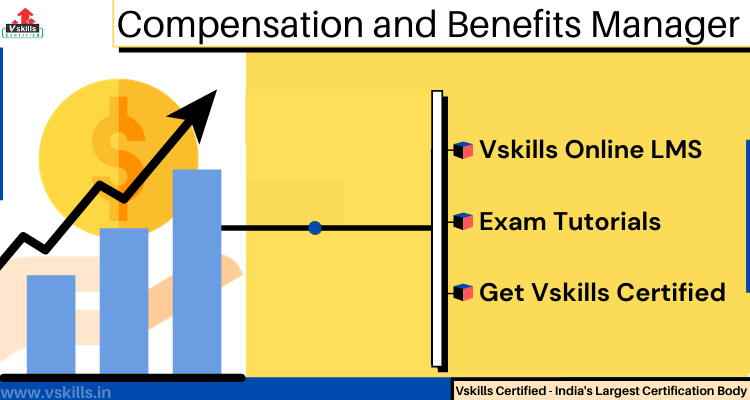 Compensation and benefits managers play an important role in performing tasks that include coordinating the corporate compensation and benefits department. They link with the hiring managers, recruiters, and other Human Resources personnel for ensuring that job offers are on the basis of market rate with internal equity. Further, the Compensation and benefits manager evaluates every position and determines the proper market value for that job. This is done through salary surveys and statistical analysis for determining what the market value is for each job.
Roles and Responsibilities
Compensation and benefits manager perform task like designing compensation packages and various bonus programs according to the company's strategic plan
They identify trends and then implement new practices for engaging and motivating employees.
Compensation and benefits managers also ensure that the salaries and benefits comply with the current legislation about human rights.
They conduct various research on employee satisfaction as well as renew compensation plans with monetary and non-monetary benefits based on employee needs.
They also keep track of prevailing pay rates and make sure that competitive compensation plans are offered.
Next, they evaluate and report on the effectiveness of employee benefit programs as well as track compensation and benefits benchmarking data.
Vskills Certified Compensation and benefits manager: Overview
Vskills Compensation and benefits manager course covers the important concepts that include the principal need of the organization which is establishing and maintaining a pay system. In this course, candidates will learn how to attract, retain, and motivate people for your business to succeed as well as the process of building pay strategy, salary structure. Furthermore, it includes skills to perform short-term & long-term incentives and benefits that are aligned to your business objectives. Moreover, this course will provide you an overview of key technical skills that will help you in designing incentive plans & non-monetary methods of motivating employees.
Course Benefits
Vskills Compensation and benefits certification validates the candidate skills and knowledge in different areas that include methods for ensuring equitable pay, conducting surveys for comparing their compensation systems with other companies as well as ensuring that the firm's pay scale complies with changing laws and regulations.
Candidates achieving the Vskills Certified Compensation & Benefits Manager will get a chance to explore many job opportunities in good companies like Adecco, Mercer India, TeamLease Services Limited, Bajaj Capital Limited, Ikya Human Capital Solutions, ABC Consultants.
Vskills being India's largest certification providers gives candidates access to top exams as well as provides after exam benefits. This includes:
The certifications will have a Government verification tag.
The Certification is valid for life.
Candidates will get lifelong e-learning access.
Access to free Practice Tests.
Candidates will get tagged as 'Vskills Certified' On Monsterindia.com and 'Vskills Certified' On Shine Shine.com.
Test Details
Exam Duration: 60 minutes
Vskills Exam Code: VS-1004
Number  of questions: 50
Maximum marks: 50
Passing marks: 25 (50%).
There is NO negative marking in this module.
Career as a Compensation and Benefits Manager
Human resources are an organization's most valuable asset. Compensation and Benefits Managers are hired by companies to keep workers engaged and committed to the organization's goals. Let us learn about Career as a Compensation and Benefits Manager!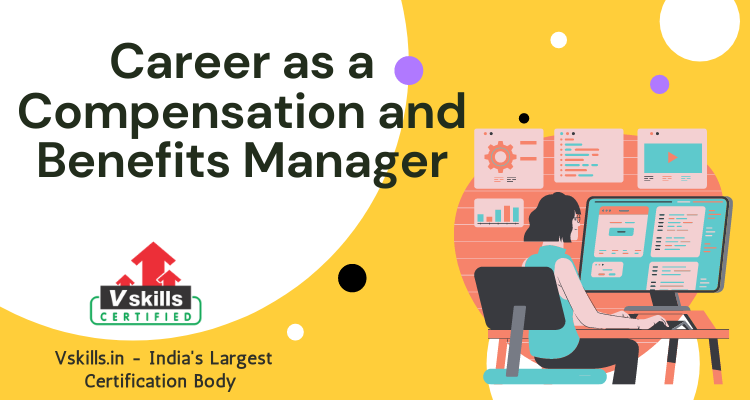 Course Outline for Certified Compensation and benefits manager
Certified Compensation and Benefits Manager covers the following topics –
Preparation Guide for Vskills Certified Compensation and benefits manager
Candidates preparing for the exam should understand the importance of exam resources. During the exam preparation, it is essential to get all the required exam study resources. This will provide an advantage to understand the concepts and meaning more accurately. In the Certified Compensation and benefits manager exam preparation guide, we will discuss some of the most important resources to help you prepare well for the exam.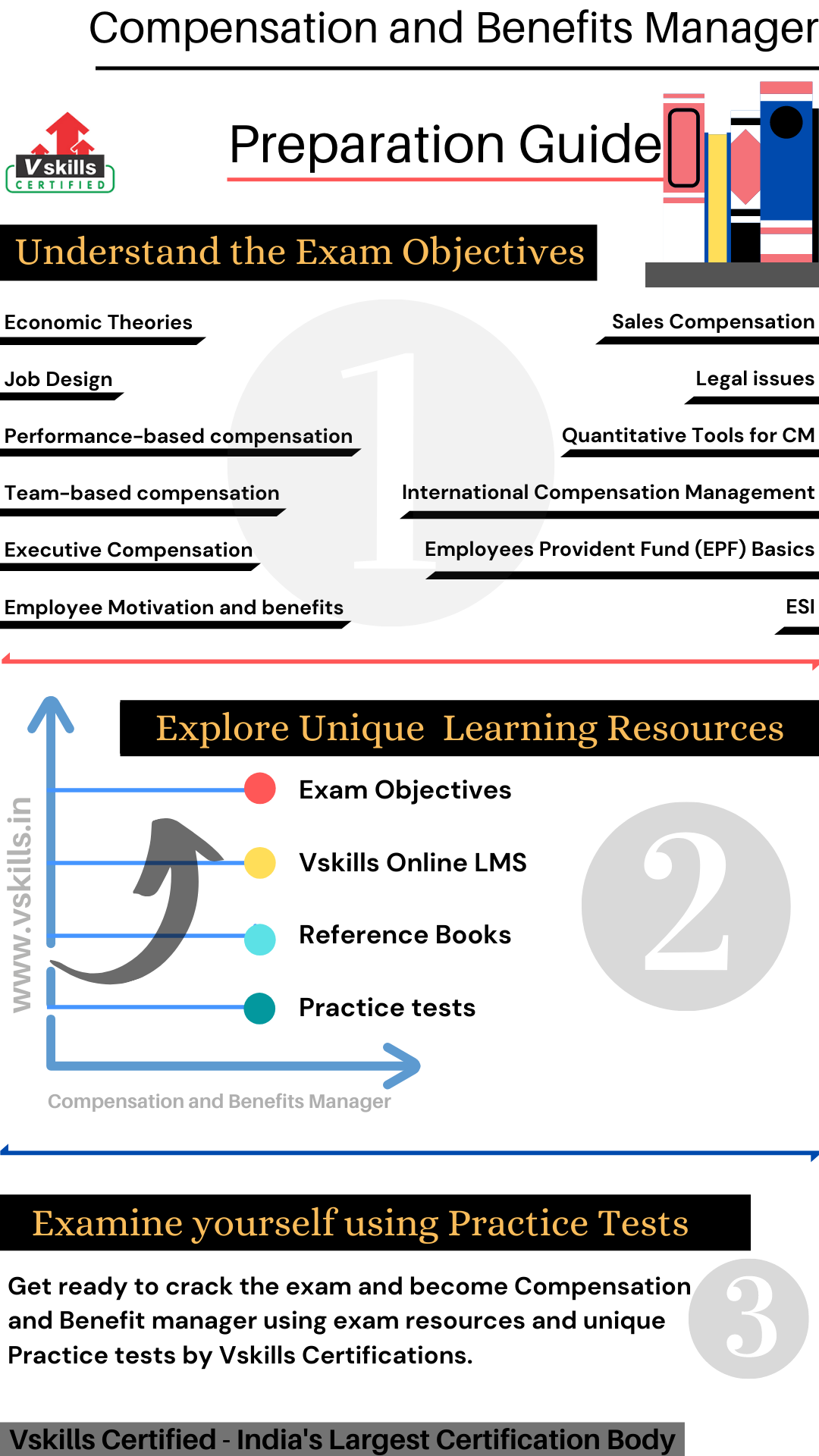 Study Resource: Exam Objectives
For every examination, the first task should be to get all the exam related details including the important contents and its topic. This will help candidates to easily start preparing for the exam and to understand things more accurately. For the Certified Compensation and benefits manager exam the topics include:
Economic Theories
Job design
Performance-based compensation
Team-based compensation
Executive Compensation
Employee Motivation and benefits
Sales Compensation
Legal issues
Quantitative Tools for Compensation Management
International Compensation Management
Employees Provident Fund
ESI
Study Resource: Vskills Online LMS
Vskills Certified Compensation and benefits manager provides candidates access to prepare for the exam using the online learning material for a lifetime. The online material for this is regularly updated. Furthermore, e-learning is bundled with hard copy material which helps candidates to improve and update the learning curve for superior and better opportunities.

Study Resource: Books for Reference
Reference Books can provide an advantage to learn and understand things more accurately. For the Certified Compensation and Benefits Manager exam, there are various books available which you can find online or in libraries. Some of the books are as follows:
Compensation and Reward Management by B. D. Singh
Compensation and Benefit Design by Bashker D. Biswas
Study Resource: Practice Test
After understanding and learning about the Certified Compensation and benefits manager exam topics, it is time for practice tests. That is to say, practice tests are important for better preparation as by assessing yourself with these tests you will know about your weak and strong areas. Moreover, you improve your answering skills for getting better results. So, make sure to find the best practice sources.

Prepare for Job Interview
Prepare for job interview in HR Compensation and Benefits Manager with vskills expert designed interview questions, the sole purpose of the interview questions is to enhance your knowledge and makes you job ready.