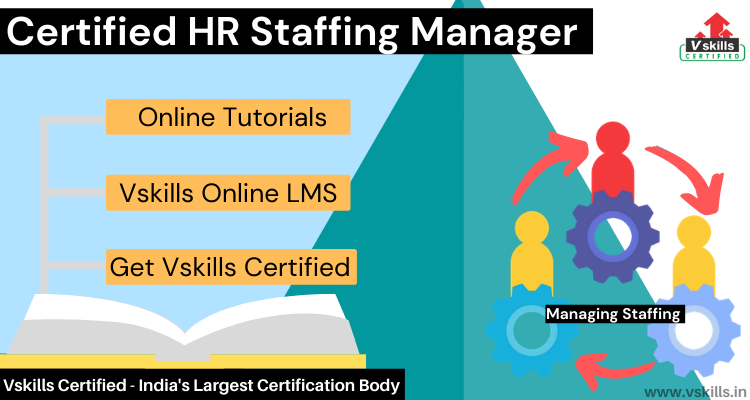 HR Staffing managers are the human resources professionals who perform various roles in an organization that includes recruiting, training, retaining employees as well as firing them. Moreover, they combine both recruiting and human resource functions for serving their clients, namely, the company that hires them.
Roles and Responsibilities
HR Staffing Managers are responsible for planning, organizing, and implementing a sustainable staffing strategy.
They identify as well as investigate a company's staffing needs and take actions to staff accordingly.
HR Staffing Managers also work with recruiting agencies and they also identify hard to fill roles and take proactive actions in the same.
Further, they assist in candidate screening and interviewing as well as the new employee onboarding.
They also design and plan work shifts schedules. And, provide assistance with payroll procedures and activities.
Lastly, they prepare and present KPI reports and create reports for upper management
Vskills Certified HR Staffing Manager: Overview
Nowadays, finding and hiring the right people is one of the major concerns of companies today. That is to say, everyone is competing for the best and brightest employees. Therefore, hiring talented people who enable the organization to achieve its goals is important. The Vskills HR Staffing Manager course will explore various topics like recruitment, selection, and assessments. Moreover, candidates will learn essential staffing concepts and theories to skillfully meet the company's staffing and recruitment needs.
Course benefit
Vskills Certification in Staffing Manager examines the candidate on the basis of company's staffing and recruitment needs. The certification validates the candidates skills and knowledge on various areas that includes finding new talented employees, recruiting them, and then organizing training programmes for them. However, an important part of the staffing manager's job role is the retention of employees, since low retention is a big cost. Also, terminating an employee is also a part of a staffing manager's job and careful handling of that is important.Using this course candidates can improve their skill set and make their CV stronger for getting a better role. With this candidates can get chances to explore various job opportunities in companies like TeamLease Services Limited, Capgemini, Info Edge India Ltd, Adecco, ABC Consultants etc.
Vskills being India's largest certification providers gives candidates access to top exams as well as provides after exam benefits. This includes:
The certifications will have a Government verification tag.
The Certification is valid for life.
Candidates will get lifelong e-learning access.
Access to free Practice Tests.
Candidates will get tagged as 'Vskills Certified' On Monsterindia.com and 'Vskills Certified' On Shine Shine.com.
Test Details
Exam Duration: 60 minutes
Vskills Exam Code: VS-1003
Number  of questions: 50
Maximum marks: 50
Passing marks: 25 (50%).
There is NO negative marking in this module.
Career as an HR Staffing Manager
HR Staffing Managers are human resources professionals that execute a variety of functions in a business, including recruiting, training, retaining, and terminating workers. Let us know about Career as an HR Staffing Manager!
Course Outline for Certified HR Staffing Manager
Certified Staffing Manager covers the following topics –
Strategic Staffing
Preparation Guide for Vskills Certified HR Staffing Manager
Candidates preparing for the exam should understand the importance of exam resources. During the exam preparation, it is essential to get all the required exam study resources. This will provide an advantage to understand the concepts and meaning more accurately. In the Certified Staffing manager exam preparation guide, we will discuss some of the most important resources to help you prepare well for the exam.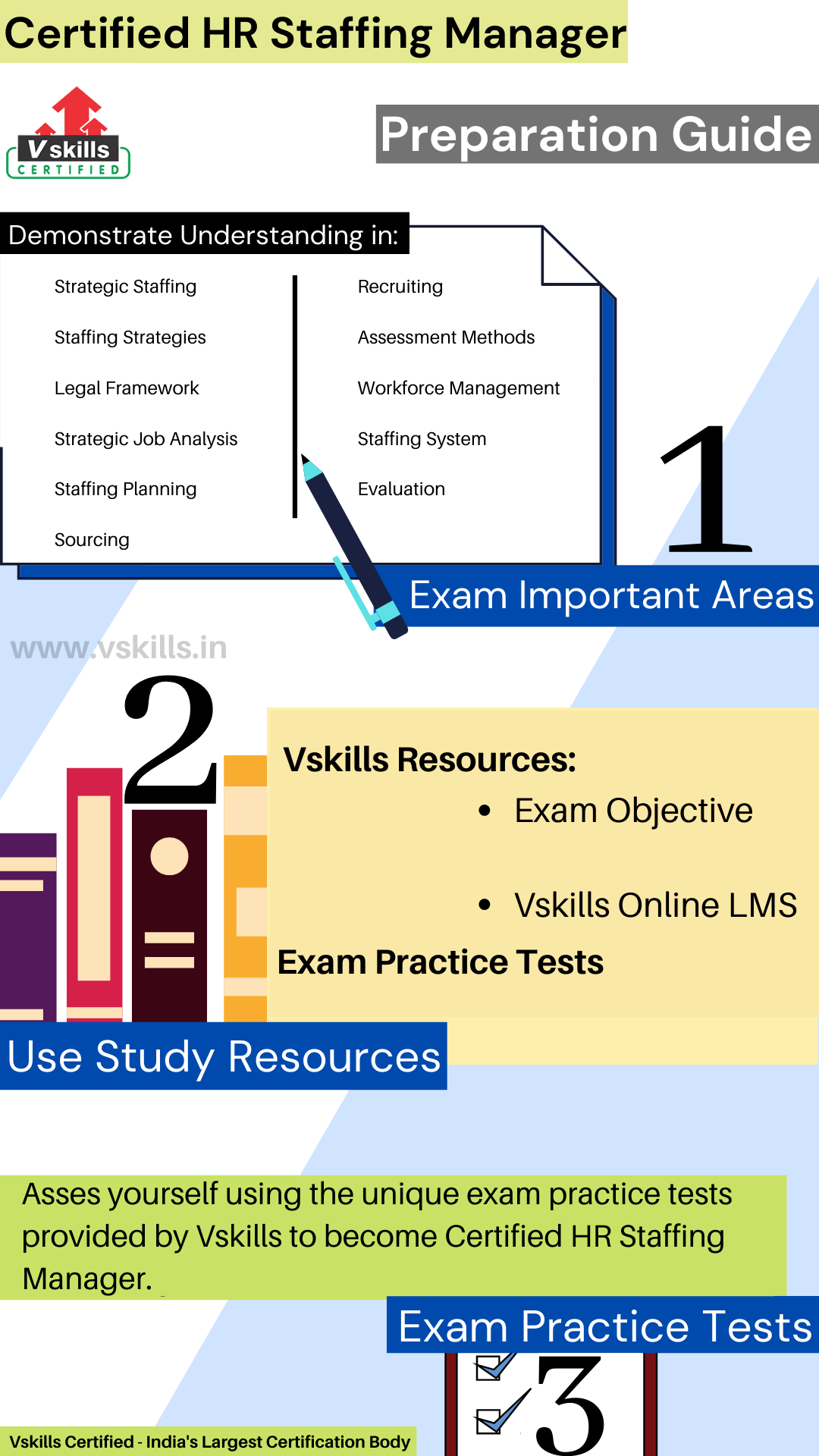 Study Resource: Exam Objectives
For every examination, it is important to get all the exam related details including the important contents and its topic. This will help candidates to easily start preparing for the exam and to understand things more accurately. For the Certified Staffing manager exam the topics include:
Strategic Staffing
Staffing Strategies
Legal Framework
Strategic Job Analysis
Staffing Planning
Sourcing
Recruiting
Assessment Methods
Workforce Management
Staffing System Evaluation
Study Resource: Vskills Online LMS
Vskills Certified Certified Staffing manager exam provides candidates access to prepare for the exam using the online learning material for a lifetime. The online material for this is regularly updated. Furthermore, e-learning is bundled with hard copy material which helps candidates to improve and update the learning curve for superior and better opportunities.

Study Resource: Books for Reference
Reference Books can provide an advantage to learn and understand things more accurately. For the Certified Staffing Manager exam, there are various books available which you can find online or in libraries. Some of the books are as follows:
Strategic Staffing 3e by Phillips
Strategic Staffing: A Comprehensive System for Effective Workforce Planning by Thomas P. BECHET
Study Resource: Practice Test
After understanding and learning about the Certified Staffing manager exam topics, it is time for practice tests. That is to say, practice tests are important for better preparation as by assessing yourself with these tests you will know about your weak and strong areas. Moreover, you improve your answering skills for getting better results. So, make sure to find the best practice sources.

Job Interview Preparation
If you are looking for a role in human resources, then you must checkout these interview questions on hr staffing which may help you in your interview preparation. The sole purpose of these questions is to enhance your knowledge and makes you job ready.