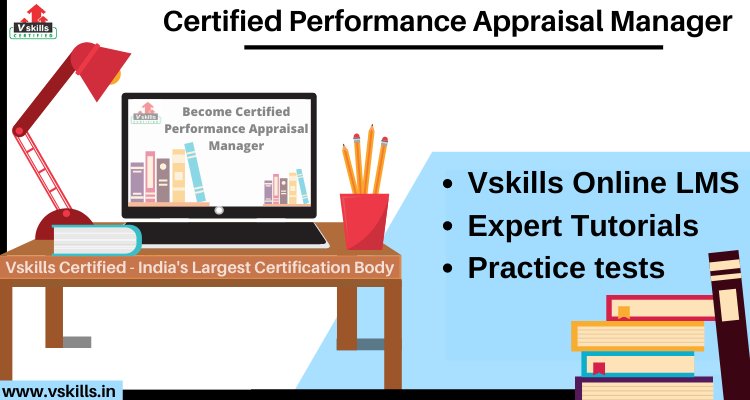 The performance Appraisal Manager is responsible for providing employees with constructive feedback on a regular basis, ongoing support, and counseling on performance issues throughout the evaluation period. This role is important and necessary to perform disciplinary and corrective action. They also address performance issues and determine whether an employee needs skills training or corrective action to return to an acceptable performance level.
Performance Appraisal Manager: Roles and responsibilities
Performance Appraisal Manager uses their experience to help employees develop the skills and high potential. Managers use their experience, skills and talent to select employees who demonstrate aptitude and promise. However, the culminating stage in the performance review is the actual performance appraisal. After completing the leadership training the Manager understands the value of performance management and evaluation techniques, as well as starts preparing to conduct an annual performance appraisal. For preparing an appraisal managers require to know how to rate employees, according to the company's expectations and performance standards. Therefore, a performance appraisal manager's role includes observation and assessment.
Career Opportunities as a Performance Appraisal Manager
Managers complete leadership training that enables them to understand the importance of performance management and evaluation, as well as how to prepare for and conduct an annual performance appraisal. Let us dive into the Career Opportunities as a Performance Appraisal Manager.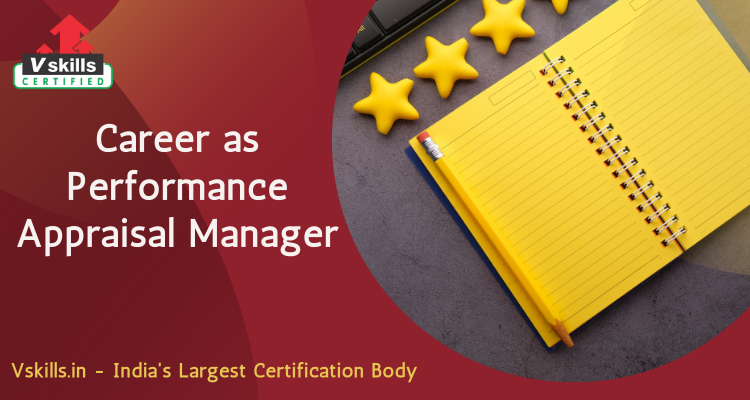 Vskills Certified Performance Appraisal Manager
The Performance Appraisal Manager certification mainly focuses on devising a competency framework for the appraisal process. The appraisal process is based on techniques of job analysis, effective appraisal interview skills, designing appraisal forms, analyzing feedback, and conducting performance reviews. Moreover, this certification enhances the candidate's productivity and self-development skills for handling the day-to-day working of the organization.
Benefit of certification
Performance Appraisal Manager certification will benefit managers, supervisors, human resource personnel, and those responsible for conducting performance appraisal activities.
However, Vskills Certified Performance Appraisal Manager will get many opportunities to find employment in good companies, big or small, as HR is an essential part of any organization. The candidates can also find employment in HR departments of organizations for Performance and Talent Management.
Some of the top companies in which Certified Performance Appraisal managers may get opportunities to include TeamLease Services Limited, Vertex Customer Solutions, Evalueserve, Cvent India, Ikya Human Capital Solutions.
Vskills being India's largest certification providers gives candidates access to top exams as well as provides after exam benefits. This includes:
The certifications will have a Government verification tag.
The Certification is valid for life.
Candidates will get lifelong e-learning access.
Access to free Practice Tests.
Candidates will get tagged as 'Vskills Certified' On Monsterindia.com and 'Vskills Certified' On Shine Shine.com.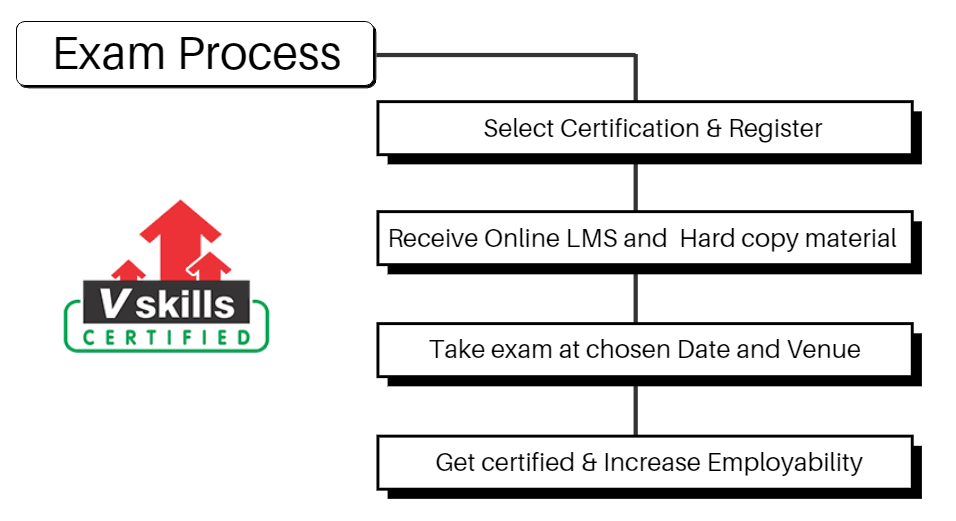 Test Details
Exam Duration: 60 minutes
Vskills Exam Code: VS-1011
Number of questions: 50
Maximum marks: 50
Passing marks: 25 (50%).
There is NO negative marking in this module.
Course Outline for Certified Performance Appraisal manager
Preparation Guide for Vskills Certified Performance Appraisal manager
During the exam preparation, it is essential to get all the required exam study resources. In the Certified Performance Appraisal manager exam preparation guide, we will discuss some of the most important resources to help you prepare well for the exam.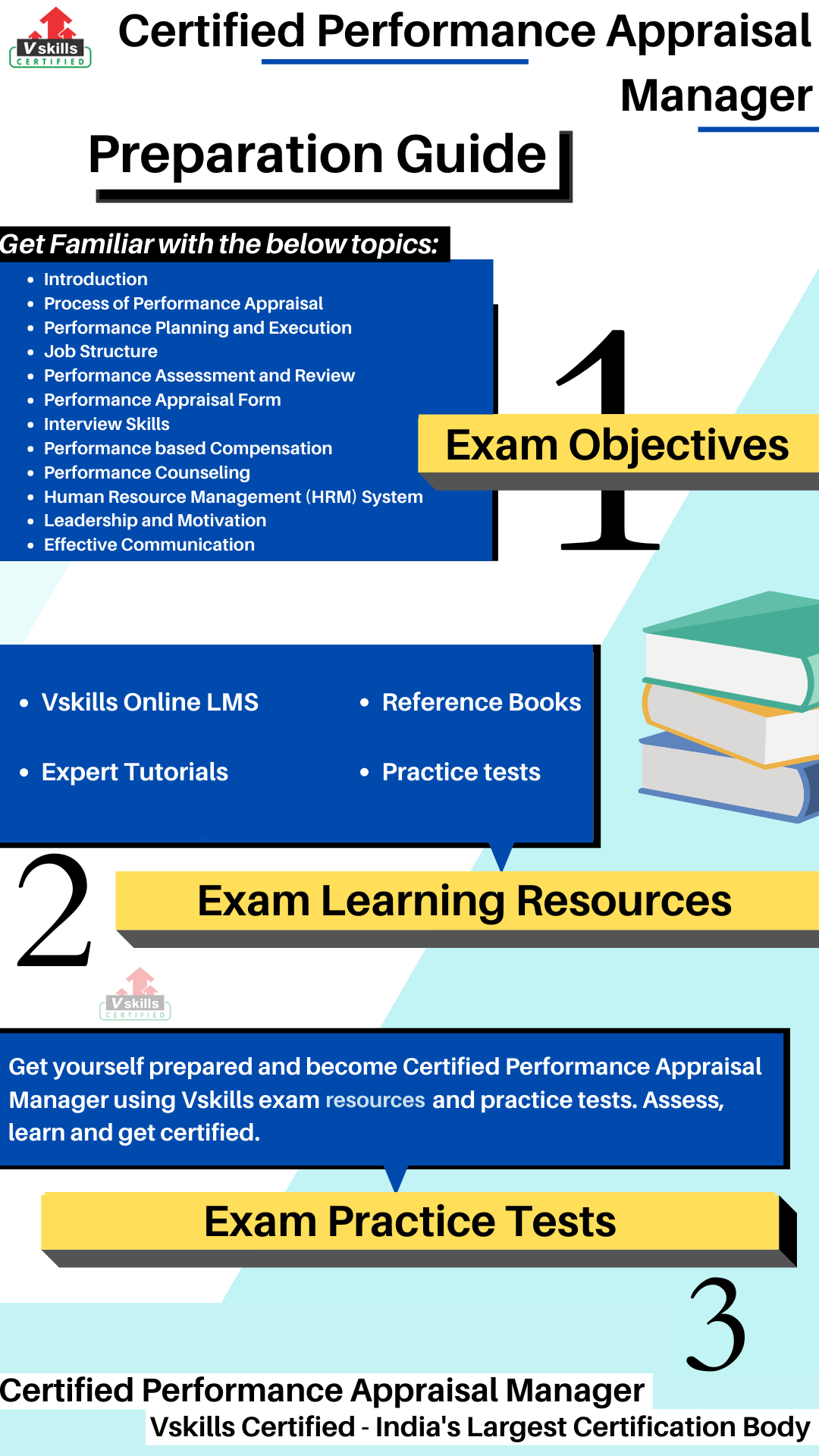 Study Resource: Exam Objectives
For every examination, the first task should be to get all the exam related details including the important contents and its topic. This will help candidates to easily start preparing for the exam and to understand things more accurately. For the Certified Performance Appraisal Manager Exam the topics include:
Process of Performance Appraisal
Performance Planning and Execution
Job Structure
Performance Assessment and Review
Performance Appraisal Form
Interview Skills
Performance-based Compensation
Performance Counseling
Human Resource Management (HRM) System
Leadership and Motivation
Effective Communication

Study Resource: Vskills Online LMS
Vskills Certified Performance Appraisal manager provides candidates access to prepare for the exam using the online learning material for a lifetime. The online material for this is regularly updated. Furthermore, e-learning is bundled with hard copy material which helps candidates to improve and update the learning curve for superior and better opportunities.
Refer: Performance Appraisal Manager Sample Chapters
Study Resource: Books for Reference
Reference Books can provide an advantage to learn and understand things more accurately. For the Certified Performance Appraisal manager exam, there are various books available which you can find online or in libraries. Some of the books are as follows:
Performance Appraisal and Management by Kevin R. Murphy, Jeanette N. Cleveland, Madison E. Hanscom
A Manager's Guide to Performance Appraisal by Thomas H. Patten
Study Resource: Practice Test
After completing all the topics for the certified Performance Appraisal manager exam, it is time for practice tests. That is to say, practice tests are important for better preparation as by assessing yourself with these tests you will know about your weak and strong areas. Moreover, you will be able to improve your answering skills that will result in saving a lot of time. So, make sure to find the best practice sources.

Prepare for Job Interview
Pass any job interview with our latest edition of interview questions, if you are preparing for a role in Human resources then you must checkout these interview questions on Performance Appraisal.