Performance appraisal are reviews of an employee's work performance on a regular basis. Performance appraisals are often used by businesses to provide input on workers' jobs and to explain decisions such as pay raises, promotions, and, in some cases, terminations. This is one of the beneficial line in management and an important aspect of human resources management.
Let us look at the career prospects of Performance Appraisal Manager!
Who is a Performance Appraisal Manager?
Throughout the assessment phase, the performance Appraisal Manager is responsible for providing workers with positive input on a daily basis, as well as ongoing support and therapy on performance issues. This position is critical in enforcing disciplinary and corrective actions. They often discuss problems with performance and assess whether an employee requires competence enhancement or disciplinary action in order to return to a satisfactory level of performance.
Need of a Performance Appraisal Manager
There are several reasons why a company needs Performance Appraisal managers, such as:
Firstly, evaluation of an employee's performance benefits to make management arrangements on promotions, transfers, increments, etc.
Also, performance judgment serves to determine the training and development requirements of the employer.
In addition, it leads to an open up and develop communication.
This Set up cleared actionable goals.
Moreover, performance appraisal or an individual's accomplishment evaluation assists in producing the reward system.
The feedback directed after assessing the performance of original acts as a motivator.
Furthermore, the Performance appraisal serves as a validation of the selection method.
How can you start your career in Performance Appraisal?
It is very much important to have a decent beginning with proper assets and learning material to be acceptable at something. Therefore, you initial steps towards learning must be apt in order to be pro in this field. Let look at some steps that you can take in order to begin your learning process –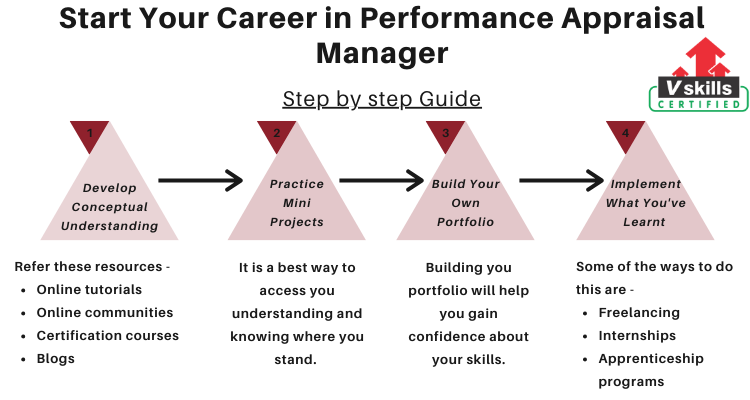 Step 1 – Learn about the basics and Develop Conceptual understanding
Before becoming an expert in some field, it is very much essential that you have a strong base. An appropriate applied information is required even before you get your hands on to the practical portion. Everyone starts somewhere. You need to take baby steps if you want to build a successful career in this field. You can take the help of following resources for getting complete knowledge and having a complete conceptual understanding –
Firstly, Online Tutorials for Performance Appraisal
Also, Certification Courses from verified sources such as Vskills, Coursera, Udemy and so on.
In addition, Online communities
Moreover, Blogs and study material from experts in this field and many more.
Vskills also provide Online tutorials, certification courses and free practice tests for the same. You can check them out on our official site.
Step 2 – Practice Mini Projects
Practicing is crucial if you want to land in a good place. Also, it is a best way to access you understanding and knowing where you stand in terms of implementing the knowledge you have gained. When it comes to the practical aspects like implementing Core concepts related to Performance Appraisal in projects, having some experience can help you outshine others. You can supplement your learning with the help of reading the blogs and tutorials by various sites which will help you to grasp a better understanding of the practical aspect.
Step 3 – Build Your Portfolio
Building you portfolio will help you gain confidence about your skills and will also get you a platform to implement your learnings. Your portfolio shows your abilities to carry out and plan various events or how impeccably you execute your abilities in Performance Appraisal. These tasks ought to incorporate a few diverse datasets and should leave readers with intriguing bits of knowledge that you've gathered. Your portfolio needn't bother with a specific subject; find subjects that interest you, at that point think of an approach to assemble them.
Step 4 – Implement your skills in Real world
Implementation of the skill you have gained is very much important because that is why you have been learning for – To be able to implement the skill perfectly! It is also important to keep updating yourself with new technological advancements and keep working and developing on your own skills. You can also enroll in some of the advance learning courses which will also serve as proof that you are well aware of advanced skills. Some of the ways through which you can implement your skills are –
Freelancing
Internships
Apprenticeship programs
Above mentioned steps will help you to get started in this domain. However, there is a long way to go. You can take up an advanced course to take your skills to a new level.
Types of Performance Appraisal
There can be various job roles that you can expect after getting suffice knowledge about quality control. Some types of job appraisals are as follows and you can expect roles into carrying out any of these types of appraisals or can function as performance appraisal manager who carries out these types depending upon the need.
Formal annual performance appraisals
Probationary reviews
Informal one-to-one review discussions
Counselling meetings
Observation on the job
Skill- or job-related tests
Assignment or task followed by review, including secondments (temporary job cover or transfer)
Assessment centers, including observed group exercises, tests presentations, etc.
Survey of opinion of others who have dealings with the individual
Psychometric tests and other behavioral assessments
Graphology (handwriting analysis)
These approaches are not mutually exclusive. Depending on the situation and organisational strategy, some of these performance evaluation approaches can be used in combination with those on the list. The manager must maintain a written record of all of these procedures to ensure that agreed-upon activities are carried out. All analysis situations' notes may then be referred to during the formal assessment.
The pressure and time needed for the annual formal assessment meeting are significantly reduced by holding frequent informal one-on-one discussion meetings. It is desirable for all employees to have informal feedback once a month.
Performance Appraisal Manager: Roles and responsibilities
Performance Appraisal Manager uses their experience to help employees develop the skills and high potential. Managers use their experience, skills and talent to select employees who demonstrate aptitude and promise. However, the culminating stage in the performance review is the actual performance appraisal. After completing the leadership training the Manager understands the value of performance management and evaluation techniques, as well as starts preparing to conduct an annual performance appraisal. For preparing an appraisal managers require to know how to rate employees, according to the company's expectations and performance standards. Therefore, a performance appraisal manager's role includes observation and assessment.
Average Salary
Performance Appraisal manager may get opportunities from companies like TeamLease Services Limited, Vertex Customer Solutions, Evalueserve, Cvent India, Ikya Human Capital Solutions, Ma Foi Randstand. The national average salary for a Performance Manager is ₹11,47,043 in India. Filter by location to see Performance Manager salaries in your area. Salary estimates are based on 9 salaries submitted anonymously to Glassdoor by Performance Manager employees.
Conclusion
Although the methods for conducting performance assessments which change over time, the core components remain relatively consistent. The trend toward online performance management systems and more frequent feedback is clear, and we're excited about it! We are convinced that using tools developed specifically to streamline the performance assessment process is in both managers' and employees' best interests.
Get started and discover the career opportunities in the field of Performance Appraisal. Hurry up and try free practice tests now offered by Vskills.in!