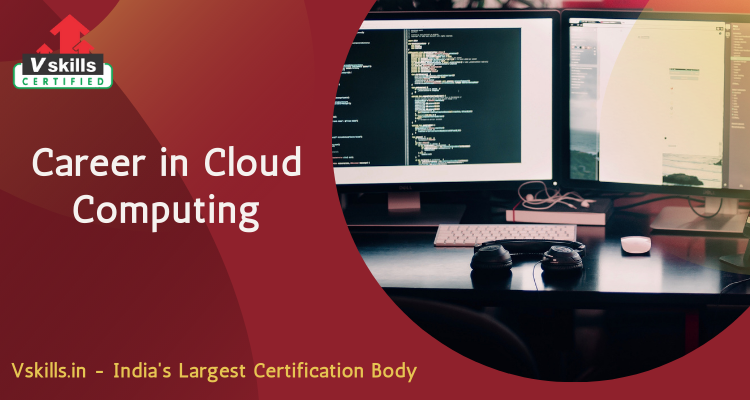 Since the last decade, the cloud computing industry has been on a roll, as have its applications. It has been booming for the past ten years. If more businesses embrace cloud services, the demand for cloud computing expertise is increasing. According to Forbes, global cloud computing spending will rise at a 19.4% compound annual growth rate (CAGR) from nearly $70 billion in 2015 to more than $141 billion in 2022.
Let us dive into career opportunities in cloud computing!
What is cloud computing?
Cloud computing, in simple terms, is the on-demand delivery of IT resources over the Internet with pay-as-you-go pricing. You need not to carry out buying, owning, and maintaining physical data centers and servers, you can access technology services, such as computing power, storage, and databases, on an as-needed basis from a cloud provider.
These are majorly of three types – Infrastructure as a Service (IaaS), Platform as a Service (PaaS) and Software as a Service (SaaS). Thus, a career in this field is quite promising in the forthcoming decades. Earning any of the credential in this field is adding a feather to your cap and shining in front of others by bragging about your knowledge of the hottest topic.
Who is cloud computing for?
This field is intended for Software Architects, IT Engineers, Software Developers, Cloud Engineers, DevOps Professionals, Product Managers, IT and System Administrators and It Managers. However, there are no such prerequisites. So, any one who wants to kickstart his or her career in cloud computing can also start learning at any time.
Why to learn cloud computing?
The major reason to chose cloud computing as career option are –
Cloud Computing has changed the digital Infrastructure with its unique paradigms. It has brought new opportunities & challenges for developers & administrators.
Moreover, With the current challenging environment, every industry demands cost effective & reliable solutions. Cloud computing has the answer. It allows you to utilize shared resources through a service provider. Hence, increasing your chances to fetch a good fortune.
Roles and responsibilities of a cloud computing engineer
The roles and responsibilities of a typical cloud computing engineer includes the following –
Firstly, Designing and deploying dynamically scalable, available, fault-tolerant, and reliable applications on the Cloud
In addition, Selecting appropriate Cloud services to design and deploy an application based on given requirements
Furthermore, Migrating complex, multi-tier applications on Cloud Platforms
Also, Designing and deploying enterprise-wide scalable operations on Cloud Platforms
Last but not least, Implementing cost-control strategies
Skills required to be good in cloud computing
Although there is no limit to be put to gaining knowledge. Some of the skills that could help you to bloom in this industry are –
firstly, Coding skills and database management skills – The storage, management, and accessibility of data in the cloud continue to be a priority. To ensure this ecosystem is working well, database language skills, including SQL, MySQL, MongoDB, and Hadoop, are critical.
also, Staying updated in terms of technology and other advancements
in addition, cloud security skills – The concern of the cloud being risky has mostly dissipated. The cloud is more secure than physical servers. This is due to advanced protocols, proactive monitoring, and security layers. So, cloud security knowledge is a must.
furthermore, migration skills – Companies are moving more applications to the cloud. They are also using multiple cloud platforms. To do this seamlessly, experience with cloud migration is a must-have.
Career opportunities
Some of the career opportunities in the field of cloud computing is as follows –
Cloud Consultant
A cloud consultant's job is to conduct various technological studies and analysis in order to determine the best cloud plans for your business. You'll be in charge of assessing and recommending the right cloud services and architecture for your company's needs. Professionals with a clear IT experience are usually the best candidates for this position.
Cloud Reliability Engineer
If you believe you have good problem-solving abilities, this career opportunity will allow you to put your brain to the test. These cloud engineers are in charge of tracking, managing, and patching a variety of cloud-related problems. Candidates in this category must be well-versed in the entire cloud computing skill collection.
Cloud Infrastructure Engineer
The primary duty of this role is to build infrastructure for cloud services and their associated networks. To create an effective cloud environment for the enterprise, infrastructure engineers collaborate closely with hardware engineers and developers.
Cloud Security Engineer
One of the most important aspects of cloud-based solutions is cloud security. In this case, the cloud security engineer comes into play. You will use your security skills to assess the current cloud infrastructure and provide better security measures where appropriate in this career opportunity.
Cloud Security Architect
For their cloud infrastructure, some organisations request more advanced and sophisticated security controls. The cloud security architect is responsible for designing and innovating security architecture in order to protect deployed data and cloud/hybrid systems from any threat or attack.
Cloud Architect
You will practise building cloud-based networks and integrating several remote servers in this cloud-based career opportunity. These architects must also have hands-on experience with cloud storage, cloud services, and how to instal or migrate a system from the ground up. Cloud Architects are outstanding technologists with advanced programming and networking skills.
Where is the best place to learn about cloud computing?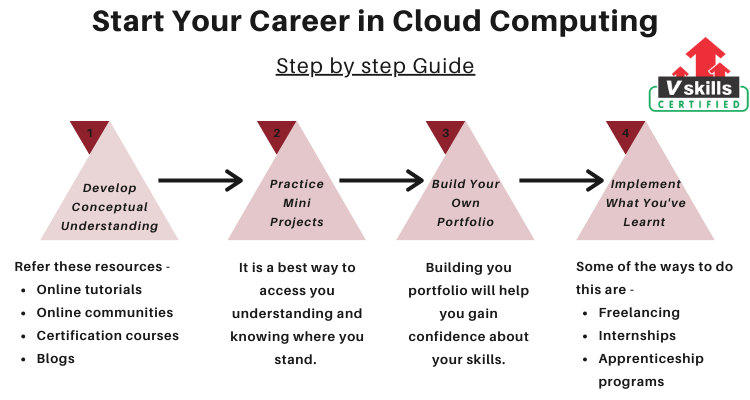 There are number of places to learn about something if you are fully passionate about that. We all know, where there is will, there is a way. However, some of the platforms that you can use for learning are –
Firstly, Amazon Web Services
Moreover, Vskills Resources as certification in cloud computing, online tutorials and practice tests.
In addition, Udemy
Also, Coursera
In addition, Edx.org
Subsequently, LinkedIn Learning with Lynda.com
Moreover, Cloud Academy
Last but not least, Linux Academy
Market Demand and Average Salary
Cloud computing is among the hottest and trending domains in the present job market. The field has become brighter recently as more and more companies have understood the importance of integrating these solutions into their operations. Candidate will find employment in various top MNC's like Google India, Microsoft India, HCL, TCS, Accenture, Cognizant.
The pay of a cloud computing professional in India can go up to INR 10,000,000 per annum, so you can understand just how lucrative this field is! According to PayScale, the average salary of a professional in India is INR 1,830,766.
Let us now conclude by looking at the various job role on which the candidate will be working at after gaining the knowledge of cloud computing.
Future scope
Cloud computing is powerful and is expanding at a faster pace than any other sector and will continue to grow in the future and provide many benefits. Cloud computing is extremely cost-effective and companies are firm with the decision of using it for their growth. The future of cloud computing is bright and will provide benefits to both the host and the customer. One should keep in mind that the owner of the company should be familiar with the latest development taking place in Cloud technology so that the customers be provided with the best technology and other benefits of this ultimate and powerful source.
Businesses nowadays are seeking innovative ways to grow and accomplish their business goals. With the help of this, this business will keep on growing in the future. The market is growing at 22.8 percent and will exceed $127.5 after 2018. By 2018, 62% of all CRM software will be cloud-based. Moreover, 30% of all application spending is for software as a service based applications. So if you are looking to set your foot into this field, now is the right time to get along this trend.
So, Increase your ability to handle the cloud platforms by getting started in the field of cloud computing. Hurry up and start preparing now!