With the continued growth of the e-commerce sector, the importance of operations and supply chain management has also grown significantly. Moreover, technological advancements have led to a rise in new career opportunities and capabilities within the supply chain industry. Also, the earning potential in supply chain management increases as you ascend your career ladder and six figure salary is very common for those in senior positions and above. In this blog, we explore the fundamentals of the field and, most importantly the kinds of careers you may wish to pursue in the future.
What is operations and supply chain management?
Before diving into the career options lets first understand the operations and supply chain management field. Supply chain management is all about production, shipment and distribution of products. "If inventory is the lifeblood of supply chains, labor is the nervous system,". Therefore excellent supply chain management is essential for businesses to be successful.
According to Management Experts , Supply Chain Management is the next big thing in India's industrial landscape. In view of the growing uncertainty of supply networks, the globalization of companies, the proliferation of product variety and shorter product lifecycles, efficient and effective management is critical in the business world. Companies around the globe are hiring professionals to help them combat this ever changing business environment of supply chain management. There are various components of the process including:
Firstly, Investment recovery
Secondly, Distribution
Thirdly, Logistics
Also, Inventory control
Subsequently, Manufacturing supervision
Further, Materials management
Moreover, Packaging
Additionally, Product and service development
Likewise, Quality control
Then, Procurement and purchasing
Furthermore, Receiving
In addition, Strategic sourcing
Eventually, Transportation and shipping
Finally, Warehousing and storage
Goals of Supply Chain Management
There are 7 fundamental goals of supply chain management that you must follow to effectively manage the company. Each and every order must be executed according to these goals. Therefore you must attempt to deliver a perfect order each time. The seven goals are:
The Right Product
To the Right Customer
At the Right Time
At the Right Place
In the Right Condition
In the Right Quantity
At the Right Cost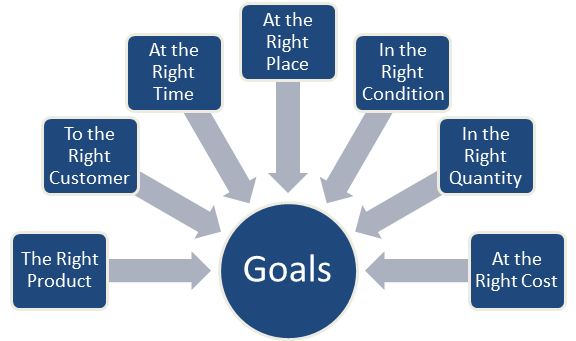 Skills Required to become a Professional
Throughout your career you'll be expected to develop your knowledge and skills by participating in training courses, presenting at conferences and attending networking events. Therefore here are some basic skills that operations and supply chain management professionals must have:
Firstly, they should have the ability to communicate effectively through presentations, email, one-on-one, and team discussion
Then they must be equipped with the ability to logically organize thoughts
Moreover, act as a natural facilitator to enable team-based decisions
Also, they must possess soft skills like Time management, Leadership, Technical understanding, Cost accounting skills, etc.
They must have a clear understanding of customer's expectations
Further, they should have the ability to present oneself with confidence and to pass on knowledge and mentoring
And, a greater understanding of the increasingly complex technical aspects of supply chains is also needed.
Additionally, they should possess skills for Troubleshooting and problem solving
Finally, they must have an understanding of the legal issues involved in managing contracts
Career Opportunities in Operations and Supply Chain Management
With the rapid changes in technology, several opportunities have cropped up. This has led to a highly competitive employment industry. Now that you have great understanding of the industry itself lets get started with the vast variety of career options that are waiting for you!
Purchasing Agent
The job responsibilities of a purchasing agent include:
Firstly, they purchase equipment, parts, and services as needed for the operation of a manufacturing establishment.
Then, they prepare purchase orders, review bid proposals and requisitions for goods and services.
Also, they negotiate and administer contracts with suppliers, vendors, and other representatives.
Operations Manager
The job responsibilities of an Operations Manager include:
To begin with, they manage overall operations of a public or private organization
Also, they direct and coordinate activities related to production, pricing, sales or distribution of products.
Moreover, they review performance data to measure productivity and identify areas that require cost reduction or process management.
Certified Production and Operations Management Professional
Logistics Analyst
The job responsibilities of a Logistics Analyst include:
They analyse supply chain processes in order to identify or advise optimizations and improvements.
Then, they maintain databases that compile and organize logistics information.
Further, they provide continuous analyses in areas such as transportation costs, parts procurement, back orders or delivery processes.
Purchasing Manager
The job responsibilities of a Purchasing Manager include:
Firstly, a purchasing manager plans and directs the activities of the buyer, purchasing officers, and other personnel involved in purchasing materials, products, or services.
Then, they represent the company in negotiating contracts and formulating policies with various suppliers.
Also, they are responsible for interviewing and hiring staff and overseeing the training and development of existing employees.
Supply Chain Manager
The job responsibilities of a Supply Chain Manager include:
They firstly, direct and coordinate supply chain processes to limit costs and improve accuracy, customer service, and safety.
Also, they Monitor forecasts to identify changes in trends and determine their effect on supply chain activities.
Additionally, they develop procedures to help coordinate supply chain efforts with other departments including sales, marketing, finance, production, and quality.
Certified Supply Chain Management Professional
Logistician
The job responsibilities of a Logistician include:
They must analyse and coordinate the organization's logistical functions.
Also, they develop and maintain relations with the client's key personnel involved in the logistics activity.
Further, they review logistics performance with customers, weighing against benchmarks, targets, and service agreements.
Logistics Manager
The job responsibilities of a Logistics Manager include:
They are responsible for coordinating the organizations purchasing, warehousing, distribution, forecasting, customer service, and planning efforts.
Also, they manage personnel and systems involved in daily logistical operations.
Further, they collaborate with other departments to integrate logistics functions with business systems or processes.
Certified Logistics and Supply Chain Management Professional
Production, Planning and Expediting Clerk
The job responsibilities of a Production, Planning and Expediting Clerk include:
They must organize and expedite the workflow and material inter-department according to the production schedule.
Then, they should distribute production schedule and work order to various departments.
Also, they must arrange delivery, assembly, and distribution of supplies to accelerate the smooth flow of materials.
Certified Production Planning and Control Professional
Quality Assurance Manager
The job responsibilities of a Quality Assurance Manager include:
Firstly, they ensure that production goals and quality are met through prevention, detection, and correction
Also, they sample, inspect, and test operations and set standards
Storage and Distribution Manager
The job responsibilities of a Storage and Distribution Manager include:
Firstly, they oversee the storage and distribution operations of the organization.
Then, they also interview, select, train, and supervise warehouse personnel.
Lastly, they develop and implement safety and security regulations and programs for warehouse management.
Certified Distribution Manager
Top Recruiters and Earning Potential
Companies like DHL, TNT, Mahindra Logistics, Gati KWE Pvt Ltd, Flipkart, Snapdeal etc are constantly hiring operations and supply chain management professionals. Employers desire candidates with curious minds who understand patterns and trends within data.
In addition to all the potential for advancement in the industry, the earning potential is also very bright. The operations and supply chain industry will definitely help you reach the zenith of glory.
An entry-level Supply Chain Manager with less than 1 year experience can expect to earn an average total compensation (includes tips, bonus, and overtime pay) of ₹364,895
Secondly, a Supply Chain Manager with 1-4 years of experience earns an average total compensation of ₹494,163
Also, Supply Chain Manager with 5-9 years of experience earns an average total compensation of ₹820,871
And, for an experienced Supply Chain Manager with 10-19 years of experience earns an average total compensation of ₹1,192,369
Moreover, in their late career (20 years and higher), employees earn an average total compensation of ₹1,503,217.
Take the next step with Certifications
Whether you are already employed in the supply chain management industry or are looking for ways to break into this field, earning a professional certification will definitely make your resume shine. Advancing your education as you advance in your career can add up, as gaining in experience, education, and professional certifications can all influence salary. Therefore a professional certification brings you in a position to contribute to a company's success, enhances your employability and is indeed one of the best ways to kick-start your career in this field. We will now filter some of top-ranked certification that will help you differentiate among your competitors and will be your ticket for conquering this field.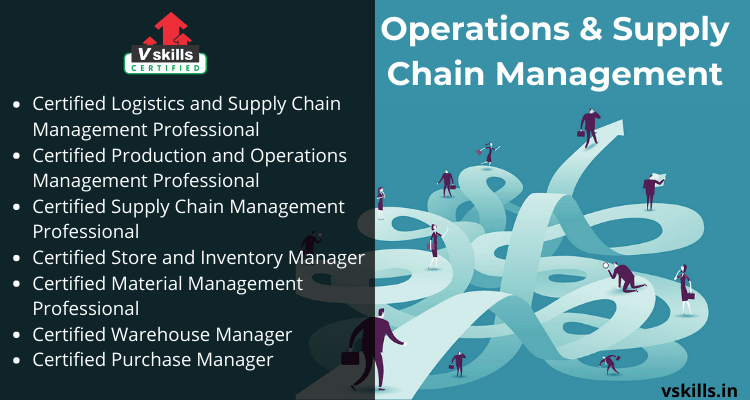 Top Certification Providers
After getting to know about various operations and supply chain management certification, the next thing that comes in mind is to prepare for that. There are various certification providers out there that provide training with expert assistance. The certification providers include,
Vskills – India's Largest Certification Body
Udemy
Edureka
Coursera
Simplilearn

Lets have a look at the recent trends and future prospects of the operations and supply chain management industry.
Recent Trends in Operations and Supply chain management
The operations and supply chain management has seen a major shift due to technological advancements. Change being the most constant thing in the world has very well affected this industry domain. There has been a move towards centralized procurement/logistics and tracking of costs. Rationalization of the supply base to a small set of strategic suppliers has been seen in the recent years. Moreover, outsourcing the procurement of non-strategic items and Stress on real time response to customer requirements has increased. Also, there has been greater emphasis on better forecasting, sales and operations planning and information sharing across the supply chain. There is increasing pressure to reduce costs and demonstrate credible cost savings. Additionally, there has been a growing emphasis on certifications and training as rising bar in terms of skills and training is desired in supply management professionals.
Future Prospects
The operations and supply chain management domain is accelerating at a very high rate. Experts suggest that there will be growing emphasis on "Demand Chain Management" and expertise in effectively managing relationships through collaboration and measurement will be required. Moreover, Alternative training technologies will become common. Companies large or small are looking for talented candidates who have a strong mix of education, potential and motivation to manage global supply chains. The array of companies needing supply chain expertise is endless. Within the supply chain, there are numerous opportunities to transition from entry-level roles to management and leadership roles. You can choose any career path that best aligns with their own skills and interests.
Experts Corner
Things to remember before venturing into any industry you need to know all the facts to feel secure about your decision. Here are a few points to remember:
Firstly, understanding the industry is essential. Responsibilities vary depending on the industry and organisation you're working in. Therefore before you pursue your career its extremely important for you to understand what it entails to determine whether that aligns with your passions and goals.
Secondly, remember it's a data driven field. Supply chain management careers are majorly focused on quantifiable figures. You must have the ability to use the available tools to interpret the data and analyse the results.
Thirdly, Operations and Supply chain management is competitive. Logistics is a fast-paced, and competitive industry. You must have the relevant skills to stand out of the competition
Finally, Networking should be your priority. Remember 'Network is your Net worth'. Therefore, the key is to maintain cordial relations and communicate effectively. It will help you develop more expertise than you would if you were on your own.
To Conclude
Finally, with a variety of fields and specialities to pursue a career, above-average salaries, and opportunities for career progression and growth, Supply chain management is an area ready to evolve. If you are seriously interested in supply chain management, then obtaining a certification is a great option to advance your career. Given the rising competition, online courses and tutorials will set you on the right track. It will support your future learning and help you develop the knowledge and skills you need to enter this fascinating industry.