Indeed there is a surge in the Cloud Computing industry with more and more companies turning their wheels towards cloud-based service. Leading to an unprecedented rise in the job market for Cloud Computing professionals. Also, with the ongoing transformation in the industry, there are a lot of cloud computing job openings from interns, architects, developers, DevOps engineers, Sysops engineers, as well as data scientists and more. Now, for you to have a thriving career in cloud computing will not just be about cloud deployment and maintenance, but it would require both managerial and leadership skills for survival. Therefore a combination of these skills will strengthen your chances to step ahead in the field of cloud computing and build a profound career for yourself.
Since you have planned about starting a career in cloud computing then without any doubt you can create a secure future with sky-high opportunities. However, for getting a good career in cloud computing you need the best pathways and expert resources to put your best feet forward. In this blog, we will learn more about cloud computing, top roles and job opportunities to provide you with better understanding and practices to kickstart start your career.
Cloud Computing: Overview & Features
Cloud computing refers to remotely configuring, accessing, and manipulating the software and hardware resources. It provides platform independence and helps in making business applications mobile and collaborative. However, for making cloud computing accessible and feasible there are various working models which include: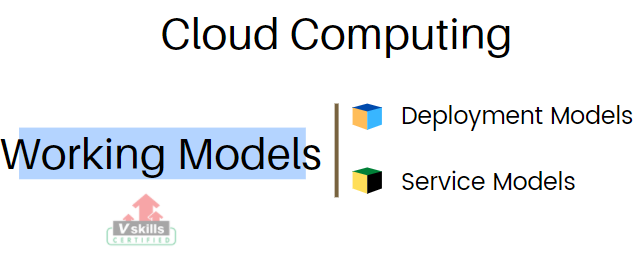 Deployment Models
Deployment models basically define the type of access to the cloud. However, a cloud can have any of the four types of access such as:
Public Cloud
Firstly, the public cloud which allows systems and services to have easy access to the general public.
Private Cloud
Secondly, the private cloud that allows systems and services to be accessible within an organization.
Community Cloud
Next, the community cloud. This allows systems and services to be accessible by a group of organizations.
Hybrid Cloud
Lastly, the hybrid cloud which refers to a mixture of public and private cloud. In this, the private cloud is for critical activities whereas the public cloud is for non-critical activities.
Service Models
Service models are categorized into three basic service models which are –
Infrastructure-as-a-Service (IaaS)
IaaS provides access to fundamental resources like physical machines, virtual machines, virtual storage.
Platform-as-a-Service (PaaS)
PaaS is responsible for providing the runtime environment for applications, development and deployment tools.
Software-as-a-Service (SaaS)
SaaS models provide an allowance to start using software applications as a service to end-users.
Features of Cloud Computing
Using cloud computing services can provide advantage to companies and businesses in many ways. Let's have a look at some of the top features.
Firstly, transferring or moving huge data over digital mediums sometimes provides difficulty to companies. As this may cause a huge loss to the company. Using cloud services provides them a large space to solve this problem and gives better performance.
Secondly, shifting a major portion of companies or businesses to the cloud can provide free memory and space that results in speeding up the operations.
Thirdly, cloud computing is now considered the latest technology that helps companies to achieve their objective in a cost-efficient manner.
Next, Cloud resources provide platform-independent access to any type of client over the network.
Lastly, cloud Computing offers on-demand self-service in which the resources can be used without interaction with cloud service providers.
Above we have learned about the top features of cloud computing including the basic details. But, what makes it more powerful in the market sector is its amazing job roles. Entering into the field of cloud computing will bring many top-paying job opportunities. So, let's take a look at some of them.
Cloud computing: Market Trends and Top Job Roles
Cloud Computing has made it easier for companies and businesses to access data from anywhere and anytime. This has become the backbone for most of the companies by providing leading-edge technologies to be delivered to the companies and customers. Moreover, the cloud is the basis for many latest inventions like the Internet of Things (IoT) and the Hybrid cloud. Looking at the biggest cloud player, Amazon's AWS (Amazon Web Services) is the biggest market player when it comes to the public cloud with a 31% market share. However, growth for Microsoft is 9%, IBM with 7%, and lastly Google and Salesforce with 4% market shares. This is not ended here, even in the job market, cloud computing provides the highest paying job roles. And, also it gives a chance for beginners to enter and get advanced in the same.
So, let's have a look at some of the major job roles in the cloud sector.
Top Job Roles
In today's modern world, both businesses and companies are adopting SaaS, IaaS, and PaaS as per requirement. As a result, the demand for cloud providers is also becoming more competitive. However, coming onto the career, the growth level in the cloud computing sector is increasing. Related to this, some of the top landing jobs you can check for include: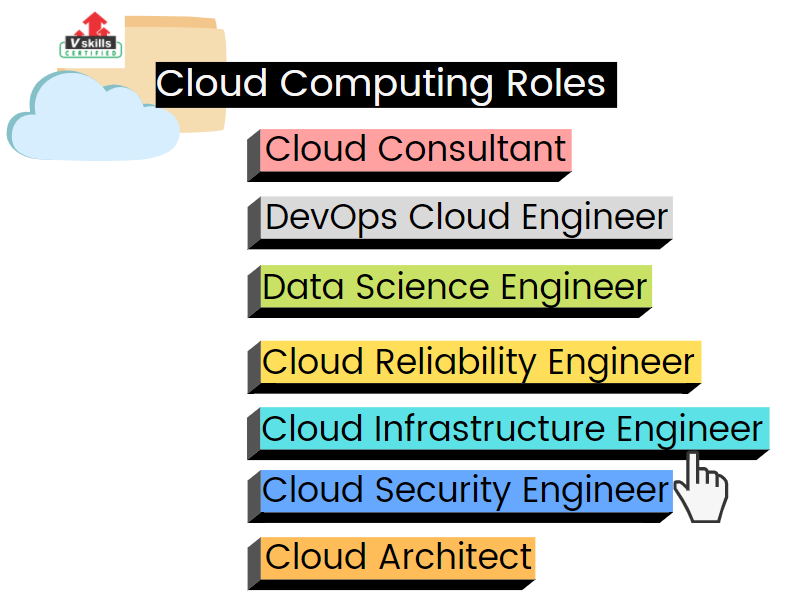 Cloud Consultant
Individuals who have an IT background can get into the role of a Cloud consultant. They are responsible for providing various technical research and studies as well as finding the best cloud plans for the company. And, also analyze and suggest the best cloud services and architecture as per the company's requirements.
Entry Level Salary: 49,738 USD
Cloud Reliability Engineer
If you have knowledge of the entire cloud computing and problem-solving ability then the role of Cloud Reliability engineer is the key. Cloud engineers monitor, maintain, and patch different cloud-related issues.
Entry Level Salary: 64,214.02 USD
Cloud Infrastructure Engineer
Individuals in this role are responsible for developing infrastructure for cloud systems and its associated network. They work closely with hardware engineers and developers for making an efficient cloud framework for the organization.
Entry Level Salary: 72,730 USD
Cloud Security Engineer
This role is for individuals having interest to gain security skills and have excellent coding skills with advanced threat detection techniques. However, Cloud Security engineers are responsible for securing the cloud, inspecting risk assessment, analyzing threats, and providing security to the cloud data.
Entry Level Salary: 67,918 USD
Cloud Architect
Individuals in the role of Cloud Architects are tech-experts with programming skills and networking abilities. They create cloud-based networks and merge multiple remote servers. Moreover, cloud architects should also have knowledge of cloud storage, cloud services, and the process of deploying or migrating a system from scratch.
Entry Level Salary: 74,095 USD
DevOps Cloud Engineer
DevOps engineers refer to the are IT professionals with in-depth knowledge of different IT sectors and relevant technologies. Moreover, they have an extensive programming skill set with good work coordination with other cloud developers. Further, they also handle integrated cloud-based projects and also analyze the cloud architecture.
Entry Level Salary: 66,687 USD
Data Science Engineer
Individuals in the role of data science engineer have a data analysis skill set along with big data handling and expert programming abilities. They are responsible for creating data science solutions and analyzing the data traffic for organization. Further, they also help in improvising the execution strategies for improving the organization's performance.
Entry Level Salary: 69,687 USD
Now, we have understood the market value as well as the trending job role for cloud computing. The next thing that is equally important is to have to have good training providers to get certified. As holding a certification is important to advance your knowledge and showcase your skills to get placed in top organizations.
Expert Guide to Start your Career in Cloud Computing
Entering into the field of cloud computing requires a focused mindset and passion to achieve your goal. In other words, the cloud computing sector is key to many top opportunities you can earn with your hard work. To better understand, check the below-listed options that will help you to prepare better.
Cloud Computing Training Providers
After knowing about the various cloud computing roles and major areas, the next thing that comes to mind is to get the best certification provider and available venues to help learn better. This will help you a lot during the preparation time as well as enhance your skills. However, there are various certification bodies that can help you in becoming a Professional in Cloud Computing. But, in the end, you have to select the certification provider that matches your hopes. The certification providers include,
Vskills – India's Largest Certification Body
Udemy
Simplilearn
Coursera
Top Certifications to boost your career
This is the most crucial step before entering into the world of cloud computing. That is to say, in the job market, it only matters how much skills you have and whether you hold any certification or not! So, you have to research and select the best certification according to your area of interest. As above we have already talked about the various job roles and areas that you can apply for. Talking about the certification, there are various certification providers as we discussed above from where you can take courses and prepare for the certification exam. Indeed there are a lot of certification providers including AWS, Microsoft, Google, Vskills and many more to choose from.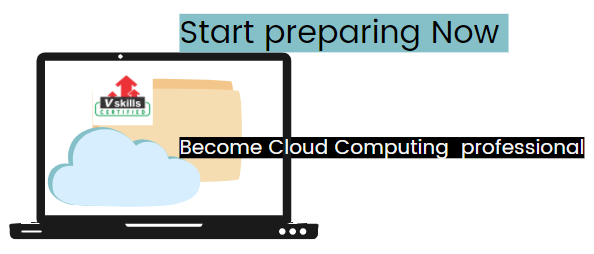 Evaluate yourself with Practice Tests
While preparing for the certification, you can start assessing yourself by using the practice tests. This can provide you with an advantage to validate your skills and knowledge as well as to find out the weak areas. Moreover, this will also increase your level of answering and provide confidence during the exam.

Reference books
Books can be a beneficial resource while preparing for any exam. Using the available learning resources and official study material you can refer to multiple books from libraries. Moreover, you can also find the e-books available on the internet and that too free of cost. Make sure you are comfortable with the textbook and it has quality content which is quite understandable.
Cloud Computing: Concepts, Technology & Architecture Book by Ricardo Puttini, Thomas Erl, and Zaigham Mahmood
Cloud Computing: From Beginning to End Book by Ray Rafaels
Get Certified and take Every coming opportunity
After preparing for the cloud computing certification using the best study resources and tutorials it's time to take the exam. Earning the certification means you are going to enter the job world. However, there may be chances when you have to work for non- profit organizations. That is to say, you have to take every coming opportunity in your way in order to add hand-on experience and good references to your resume.
Creating a better Portfolio
In almost every company, the employers hiring individuals check for the skills with consistency to work with quality and quantity. Having a good portfolio that includes certifications, work from previous employers, internships, and experience can increase chances of hiring. So, keep your digital portfolio up to date.
Join Groups Communities to build a strong work network
Whether you are preparing for certification or looking out for a job, it is important to have links with groups. That is to say, having a good network with professionals can be effective. These can help you stay up to date with the latest trends in the cloud as well as to increase your professional network.
Stay Determined and Keeping Growing your Cloud Career
As cloud computing services are growing bigger day by day the competition level is increasing. So, it is important to know that rejection is a part of the process and should be taken as a learning experience. That means you have to work on your knowledge you gain from certification and never stop earning for more. Talking about the demand for cloud computing professionals, most companies and small startups are hiring for this role. This is a growing sector and by improving your skill set more on cloud and its application you can create a better career.
Final Words
Getting into the cloud computing sector with proven certification and hands-on experience will help you develop a good career. As this is a growing sector, every day you will learn something new. But, on the other hand, this also increases the level of competition. That is to say, for getting on top in the cloud sector you have to do hard work and make yourself advance in this. For this, you can take help from training providers for getting the best resources with Online tutorials for cloud computing. Lastly, you should know that holding a certification will only provide you the right steps. After that, it is only you who will achieve the goal of using your skills and knowledge.
Learn and upgrade your skills using the expert tutorials for Cloud Computing Now!