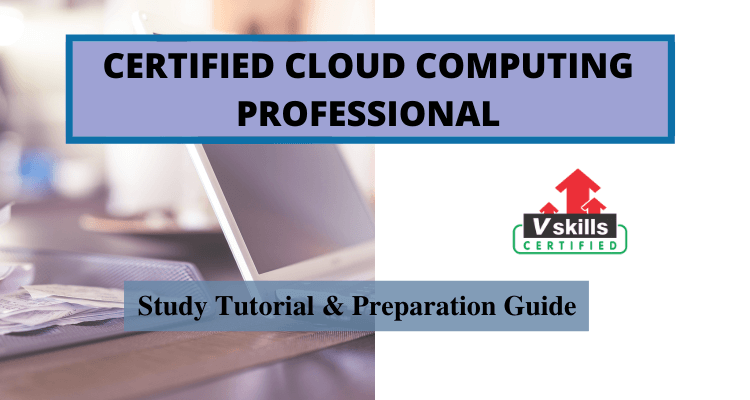 Storing the data has always been one of the primary concerns of our civilization. From the very ancient days to this modern world, we have upgraded the data storage quite regularly. Cloud Computing is the latest upgrade and it comes with several advantages. Out of several career opportunities in the IT sector, Cloud Computing has seen a sharp rise in popularity of late. Several giant-sized MNCs are now relying on cloud storage. Subsequently, the demand for professionals skilled in cloud computing has sparked. Candidates aspiring to skyrocket their career scope with a promising career in cloud computing must become Vskills Certified Cloud Computing Professional.
Why become a Certified Cloud Computing professional?
As we have discussed, cloud computing is witnessing a soaring growth in popularity. Companies who have to handle huge amounts of information are investing in cloud servers. With such a huge crowd shifting towards cloud computing, a professional who is skilled to work in this field can achieve lucrative job opportunities. Thus, a career in cloud computing is quite promising in the forthcoming decades. Also, a certification in cloud computing can add a feather to your cap. Moreover, this certification will make your CV look better than your contemporaries while you seek a job.
Career in Cloud Computing
In today's economy, a variety of cloud computing jobs are available. Interns, architects, developers, DevOps engineers, security specialists, and data scientists are among those who work in the cloud. A good career in cloud computing usually involves more than just the cloud and its deployment and maintenance; it often necessitates managerial and leadership abilities. Let us have a look at the career opportunities in cloud computing.
Who should take the certification?
The Cloud Computing professional certification is developed for professionals who are looking for a perfect start to a career in cloud computing. For freshers, it is a perfect way to step into the world of cloud computing. And those who are already employed in the IT sector, this certification can boost the skillset and fetch better job options.
Responsibilities of a Cloud Computing Professional
There are various roles that a cloud computing professional can take in a company. Some of them are –
Look after virtualization and system management. Also, the administrator should be able to trace and troubleshoot minor issues in the cloud servers.
Design the infrastructure and configuration of the computing system. Based on the requirements of the company, an architect has to create a blueprint of cloud computing infrastructure.
Upgrade, troubleshoot, and maintain clouding systems.
Looks after the security strategies to avoid unauthorized access.
They should be well versed in major coding languages and back-end integrations.
Benefits of taking Vskills Certification
Vskills being India's largest certification providers gives candidates access to top exams as well as provides after exam benefits. This includes:
The certifications will have a Government verification tag.
The Certification is valid for life.
Candidates will get lifelong e-learning access.
Access to free Practice Tests.
Candidates will get tagged as 'Vskills Certified' On Monsterindia.com and Shine.com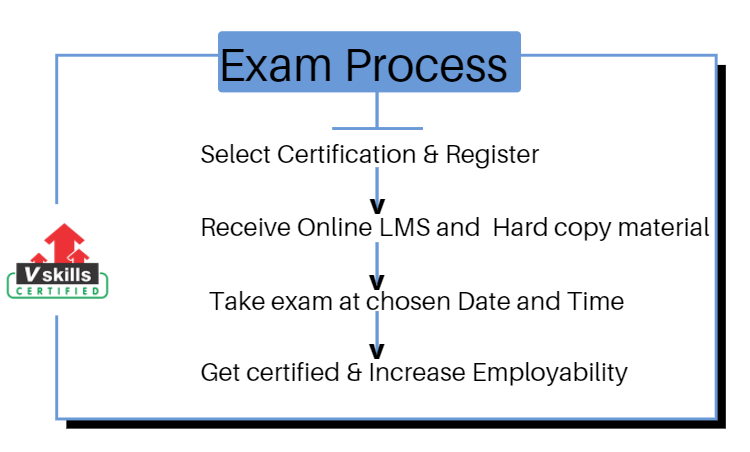 Exam Details
Exam Duration: 60 minutes
Vskills Exam Code: VS-1067
Number of questions: 50
Maximum marks: 50
Passing marks: 25 (50%)
Exam Mode: Online
There is NO negative marking in this module.
Course Details
Preparation Guide for Certified Cloud Computing Professional Exam
Certification exams demands constant hardwork and determination, but in the right direction. This preparation guide leads you in the right direction. It is a useful weapon in this difficult journey. It aims to boost your confidence and is a credible source of learning for any certified examination. You need a preparation guide to avoid last minute confusion which may lead to unfortunate results in exams.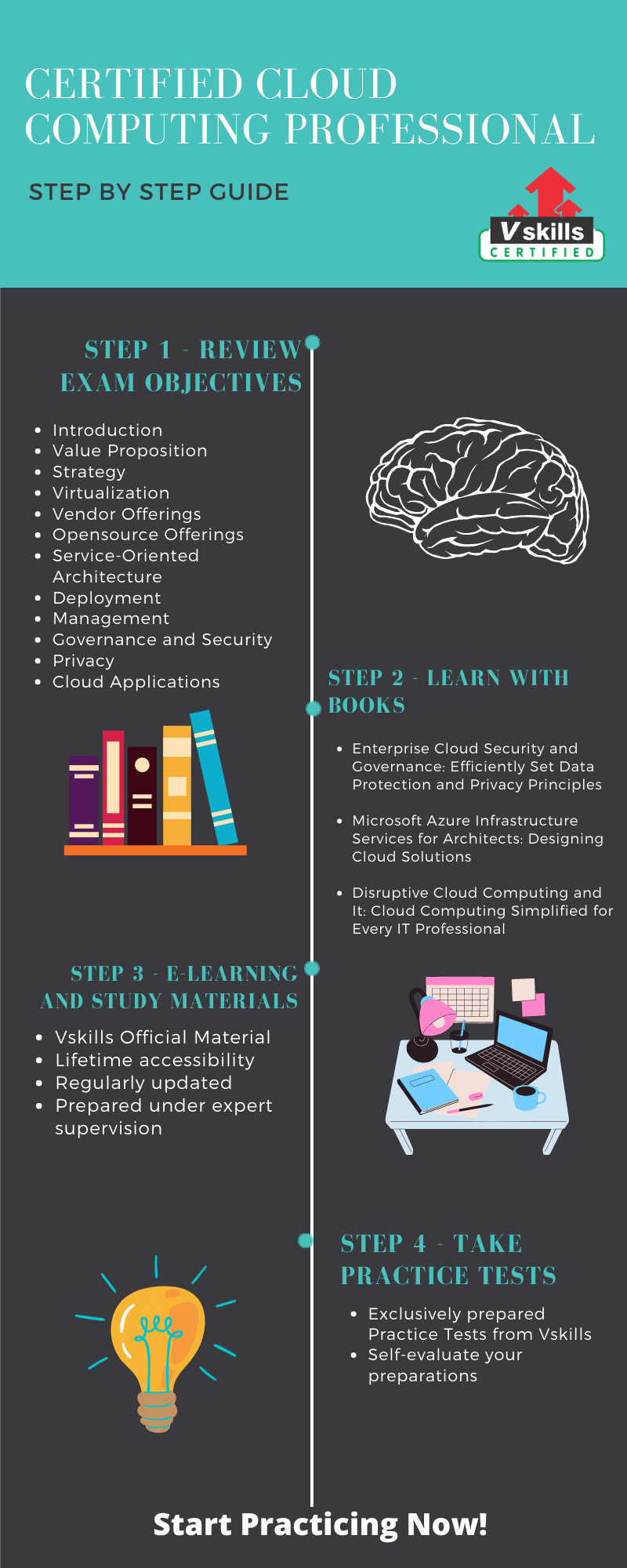 Step 1 – Review Exam Objectives
The first lead to your examination is reviewing your exam topics and getting yourself familiar with each objective and course domains. This gives you a brief idea about what you are going to pursue in this certification program. Therefore reviewing exam objectives is mandatory.
Introduction
Value Proposition
Strategy
Virtualization
Vendor Offerings
Opensource Offerings
Service-Oriented Architecture
Deployment
Management
Governance and Security
Privacy
Cloud Applications
Refer: Certified Cloud Computing Professional Brochure
Step 2 – Learning with Books
Book authors are professionals, and there is a realistic experience of a professional belonging to that field. The book authors mention the pragmatic examples and concepts of the field, therefore books are more beneficial. There are case studies mentioned in the book to learn from the general example. The books also give the idea of a proper preparation for the exam. Below are the top 3 books for your reference.
Enterprise Cloud Security and Governance: Efficiently Set Data Protection and Privacy Principles.
Microsoft Azure Infrastructure Services for Architects: Designing Cloud Solutions.
Disruptive Cloud Computing and It: Cloud Computing Simplified for Every IT Professional.
Step 3 – E-learning and Study material
If you are looking forward to unlocking the real potential, then you must go for e-learning after books. The myriad of different concepts present online will make you intrigued and help you to gain different types of knowledge and skills in your respective domain. Vskills offers you its E-Learning Study Material and its hard copy as well, to supplement your learning experience and exam preparation. Moreover, this online learning material is available for a lifetime and is updated regularly.
Refer: Certified Cloud Computing Professional Sample Chapter
Step 4 – Check your Progress with Practice Tests
Practice tests are essential to training your brain and body for the real exam. The better you perform in the practice tests; the lesser will be the stress during the actual exam. Moreover, every time you beat your past score, you will feel confident about your skills and knowledge. Work hard with the preparations, and test yourself with the practice tests. These efforts put together will turn out to be the key to excel in the exam and become a certified cloud computing professional.
Boost your chances to grab brighter career opportunities, by becoming a Certified Cloud Computing Professional. Start Practicing Now!
Step 5 – Prepare for Job Interview
If you are a cloud computing professional looking for a job, then you must checkout these interview questions which will help you to clear the job interview with ease.