HR jobs are demanding and challenging. From organising training sessions,recruiting strategies, management of the employment and workforce of and enterprise to dealings with unions and non union authorities. Due to the responsibility and engagement that this job demands it becomes essential that a Human Resource Aspirant learn the skills and know all the Human Resources Functions. Here we enlist all HR skills & HR functions that would be essential for you to get a grasp of, should you choose to pursue this career. The list also highlights the importance of the skills an their demand in the present work environment.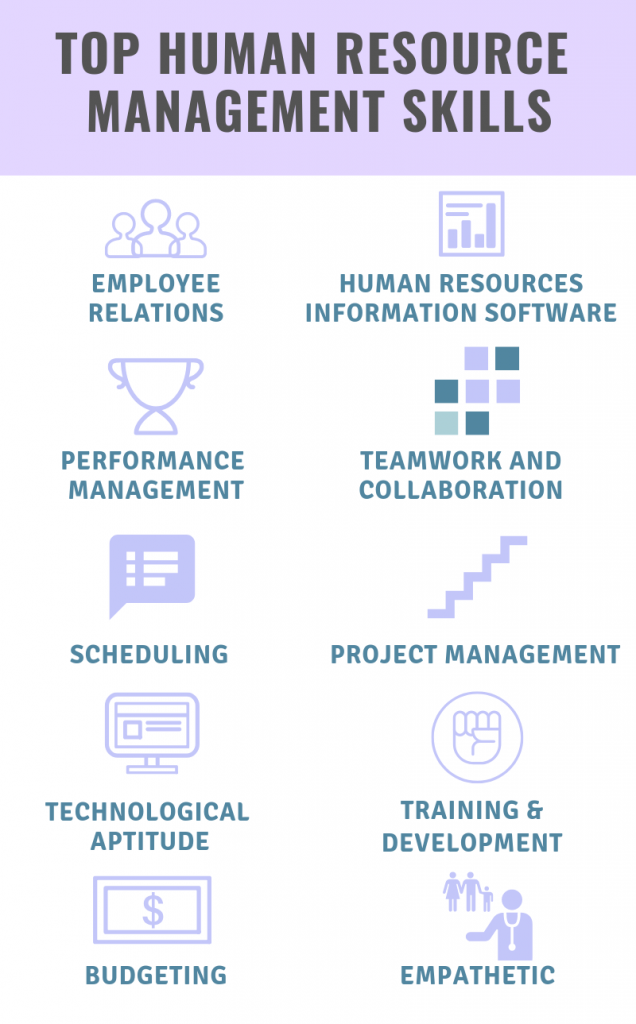 Employee Relations
Efficient and productive work emerges when employers and employees are in synchrony. The ability to recognise the respective concerns of both sides and carry out a resolution that taken in account the best interest of the organisation is the work of the HR. Responding to conflicts, disputes and unraveling disagreements are necessary skills to acquire.
Human Resource Information Software (HRIS)
HRIS also referred as HRMS is a software that assists Human Resource management group by providing employee data in a centralised manner. The software records the HR processes and engagements digitally thereby increasing efficiency. The softwares may vary for individual organisations but are more or less the same. You must acquire experience with the software to understand its role in the job.
Teamwork and Collaboration
HR deal with recruitment and it is expected of them to hire candidates who would situate themselves in the teams as collaborative members. HR is also responsible to bring the focus on growth than the monotonous checklist of their regular workload. Leadership qualities and better management makes HR professionals more work oriented in their decisions about the interest of the firm.
Customer Service
Human resources functions requires that HR professionals must be adept in their management skills and public dealings. It is their job to handle complaints, mediate between service providers and their receivers. For HR aspirants it would be of use to gather experience in volunteering, engagement with customers and problem solving.
Onboarding
HR professionals must recruit employees who can immediately take over work in an effective manner. Such 'onboarding' tendency increases productivity and efficiency in work. It also reduces training time period and costs.
Effective Communication
Human resources functions requires HR professionals to interact with individuals, customers, clients, unions, large audiences frequently. The delivery of their ideas,views etc. in an effective manner that maintains a clarity of thought and vision is one of the most important skills in demand. Better communication skills also require keen listening skills. It affects their decision making, employee relations and their overall performance.
 Compensations
HR representatives are responsible to deal with the concerns of their employees in case there occurs a need for compensation due to illness, injury or any other reason. The legal process must be retained by the HR. They need to know how to process these compensations while effectively communicating the situation to the manger. All in all they must develop a structured method to deal with such occurrences for and immediate response.
Training and Development
Training and development programmes lie within the overall performance management duties. HR professionals are expected to conduct interactive training sessions that would enhance performance and also contribute to the firm's work and engagements. Such development programmes require the HR to have organisational skills and presentation skills.
Budgeting Skills
The compensation and benefits, training development etc. are conducted for each department of the organisation and thus the repository of the budgets for these activities come from each individual department. HR professionals participate in the budgeting and planning of these arrangements and their key role is to mitigate costs and avoid wasteful expenditures.
Business insight
All the decisions and actions that the HR undertakes for the enterprise needs to demonstrate their insightful business oriented bend of mind. Human resources functions requires a need to be aware of the ways in which each department works, their respective priorities, motives, issues etc.They also need insight on the staffing and their influence on the overall work that is brought forth.
Technological Aptitude
Data analytics, virtual reality adaptation in HR and other technological information is expected of the HR to showcase.HR management has started to incorporate softwares in their processes and it is necessary that and aspirant is updated with these changes. A tech savvy attitude in the workplace has an upper hand in the market. Statistics, data, analysis, presentation are all factors that can be channelized through the electronic medium and HR professionals who can bring forth this quality are certainly preferred for the job.
Performance Evaluation
HR is responsible to balance between the employees and  management. The performance evaluation processes bridges the gap between the management and employees regarding the ongoing developments in the work and the individual input of each employee in that work. It also highlights the problems that may emerge and the eventual actions that need to be undertaken to respond to those problems.
Decision Making Skills
Human resources functions also includes recruiting candidates for the specific departments. To evaluate whether a candidate would fit the requirement takes judgement, experience and intuition. Great decision making skills assist in such situations. Crisis management, downsizing etc. are occurrences that demand firm decisions that are undertaken in the overall interest of the organisation. Building this skill would be of immense value to HR aspirants.
Scheduling
HR professionals juggle between tasks and schedule the activities, programmes and interactions for the firm on a weekly, monthly and annual period. From multi step projects to strategic organisation are all incorporated in the task. It is a detail oriented task that is most demanded by the companies.
Organisational Skills
HR takes the responsibility of recruitment, appraisals, development plans, employe relations etc. and they ensure that each process undergoes its course in a systematic manner. There entails a degree of strategy, planning an organisational skills to carry out such tasks. Thus organisational skills are one of the most in demand skills that HR aspirants must acquire.
Multi Tasking
Human resources functions involves frequent dealing with recruitment, leaves, complaints, employees personal issues etc. simultaneously. The decisions need to be taken quickly and the companies benefits are to be maintained. All in all mult-itasking is a way of handling such a job. That is why it is one of the most crucial skills to be mastered by HR  aspirants.
Check out these HR Certifications that would be valuable to every HR Aspirant & Professional