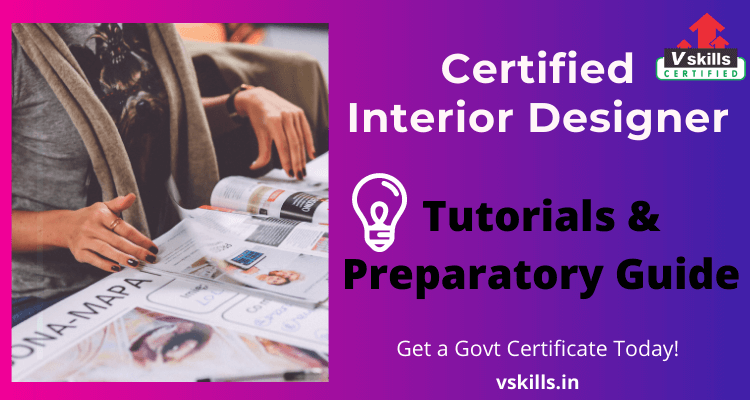 Do you have the aspirations to become a Certified Interior Designer? Are you looking for career opportunities in this creative domain? Then you have arrived at the right place. Interior design is the art and science of understanding people's behaviour to create functional spaces within a building. This professional certification will provide the necessary knowledge and skills to become a successful interior designer. Moreover, it will enhance your employability and help you unleash your full creative potential.
Vskills Certified Interior Designer Overview
Vskills Certified Interior Designer assess the candidates as per the company's need for office design, maintenance and renovation. This certification validates your expertise in various areas in design composition, building material, natural ventilation and lightening, air conditioning, furnishing, painting, acoustics and landscaping. Interior designers must have a creative vision to meet their clients requirements. They should also have a strong hold of practical knowledge to bring their ides to life.
Why should you earn this certification?
The field of Interior designing has seen a huge rise in the recent years. It is estimated that interior design industry will increase on a global basis by at least 13% over the next decade. This certification will definitely help you advance your career prospects. Interior designers enjoy a good salary package along with a job satisfaction. Top Companies like FUTURO BUILDTECH, ATTICO HOMES, Space Indus Global Pvt. Ltd etc are always on a look out for Certified Interior Designer.
Vskills is India's largest certification provider and gives candidates access to top exams as well as offers after exam benefits. This includes:
This certification will have a Government verification tag.
Also, the Certification will have lifetime validity.
Further, you will get Lifelong e-learning access.
Moreover, you get access to Free Practice Tests.
Additionally, You will get tagged as 'Vskills Certified' On Monsterindia.com and 'Vskills Certified' On Shine.com.
Roles and Responsibities of a Certified Interior Designer
Interior Designers are primarily responsible for turning their creative ideas into reality. They are also involved in supervising the work as it is carried out. The responsibilities of an Interior Designer include:
Firstly, working to a brief, which details what the space will be used for, and finding out the client's personal ideas and requirements
Secondly, inspecting and surveying buildings
Thirdly, setting schedules for the project
Moreover, carrying out research, to make sure that plans are technically feasible
Further, producing rough sketches and a collection of suitable images, colours and materials
Furthermore, developing detailed designs, often using computer-aided design (CAD) software or small-scale models
Additionally, choosing the most appropriate materials for the design and budget
Likewise, advising clients on progress, and providing them with samples of paints and fabrics to be used
Finally, negotiating their fees
Career Path to become an Interior Designer
Interior Designer professionals are in high demand these days, whether it's in a business setting or a home setting, and it's become a viable career option as a result. Let us discover Career Path to become an Interior Designer.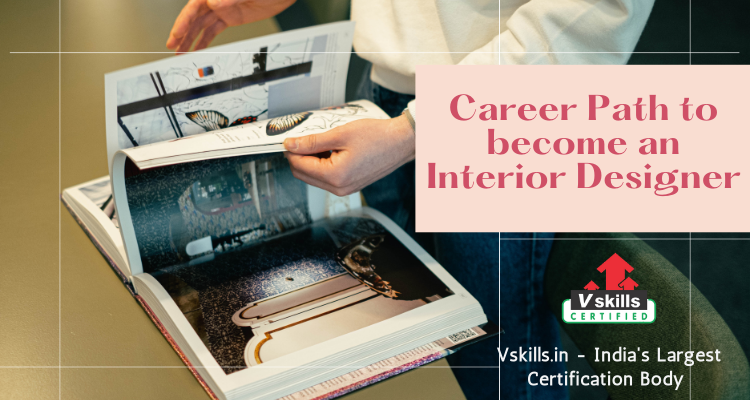 Exam Details
Exam Name: Certified Interior Designer
Code: VS-1135
Duration: 60 minutes
No. of questions: 50
Maximum marks: 50
Passing marks: 25 (50%).
There is NO negative marking
Exam Process: Certified Interior Designer
Course Outline
Familiarising with the course outline is important before commencing on with your preparations. This exam covers teh folowing topics:
History of Interior design
Basics of Design Composition
Introduction to Building Materials
Plumbing
Ventilation
Air Conditioning
Natural Lighting
Artificial Lighting
Acoustics
Building Protection
Interior Furnishing
Painting Interiors
Indian Institute of Interior Designers
Interior Landscaping
Miscellaneous – Interior Design
Preparatory Guide: Certified Interior Designer
Passing the exam can be easy if you choose the right set of resources for yourself. This Preparatory Guide is designed to help you get ready for the exams. It will walk you through all the learning resources and provide detailed steps to clear the exam. Without further wait lets begin the journey!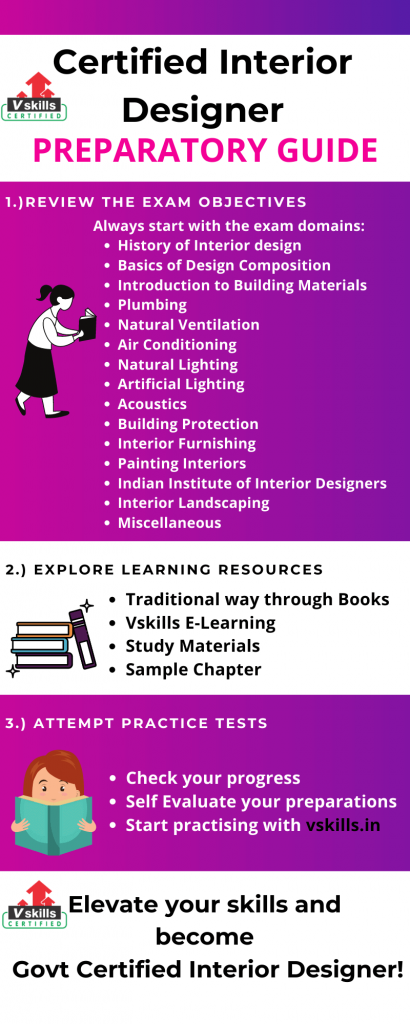 Review the Exam Objectives
The first step is to deeply understand and analyse all the exam objectives. Before heading towards your preparation journey, you must get yourself familiar with the main concepts of the exam. This will provide you complete clarity. Further, you should tailor your study plan around these topics to enrich your learning. This exam covers the following topics:
History of Interior design
Basics of Design Composition
Introduction to Building Materials
Plumbing
Natural Ventilation
Air Conditioning
Natural Lighting
Artificial Lighting
Acoustics
Building Protection
Interior Furnishing
Painting Interiors
Indian Institute of Interior Designers
Interior Landscaping
Miscellaneous
Explore Learning Resources
Achieving this certification becomes difficult when the set of resources chosen is not apt. You should be very careful while choosing the resources as they will determine actually how well you will pass the exam. There are numerous resources that can be used for preparation. Remember to refer authentic and genuine sources only. We highlight some of the resources that can help you strengthen your preparations.
The Traditional way though books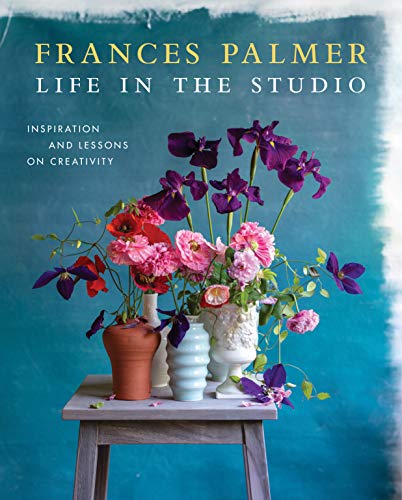 Books have been the most preferred way to prepare for any exam. They provide in-depth understanding of the exam concepts. Moreover, it provides real life scenarios to help you comprehend these exam topics more clearly. Here are some books that will supplement your learning and preparation process:
To begin with, The Interior Design Reference & Specification Book
Then, Golden Light: The Interior Design of Nickey Kehoe
Also, Design Commune
Further, Life in the Studio: Inspiration and Lessons on Creativity
Learn with E-Learning Study Material
There is a wide variety of resources to choose from. To help you out Vskills offers its own E-Learning resources and Study Material. You will get Lifelong E-Learning access and is regularly updated. Moreover, these e-learning resources also come with hard copy study material that expands your knowledge horizon. Make sure you learn with Vskills Official resources to ace this exam.
Refer: Certified Interior Designer Sample Chapter
Check your progress with Practice Tests
Analysing your preparations is an important step in your journey. This can be on by self- evaluating your performance. Attempting Practice tests is the key to check your knowledge and identify the areas that require improvement. Likewise, strengthening your weaker domains will help you crack the exam. Further, these tests familiarise you with the real exam environment. You get to practice your accuracy and speed. Moreover, attempting multiple practice tests will boost your confidence. Try outperforming yourself with each subsequent test and become a Certified Interior Designer. Start Practising Now!
Job Interview Preparation
Checkout these Interior Designer Interview Questions to prepare for your upcoming interview, these questions are based on the recent interviews conducted at different organisations.

Upgrade your knowledge and enhance your skills with Certified Interior Designer exam. Start your Preparations Now!