Before jumping into the question, we should understand the following concepts, which will help you to create a perfect resume
What is a resume?
By definition, a resume is a one or two-page documents which present job applicant's skills, experience, training and educational qualifications to job recruiter.  A well-written resume is the best marketing tool to present yourself in this huge, competitive world when you are searching for the desired job in your career path.
A resume is a showcase of one's qualities that an employer will judge and appreciate. It is considered a very important step and a key to job search.
Why you need a good resume?
Resume is your first impression to job recruiter or employer. Without seeing anyone personally job recruiter is judging he or she by just reviewing resume. It is the first virtual meeting of employee and employer. It is a formal document revealing one's capabilities. It is more than a brief document about you. It provides a complete outline of someone including background, skills, education, experience, hobbies and future potential. It gives details of your past achievements to your future employer.
A strong well-written resume makes you able to stand separately among the other competitors. It is the key to open the door for new opportunities that you desired. A strong resume can market your skills, abilities, achievement very well. It has the power to attract job recruiters. The good resume makes favorable impressions of a candidate on an employer. It points out how your eligibility for the applied position. It matches your abilities and position you applied for.
Role of a resume in a career path or job search
Resume plays key roles in everybody's career path. It is not a biography. The role of a resume is to give a brief statement of someone's skills, educational qualifications; professional experience, accomplishments in front of a job recruiter or employer. Generally, a resume is considered as a primary tool to get a job. The purpose of any resume is to market one's abilities to the potential employer. The well-written resume may make recruiters to think about you as a perfect candidate. A well-written resume helps employer to understand you and consider you as a potential employee.
What does a resume means to employer
For any employer, resume is a candidate brief summary.  But do all the employers have time to read this summary with their busy schedule? Many times resumes are just reviewed. Employers are looking for the right candidate for the job position. They are looking for the skills, experience abilities and qualification which are best matching with company's job profile. Employers want easy to read a brief description about skills and qualifications. They don't want any one's life story or great accomplishments. Employers want well-written and formatted resume which is easy to read and understand. In every resume employers look for the consistency and coherence. Employers generally look for relevant accomplishments and relevant skills for the job profile. Employers look for language grammar, presentation of every resume. They avoid resumes with fancy language, resumes which are difficult to read and with very small fonts, incomplete contact information and irrelevant skills and qualifications. Employers judge the candidate through resume and may call him/her for a personal interview where resumes are strong and satisfactory.
Basic Difference between CV and Resume
1. CV: The long form of CV is Curriculum Vitae is a Latin word which means course of life. CV is a detailed document of two or more pages which focuses on more on achievements than work history. CV includes qualifications, work experience and also honors and publications. CV focuses on general talent. CV is generally in chronological order. CV only changes cover letter for different positions while other details remain same.
2. Resume: It is a brief document generally of one page. Resume focuses on the skills and experiences which are best matching to the job profile. Resume defines how you stand in the competition with other job applicants. Resume focuses on special skills. Resume does not remain same always. Resume can be customized according to the job profile. Resume may be or may not be in chronological order.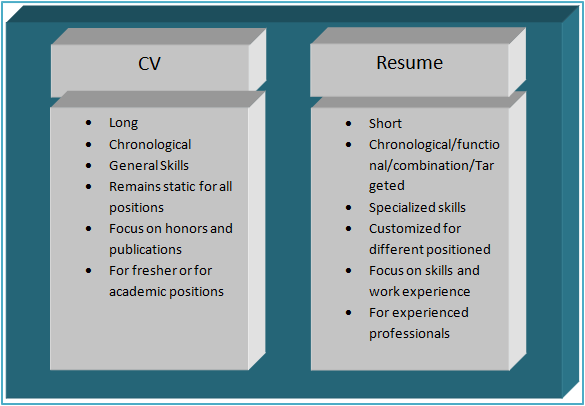 Types of Resume
There are four basic types of resume.
Chronological
Functional
Combination
Target
Chronological Resume
It is exactly as the name suggest. The resume lists your work or professional experience in chronological order. It starts with your current position and stops at you earliest position when you have started your career. This is the most common resume format preferred by job seekers. Employers also prefer this format as they can directly match the current work experience of candidate and the desired qualifications for the job position. This resume focuses on career progress vertically. This format is perfect for those who have no career brakes or gaps and have strong work history.
It is not compulsory to mention only full time jobs; one can mention his or her part time, freelance or volunteer work.
Functional Resume
Functional resume focuses more on the skills than work history. This type of resume is perfect for those who have career brakes or career gaps. Instead of work history functional resumes gives the details of professional experience and skill and accomplishment. This type of resume is mostly preferred by those who are in the middle of their career and wants to change career paths. Fresh graduates form colleges and universities also prefer this format as it focuses more on skills than experience.
Combination Resume
As the name suggests combination resumes are the combination of both chronological and functional resumes. This format includes skills and qualification at the beginning. The work history is mentioned below skills. This type of resume focuses on the skills that are matching with the job position. Those who want the career change prefer combination resume. These types of resumes tell the employer about your flexibility and versatility.
Targeted Resume
These types of resumes are customized, specially prepared targeted and focused towards the job positions. This format highlights qualifications, experiences, and skills relevant to the job profile. This format is difficult to create but beneficial when job profile is an exact match to one's qualifications and skills. This format is also easy for employer to analyze the potential customer.
Along with the standard traditional of resume there are certain non-traditional resumes having info graphs, videos and photos. There are also Mini resumes which have a short summary of work and qualifications.

Sales & Marketing
Difference between sales & marketing
Sales & Marketing are the terms often used together. Both the activities possesses equal goal, getting customers. Sales & marketing department of any company aims to maximize the revenue of the company. Does that mean sales &marketing are similar?
Does marketing manager can become successful sales manager?
Although sales & marketing leads to achieve the same goal but both fields function in a very different way.
Marketing
Marketing activity revolves around four Ps namely Product, Price, Promotion and Place.
Product: Product is the main purpose of the whole marketing activity. Product is designed to fulfill customer need or demand. Marketers should understand the product life cycle, challenges and unique selling points. The recognition of possible customer is a vital task for every marketer. The important task of the marketer is to develop brand in the market and in customer's mind.
Price: Price is the crucial part of marketing activity. It is the actual amount manufacturer wants from buyer. Pricing directly related to sells. The Prices which are very high make it difficult to attract buyers while the prices which are very low also may get neglected by the customer. It is very important to consider the customers point of view while pricing the product. Price also depends on place, competitor's strategies and time or period when product is available for sale.
Promotion: Promotion is the foundation of sales. The product Promotion can be done using different techniques like advertising on T.V., Radio, Print Material or social media or by sponsorships of events, seminars, workshops etc. All marketing communication strategies comprise promotion.
Place: Place is important while promoting any product. In marketing place also synonyms with distribution. The channels through which products are distributed plays important role in bringing revenues to the manufacturer.
Thus marketing involves customer search, design and development of new products, promotion and distribution. Marketing focuses on creating recognition and appreciation among the buyers, lead generation. Marketing aims to find out what are the customers exact needs or demands. It deals with deep analysis of product or brand in market, brand development in market, development of strategies, proper distribution and promotion of product.
Sales
Sales process involves smaller groups.  Sales person's task begins where marketing person's task ends.  Sales include meeting customers directly, person to person contact and convincing customers to buy products. Sales process deals with the matching customer demand with the product specifications. Sales deals with the challenges related directly to the customers. Sales process can be explained as the process of conversion of leads into purchase order. Sales process is involved more in direct customer relations.
Although sales and marketing differ in many aspects, they are interdependent and interlinked. Sales need great foundation by marketing where marketing need great conclusion by sales. One can say marketing is an opening activity and sales is a closing activity for any product. Both the activities should work in harmony to achieve desired goals.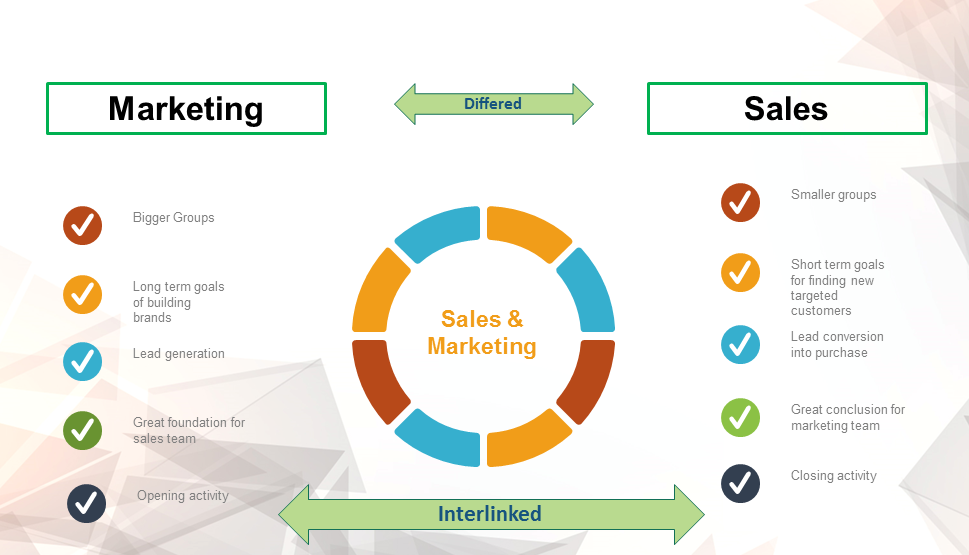 Difference between Sales and Marketing Resume & other categories
The term resume can be defined as the important and essential tool to get desired jobs. Employers from almost all categories including engineers, IT professionals, lawyers, doctors, pharmacologists, teachers, designers and so many require well written resume to offer a job to a desired and eligible candidate.
But does that mean writing a resume for all categories is similar? No, definitely not. The reason behind this is sales and marketing field is a totally different field, though interlinked with every field. When writing a resume for a technical candidates, lawyers, IT professionals, pharmacy& health care professions, teachers it may be sufficient to mention skill and experience related to only specific or required skills.
These resumes may not require knowledge of one more language or communication skills or designing skills, knowledge of rules and regulations or software skill etc.
But sales and marketing differs as the perfect sales and marketing candidate must be versatile and should have knowledge of many things including technical knowledge of the products, validity of the product, history behind it, market size, other competitors position in the market, customers need and demand, psychology of the customer or behavior of the customers, local or regional language along with fluency in English, promotional activities, knowledge of rules and regulations, pricing etc. If candidate is having experience and skills in all these field it should be mentioned and expressed in the resume.
Thus sales and marketing resumes should be written very carefully. It demands to mention and specify the qualities of a sales & marketing candidates with more emphasis.
The essential skills that must be there on sales & marketing resume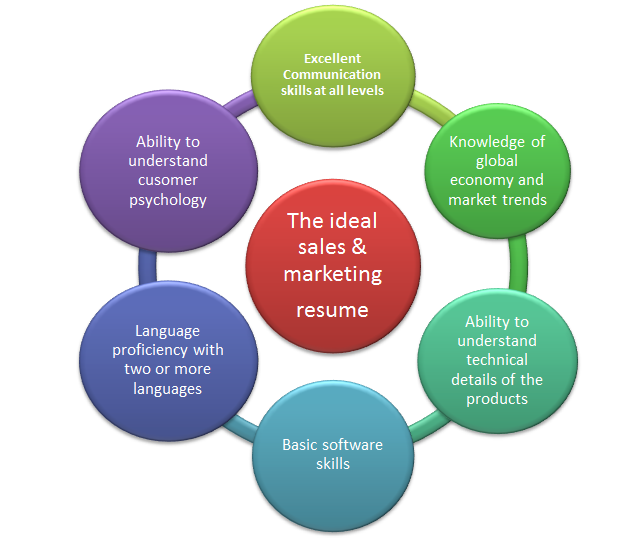 Objectives of sales and marketing resume
Writing objectives for sales and marketing jobs is very crucial. Objective is the most important paragraph of any resume that is mentioned at the beginning. As earlier mentioned sales and marketing resumes are different from other categories, for anyone who is looking for sales and marketing jobs objectives are very different from other categories also.
The hiring team of any company receives almost 100s of resumes every day. The recruiter can afford to give practically only 10 to 20 seconds for every resume and select which is best for the job position. When employers are looking for sales and marketing resumes, they focus on personality, qualifications, communication skills and content quality in the resume. The perfect candidate for sales and the marketing job is the one who has powerful expression and communication skills. This reflects in his or her resume content also.
The hiring team of any company receives almost 100s of resumes every day. The recruiter can afford to give practically only 10 to 20 seconds for every resume and select which is best for the job position. When employers are looking for sales and marketing resumes, they focus on personality, qualifications, communication skills and content quality in the resume. The perfect candidate for sales and the marketing job is the one who has powerful expression and communication skills. This reflects in his or her resume content also.
Therefore writing objectives in sales and marketing is a first step in getting job. The resume objective defines your goal to the recruiter and. It provides brief information about your skills, target, career path and future ambitions. Resume objective highlights your career summary and your capability for the applied position.



The content and the quality of the objective decide whether the recruiter wants to go through the complete resume or not. The important thing while writing resume is to first understand what is the exact job profile and if you have the desired skills and experience for that specific job profile. If you have relevant skills and experience, then it should be specifically mentioned in the objective. Resume objective should not be more than three to four lines. It should highlight your desire to perform and offer best of your efforts. Your best matching qualities and skills should be strongly mentioned in the objectives.
For every sales and marketing job irrespective of the position (from field sales executive to manager) excellent written and communication skills are must. Therefore while writing sales and marketing resume your communication skills, knowledge of languages, ability to handle team independently and problem solving capabilities should be always highlighted. The well written objective with good content will make recruiter to think about you as a perfect fit for the job position which may increase chances of getting interview letter.
Examples of objective
Senior Sales Executive: To use my experience as a sales executive, communication and interpersonal skills to boost sales of the XYZ company, to build the excellent team and network of customers and achieve sales target.
Business development manager/Sales Manager: To utilize my sales and marketing experience and communication skills effectively, to increase sales and profit for XYZ company and build dynamic team.
Marketing manager: Seeking for the position of marketing manager with the experience of successful marketing of product ABC in the market and skills of team building, problem solving, organizing, planning and managing budget.
Marketing manager: Seeking the position of marketing manager with huge experience in marketing, advertising, brand development, promotion and skills digital marketing, print and media advertising, oral and written communication skills, team building and technical skills.
Market coordinator: Seeking the position for market coordinator with highly reputed brand like XYZ, with experience in media and communication, digital marketing, independent ream handling, to offer effective and quality support to the marketing team of the company.
Job opportunities in Sales and marketing
Sales and marketing is one of the most departments of every organization. It offers great career opportunities. There are variety of job positions in sales and marketing. One can achieve great success in his professional and personal life while following this career path. There are many challenges on this career path but it allows you grow professionally and personally with making you more competitive and knowledgeable.
Job titles in marketing
The candidates who are looking for jobs in marketing field can look for the opportunities in marketing departments of companies or in marketing consulting firms.
Marketing manager:
Marketing team leader
Brand manager
Product manager
Market research analyst
Marketing consultant
Promotional head
Advertising manager
Marketing trainee
Digital marketer
Content writer
SEO specialist
Public relation specialist/Corporate communication specialist
Job titles in Sales
The candidates looking for sales jobs can look for the opportunities in sales department of the company or with distributors and suppliers.
Regional sales manager
Area sales manager
Account manager
Business development executive
Business development manager
Area sales executive
Inside sales executive
Outside sales executive
Customer service representative
Business development analyst
Customer relationship manager
Job market for sales and marketing
Top industries offering sales and marketing jobs.
Key Components of the resume
The Key components of resume
Writing any resume especially good sales and marketing resume is difficult task. It should be build carefully. There are certain key components which makes resume strong and powerful.
Key Components
1. Format or Visual Presentation: This is the most important component of every resume. How your resume is presented is very important for employer. This is your first impression to the employer. It should be well organized, presentable and should look good at a first glance. Always use professional fonts and layout. The format should be same for all pages in the resume. Use space, paragraphs carefully. Use readable font size. The well organized and presentable resume does not require colorful text and designs.
2. Keywords: While writing resume, it should be noted that the content should be prepared using professional key word. Use words that are suitable to the job profile and your skills. This will help employer to review your resume and find out if your resume matches with the job position. The employers look for the potential candidate just by reviewing resume. There is no need to write words like ambitious, go-getter, reliable, trustworthy, hard working etc. Focus more on your accomplishments. Use action verbs that highlight your accomplishments. Now companies are scanning the resume through applicant tracking systems and short listing the candidates. Use SEO friendly keyword in the content. SEO friendly keywords are those which are searched most often on the search engine. For e.g. if company is looking for market research analyst, your resume must include word like market analyst, research analyst if you have experience in the same filed. Use keywords those are result oriented. This is important for sales and marketing resume.
Examples of SEO friendly keywords
3. Cover Letter: Cover letter should be short and concise. It should match with the job description. It should not highlight your history but should focus on how and why you are the potential match for the job. Using same cover letter for all job positions will not work. Cover letter should be customized with different content for different job positions. So re-write cover letter for different jobs.
4. Objective: Your objectives should also match with the job description. It should be professiona and relevant to job position. The objective should be focusing more on how you are going to be more beneficial to the company than your past record. It should highlight those capabilities which are perfectly matching with job profile.
5. Work experience/ History: Always highlight your work which is more relevant to job description. If you done any part time job or any unpaid internship, but that fit with job description, mention it specifically. The employers always prefer those who have prior knowledge and experience.
6. Spelling and Grammar: Always do spell check twice before submitting resume. Correct spelling and grammar is necessity for every resume. Writing correct tense is important. Always write current positions in present tense.
7. Professional and realistic: The good sales and marketing resume should be highly professional and realistic. The reason behind this is the field is vast and requires variety of skills. While writing sales and marketing resume always be realistic .If job position requires ten specific skills and you have only five of it, be realistic and mention only those where you are confident. Be professional to mention your only relevant experiences.
Building Sales & Marketing Resume
Sales and marketing resume specifies all those job seekers looking for the jobs in the field of sales and marketing in various industries. In sales and marketing category includes many different positions. For example sales executive, sales manager, product manager, account manager, marketing analyst, marketing manager, market coordinator, market head, promotional head, advertising head etc. All these positions come under one category i.e. sale and marketing.
The sales and marketing resume must include record of successful achievements or accomplishment.
If someone had worked as a sales representative in past he should clearly mention for what responsibilities he had and also the detailed information about the product and services. The resume should also specify the target achieved, rank obtained among the other team members, sales awards if any, new accounts generated, difficult accounts handled successfully, leads generated and/or leads converted if any. All these are important ingredients of sales resume irrespective of position.
If someone has worked in a marketing field in past his resume must include new marketing strategies designed, new product launched, promotional events organized and attended, advertising campaigns organized, brand established, designed market awareness programs, awards received and/or successful market campaigns run in the market. All these are important ingredients of marketing resume irrespective of positions.
To add value to sales and marketing resume it is necessary to highlight your accomplishments and put forth the record of your achievements. It is not only important to qualify results that you obtained while working, but also important to quantify the results. Even if you have slightly exceeded your sales target or you are successful in increasing sales by just by small percentages, it should be specified in the resume. Employers are looking for those candidates who can do value addition to their business, no matter how small or big it is.
Sales and marketing resume must put emphasis on his or her managerial skills, motivational skills, business sense and leadership.
How to write powerful and job ready sales and marketing resume?
Writing sales and marketing resume is different from others as the job demands some extra skills and qualities. These qualities and skills must be highlighted while writing sales and marketing resume. Resume displays your confidence to the employer. It is the show case of your sales and marketing abilities.
Following are few important tips while writing sales and marketing resume.
Target employer: While writing sales and marketing resume first figure out who is employer. To whom you are sending your resume. If you are working in a small organization and sending resume to bigger organization mention how you are ready to change and face challenges in new organization in your cover letter. If you are going to smaller organization on a higher position, mention how you are ready to adapt new environment and to build dynamic team. Understand the requirements of the recruiter. Accordingly design and develop your resume.
Strong qualities or skills: Put your strong points or qualities first. Mention your sales target achievements prominently. This will exhibit your sales and marketing ability to employer.
Duties & Responsibilities: Mention about your duties and responsibilities you are handling currently/ or handled in past in detail. Mention about brief technical details of the product. This will highlight your ability to understand technical details of the products. Employer will get to know how you are well versed with technical terms.
Results: Always mention what results you have obtained while performing your sales and marketing job. For e.g. how much market growth your company has obtained? What is the percentage rise in total sales? What is the ranking of your previous company in the market? How many new accounts you have generated? How may leads generated? How many leads converted in to sales? Build your resume with results of your performance. This will help employer to judge you on the basis of your performance. As sales and marketing jobs are based only on performance and results, employers want only results. They do not want your skills and qualifications should remain only on paper. They want you to utilize your skills and get the company benefitted.
Awards: Always highlight your awards. If you have achieved any award for your sales and marketing performance, strongly mention it. Awards are the real proofs of your abilities and performance than your past educational qualifications.
Trainings & Certificates: List out your sales and marketing trainings you have attended. Also list out certificated you have achieved. Many employers want highly trained and certified candidates in sales and marketing departments. This will help employer to know how you are updated with latest technologies, trends and market. If you have already undertaken desired training, that will save the time of employer and he may think positively for you
Social work: If you have participated in any social cause mention it strongly. This will help employer to understand how you will work as a team and perform together as a team.
Every resume can be divided into six to seven important sections.



These sections are the key elements of the resume. Every section or element is essential and important. One cannot skip any element and write the resume. The sequence for writing sections may differ according to the type of the resume.
Following are the different sections of resume:
1. Cover Letter: Cover letter initiates your conversation with the employer. Therefore cover letter must be short but to the point. In true sense cover letter is your advertising letter where you are marketing yourself. Employer may judge you by reading only a cover letter if you are fit for sales and marketing job. It can be considered as preview of how you will sale or market company products. Cover letter should be targeting company and its requirements. Cover letter should be personalized talking about you. Cover letter should include both, your previous achievements and future goals in just one or two sentences. It should be easy and should mention your plus points to the company. In cover letter you should also mention how reputed and professional the company you are applying is. This creates positive impact on the employer.
Sample Cover Letter for Marketing Jobs: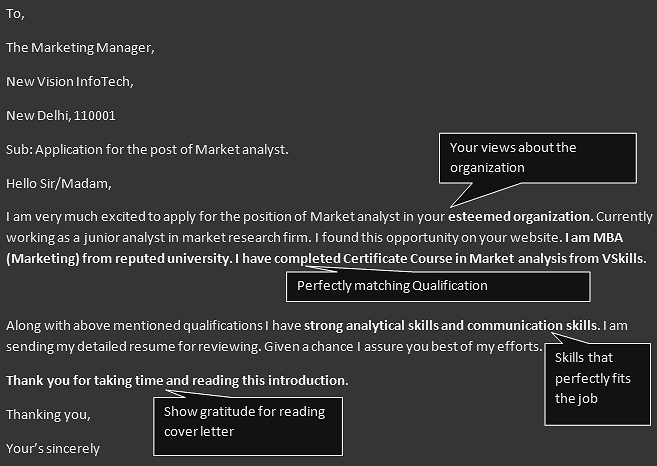 Sample cover letter for Sales Job: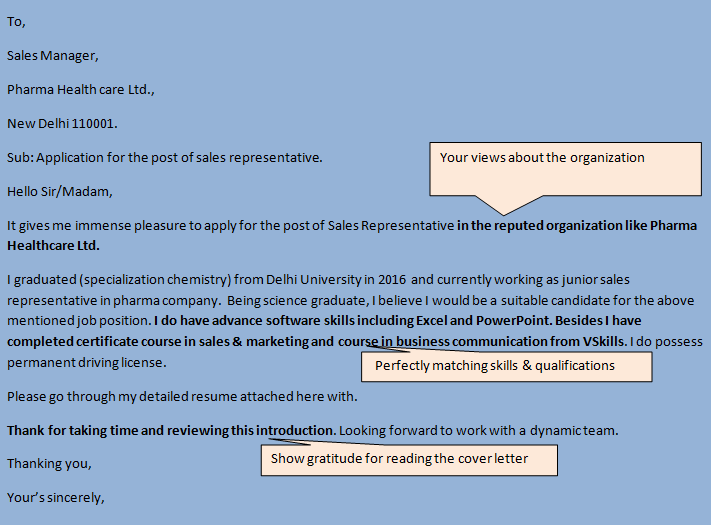 2. Resume Headline or Introduction
Resume head line or resume title is actually your introduction to employer in very short incomplete sentences. It highlights your experience and ability to employer. It should include your name, contact number, address and email id. It should be precise and short. The resume head line must be in capital letter so that it should look like a title. If you are mentioning your skills in head line mention each skill separately. Never use phrases like hard worker, enthusiastic, go getter in headline.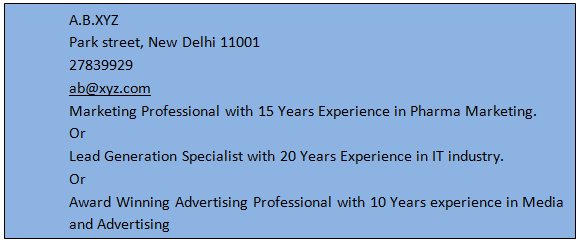 3. Objective
As already mentioned resume objective is the essential ingredient of every sales and marketing resume. The well written objective can make your stand strongly among other competitors. The resume objective is not a complete career profile. It is the reason why you are seeking or desiring the job position you are applying. Resume objective must be short and to the point. It should be convincing. It should not only focus on your eligibility as perfect fit candidate but also highlight how you could be beneficial to the employer.
Examples of Objective:
Seeking for a marketing manager position with high managerial skills in a fast growing pharma and healthcare company. With a track record of generating new accounts and team building, looking for an opportunity to work with a vibrant and dynamic team.
Seeking for an area manager role with excellent record of customer relations and team building. With proven past record in sales and marketing looking forward to work with a globally recognized vibrant organization to boost sales and revenues and to build a strong sales and marketing team.
4. Professional Experience
In all types of resume, chronological, functional or combination professional experience is generally written in chronological order. This helps employer to review your current position and how it fits with the job applied.
Following are the key ingredients that should be included in professional work experience.
Job title/Position held
Employee/Company Name
Name of the City/State/Country
Brief description of country
Date of Employment
Time period
Responsibilities or duties
Brief technical description of the product you worked on (sales or marketing)
Accomplishment
Skills developed
Special achievements/ awards
Things Not Required in Professional Experience:
Company details
Name of your HOD or CEO
Contact number of the company
Reason for living the company
While writing professional experience in sales and marketing resume it is very essential to put more focus on accomplishments. If you give huge list of your work responsibilities and duties, your resume may not stand with other competitors. There are many who have been working on similar positions in various industries. Your accomplishments will make you stand among other candidate.
To make it simple but strong Action Benefit Statements will help a lot in sales and marketing work experience

Examples of Action/ Benefit Statements in Sales and Marketing resume:
Designed and developed new training program for sales team which boosted moral of sales team
Executed new action plan for sales team resulted in increase in sales activity
Researched and analyzed new market territory which resulted in gaining new customers
Promoted social media campaign resulted in increasing traffic to web site.
Implemented new ideas in lead generation resulting in 20% increase in sales
Utilized sales force in different region resulting in increase in 15% revenue.
Few action verbs for recommended for marketing resume:

5. Educational Qualifications
Educational qualifications are also referred as academic details. The position of educational qualifications on resume depends on the type of the resume. In Chronological type academic details come after work experience while in functional resume qualifications comes before work experience. For those candidates who are freshers or less experienced, educational qualifications should be put first following work experience. But for those who hold quite a good experience should put their work experience first. In sales and marketing it is advisable to write work experience first, even if it is a short period of experience as the sales and marketing job category prefers direct experience than big list of certificates.
While writing academic details the highest degree should be mentioned first. After that one can write other educational qualifications in reverse chronological order. In academic details it is necessary to include period of education, year of passing, grades obtained, name of college, University, degree Specialization and post-graduation specialization. It may not be required your high school grades and details. In this section academic awards or honors can be added. Research publications or any other extracurricular activity in academics can also be added. Instead of numbering bullet points are also accepted.
Example for writing Educational qualification: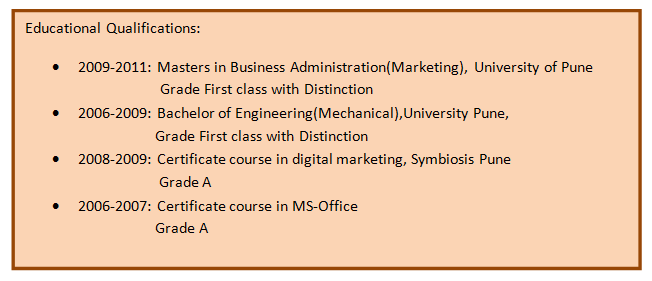 6. Skills (Professional & Software)
Skills is an important and essential element of every sales and marketing resume. This section should be written very carefully. This is the key to get interview call and finally a job. The entire sales and marketing field is based on the skills of the professionals who are working in this field. Skills can be divided into two groups, professional skills & software skills. Professional skills differ from educational qualifications. They are natural, in built or learned through experiences with the help of educational qualifications. Software skills are learned through proper training and certification.
Following are few professional and software skills listed. Out of all the listed skills it would be beneficial for the candidate if he or she holds mastery in two to three skills from each section. Always mention those skills specifically where you have proven mastery. Highlight those which are most fit or match to the job position. Employers are looking for those skills only which are best fit their job profile. For e.g. if the role is area sales executive or area manger, there is no need to highlight your designing skills. In this job profile employer is looking for your communication skills, language skills. Similarly for marketing manager your management, public relations, supervising and lead generation skills are important.
Professional Skills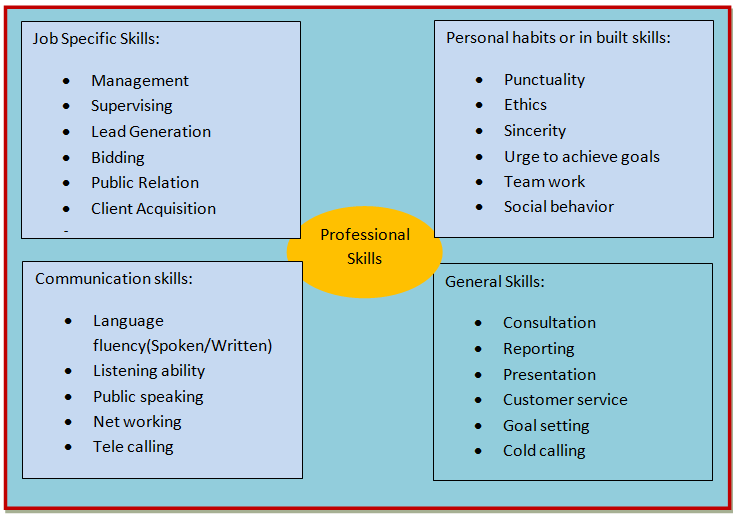 Software Skills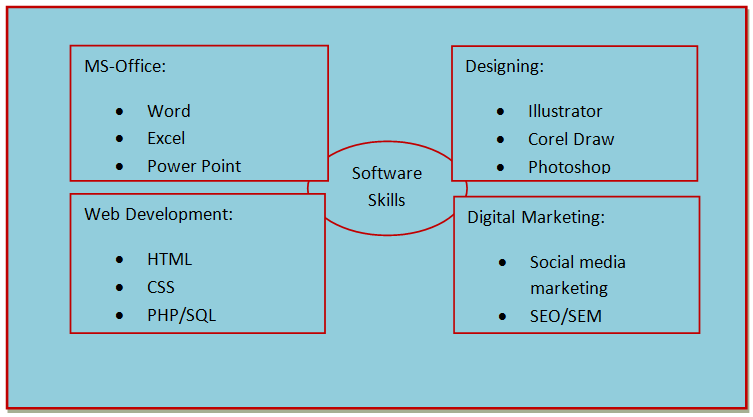 Volunteering or community experience
Any volunteering experience always add value to your resume and helps to build it strong. For sales and marketing jobs employer is always looking for a candidate who is comfortable in working with team. Volunteering experience makes you more social. If you have some volunteering experience means you care for community, you are ready to learn new things, ready to adapt for changes, ready to take and overcome challenges. These qualities get highlighted if you specifically mention your volunteering experience. Employer can get attracted to these qualities because working with team, ready to learn new things, ready for new challenges are the basic qualities for any sales and marketing jobs. Therefore Volunteering experiences always boost your chances of getting interview call letter.
8. Award or honor
Any award or honor related to work will always make your resume strong. Award or honor gives you recognition. It helps you to stand among other competitor. It highlights your capabilities to the employer. In sales and marketing field awards show how your performance is beneficial to company in terms of sales and revenues.
9. Closing
Generally resumes may end with the declaration like" I hereby declare that above mentioned information is true and correct" But this declaration may not be required. Some may end resume with personal information like hobbies. Again hobbies are not required if not asked. Some may write their personal details like address, contact number, language proficiency etc. at the end of the resume. Language proficiency should be always mentioned in skills and not at the end of resume. If you know two or more languages it may increase your chance of getting jobs. So closing resume differs from person to person.
Things not required on the resume
When we are building a best resume, we are thinking of putting many things on it. But one should also note that there are many things which are not really required on the resume. If these unwanted and irrelevant things are there on resume, it may affect your chances of getting job. Following are the things which are not required on the resume.
Irrelevant work experience: When you're applying for a specific job position, employer expects that you have experience in the similar field. If you have similar experience then gives brief idea about it in the objective. Employer will go through your resume after reading the objective. But if the work experience which is mentioned is totally different from job position, employer may not completely read your resume and reject you.
Personal information: Do not mention any personal information if not asked. For e.g. no need to mention about parents occupation, your spouse profession, children's education, religion if not asked
Hobbies: There is no need to write details about your hobbies unless they are relevant to the job position. If required just mention singing, trekking, painting etc.
Lies: Do not lie about your educational qualification, skills or work experience. If you don't have any skill required for job position do not lie about it. Simply mention that you don't have that particular skill. Many recruiters are ready to train employees for 3 to 6 months.
Personal pronouns: Never use "I", "Me", "My" while writing resume. When you are sending the resume it is understood that resume is yours. No need to mention "I worked for", "I have experience in". Write skills and experience separately.
Format: The resume format should be same for all the sections and pages. If you are using numbers for skills like 1, 2, 3 then use same for the experience. If you are using DD/MM/YY for the educational qualifications use same for work experience. The consistency of the format is as important as the content of the resume.
References: Never mention any personal reference from the company where you are applying for the job. It may disqualify you.
Fancy or curly font: Use proper readable font and font size. Arial font is generally preferred globally. Never use fancy font. Never use too small or too large font size.
Text color: Text color is preferred black. Never use different text colors for different sections in the resume.
Info graphs, Tables, charts, Pictures: There is no need to use info graphs, tables, charts or pictures in resume. Recruiter will select you only on the basis of skills, qualifications and experience. No one selects on the basis of decorative resumes. It only confuses employer who is reviewing your resume.
Professional email id: Always give your professional email id. For e.g. Abc23@gmail.com, xyz#cd@yahoo.com. Don't give email ids like petlovers@abc.com or naturetrekkers@efg.com etc.
Personal photo: There is no need to have your personal photograph on resume. If employers need it they will ask separately.
Social media Links: There is no need to give your personal social media links like face book, instragram, twitter etc. If you have professional Linked in account then mention about the link.
Current company: Never mention any pros and cons of the current company. Never use cons of current company as a reason of your job search.
Salary: Never mention about your current or expected salary. Resume is to present your skills and qualifications in front of employer. Salary part will come after interview.
Opinions: Never mention personal opinions about any company or company policy.
Personal praising or glorification: Never glorify or praise yourself. E.g. number one communicator. Just mention it in communication skills as an excellent skill. Never glorify your achievements too much.
Mistakes to be avoided while building a good resume
Grammar: Common mistake while building good resume is grammar. Never use incorrect tenses. Use proper English and grammar. Only your current job should be mentioned in present tense. All the past jobs should be mentioned in the past tense.
Accomplishments: Always highlight more on accomplishment of task than only on educational qualifications. Employers prefer practical work experience and ability to complete given task than educational qualifications.
Contact information: Always give correct and latest or current contact information. Mistakes like old residential address, old phone number, and outdated email id should be avoided.
Objective: Avoid giving objectives which are not specific and irrelevant to job profile.
Missing information: Always give complete and true information about your work experience and qualifications.
Content: Use proper content. Resume should not be too long or too short. Use professional content or words. Never use fancy words.
Team work: Never be self praising or boastful for your accomplishments. Always mention about teamwork. It will be helpful.
Irrelevant skills: Skills that are irrelevant to job position should be avoided.
Educational qualifications: Incorrect information about educations, time period, specializations should be avoided.
Writing duties: Avoid writing only duties you have performed, that do not focus on your skills.
Mismatched summary: Do not write mismatched summary of your qualifications and skills which do not fit your work experience.
Too many skills: Avoid writing too many skills. Organize skills properly. Try to bring similar skills in one category. This will help employer to judge you according to job requirements.
Resume on Social Networking Sites
We all are aware of social networking site like Face book, Twitter, LinkedIn. LinkedIn is the most popular social networking site for professionals. It is great networking site to connect with professional and potential recruiters. LinkedIn is a most popular network among job seekers and recruiters. Many of us are not aware of this strong and powerful tool. LinkedIn is most effective global platform growing very fast.
Anybody who is interested in growing his career path in right direction and wants connect with business professional can create LinkedIn profile.
LinkedIn is not only a great platform for jobseekers but also for recruiters. Many recruiters are searching for the potential fit candidate through LinkedIn search. Recruiters are using LinkedIn effectively to put vacancies. When you create great profile on LinkedIn, your profile automatically get ranked high in search engine.
How to create great LinkedIn profile?
Sub-Header: Sub-header is nothing but is your current job position mentioned in your profile. LinkedIn selects it as Sub-header. Sub-header is written underneath of your name. Always write your job title carefully as it is going to be your sub-header. Write your job title in such a way that can directly communicate with potential employer. Sub-header is highly ranked and visible in search engine.
Profile: LinkedIn profile includes many things. Your work experience, educations, awards & honors come under one profile. It is beneficial to write all your jobs and work experience in profile. List all your jobs and recruiters. List your internships, part time jobs, summer jobs, volunteer work with the name of recruiters. LinkedIn search may look for the potential candidate from his old work experiences. List all your educational qualifications, certificates, diplomas. List all your awards and honors. Everything ranks high in LinkedIn search.
Get connect: Try to get connected to as many as professionals. Send request to the professionals. With this you will automatically get linked to the potential recruiters.
Recommendation: Get recommendation from your past employers, colleagues, friends. To get more recommendation give recommendation. When you recommend others, automatically you will get recommendation. Recommendation is nothing but reference. Your potential recruiter will get good reference about your qualifications and skills.
Groups: Join as many as groups you are interested in. Joining professional groups will make you more visible on LinkedIn search
Follow: Follow people, companies or groups of your interest. Following professional groups and companies will increase your visibility.
Skills: List all your skills, languages known, or any other additional information about you. Give your contact address and links from other networking sites like Face book and Twitter. This will make you highly visible on search engine.
Public Profile: Make your profile public so that potential recruiters can search and find you immediately.
Be active: Be active on LinkedIn. This will help recruiters to know your activities and interest. Share relevant content. Stay updated Read and comment on articles. Write your views. Try to learn new skills.
Profile photo: Give your professional photo. People will judge and visualize you by your photo.
The good LinkedIn profile will help you in following ways.
To make your profile visible to more and more HR managers
To attract potential employers to you directly instead of you approaching them.
To find potential recruiters
To build strong professional network and connections
To search hidden opportunities( Opportunities that others could not find)
To learn new skills
To increase your recommendation list ultimately creating references in advance to the potential fit
To stay updated about new technologies, future market and business trends.
Submitting resume through website or email
Now it is a common procedure to submit your resume via mail or web application format. While submitting resume via email following points to be taken care of:
Make it PDF: Never send your resume in word format. Always make it PDF. That will make your resume more professional.
Right person: Make sure that you are sending to the right person and correct email id. Do not forward similar email to two or more recruiter. Do not send CC of your resume to two different recruiter. Write separate email for each one of the recruiter and send separately.
Cover Letter: Your email write-up can be a cover letter itself. If you are applying for two different positions, write separate cover letter or email for each job position. You can also write cover letter separately and attach to your resume.
Attachments: While sending resume as an attachment, send your latest resume file. Do not send any other file of the similar name.
While submitting resume via web application format
Application form: Fill application form completely. Give correct and current address (Although it is there on your resume). Give all the information asked on the form. Give your professional email id. Read and follow the instructions carefully. Some web application forms also have textbox where they ask about you. Write in professional language brief summary of your career and experiences and how you could be a potential fit for the job. Finish your content within the limit given. Do not leave any incomplete sentences.
Resume attachment: All web application formats also want to attach your detailed resume at given specific place on the form. Make your resume in a plain text format for web application. Convert it in to desired format.
Keyword: While submitting your resume through web applications always use professional keywords. That will make your resume more visible for web applicant tracker systems and search engines.
Combination Resume
Sample 1 Combination resume for Sales Manager
"P.R.QST
43/76, Garden Road,
Nagpur
883383838383
qst@pr.com

Professional Summary
Accomplished sales associate with a track record of inbound and outbound sales Experienced in sales training. Handled successfully distributor chain management for cosmetics and herbal products.
Skills
Professional Skills:
Team building
Sales staff training
Client acquisition
Closing
Client/Vendor relationship
Language proficiency
English, Marathi, Hindi
Software Skills
Work History:
Dec.2009-Current
Sales Associate
Eva Cosmetics and Herbals
Nagpur
Designed and developed new sales plan to increase sales and revenue by 30%
Executed sales training to maximize sales team performance
Promoted product in remote areas
Utilized new and innovative techniques for customer survey
Developed new strategies for vendor agreement
Jan 2005-Nov.2009
Area sales Executive
Eva Cosmetics and Herbals
Nagpur
Generated new accounts from new territory resulting into 10% sales
Designed and implemented new reporting method for sales team resulting increasing performance by 5%
Executed new promotional plan for exhibitions and other events
Promoted product in new territory
Educational qualifications
2008
Certificate course in business communication and public speaking
ABC skills
2003-2005
MBA (Marketing)
XYZ Institute Nagpur
2000-2003
B.Com
XYZ Institute Nagpur
Awards & Honors:
Best performance award for the year 2006 with for achieving highest sales in Nagpur region for herbal products. Best Outgoing student award for the Academic year 2005, from XYZ Institute.
Sample 2
Combination Resume for fresh graduates
J.W.ARET
Phone: 20202020
Email:JWART@ART.com
Address: University Road, Pune
Birth date: 12-12-1997
Career Objectives:
Seeking for the challenging career of sales executive in a growing organization that will boost help me to boost my sales and marketing skills along with public speaking and communications skill which further will allow me to drive fast on my career path.
Educational Qualifications
• 2015-2017
MBA, First Class
S.Y. Institute, Pune
• 2014-2015
Diploma in computer applications
Pune
• 2011-2014
B.Com, First Class with distinction
Pune University
Skills
Relevant skills:
• Public speaking
• Management
• Excellent written & verbal communication skills
• Organization of team
• Team leading
Language proficiency: Written, Verbal
Marathi, Hindi, English
Awards & Honors:
Academic excellence award 2016-2017
Best Student award for academic year 2016-2017
First Prize in inter university elocution completion in 2015
District level championship in inter college competition of table tennis in 2014
First prize in poster presentation"Save Earth" in 2014.
Functional Resume Sample
Resume (career change)
Resume for the position of market research analyst
G.M.TAR
Mumbai East
GM@MRTM.com
202020202020
Career objective:
Seeking for the position of market analyst with strong analytical and research skills in a globally recognized esteemed organization to utilize my experience in market research and analysis and management.
Core Qualifications/Competency:
Background of Science and technology
Experience in scientific research and analysis
Experience in sales and marketing
Experience in web analysis
In depth knowledge of market research and new product launching
Experience in handling international clients
Knowledge of international codes and regulations
Skills:
Professional Skills:
• Research and analysis
• Market strategies
• Sales and marketing
• Sales for casting
• Digital marketing
• Web analytics
• Government guidelines and regulations for launching new products
• Client acquisition
Communication skills:
• Public speaking
• Customer Relationship
• Team building
Language Proficiency (Written & Verbal)
English, Guajarati, Marathi, Hindi
Work Experience:
March 2013-March 2017
Market research analyst
SRB Markets, Mumbai
• Developed market reports for steel industry, pharma industry
• Collected of primary data and secondary data
• Utilized different report writing tools
• Developed strategies for international clients with through understanding of international codes and conducts.
Dec. 2010-August 2012
Digital Marketing Executive
Digitools, Mumbai
• Boosted web traffic with SEO friendly content writing
• Implemented Social media marketing campaigns on Face book and LinkedIn
• Assessed content for web sites
Jan 2008-Nov.2009
Sales executive
PR chemicals, Mumbai
• Promoted chemical binders in pharma and chemical industries
• Assisted in new product launching
• Executed new customer service plan
• Developed strategies to promote products in universities
• Generated new leads and helped marketing team in designing marketing collaterals
• Researched new territory and developed strategies for market penetration
Educational Qualifications:
2009-2010
Certificate course in Market analyst
Skills
2005-2007,
M.Sc. (Chemistry), Mumbai University
B.Sc. (Chemistry), Mumbai University
2007-2008
Diploma in digital marketing
Mumbai
Targeted Resume Sample
Targeted Resume for Job Position Product Manager (Marketing)
ABC
Delhi
8989899
abc@abc.com
Highly capable product manager with 15 +years of experience in product
launching, brand development, promotional strategies, merging and acquisition in food industry.
Career highlights
• Designed and developed successful product launch plan for well known food product XYZ protein in the Indian market.
• One of the key strategy makers in developing well known brand XYZ proteins in international market.
• Launched four new neutraceutical in the period span of 11 years to boost sales by 20%
• Successfully launched international brand ABC probiotics in Middle East.
• One of the key strategy makers during merging of KY neutraceuticals to XYZ foods.
Objective:
Seeking for the position of product manager in reputed food industry to utilize vast experience and sound knowledge of product launching and branding.
Work experience
March 2007-current
Product manager
XYZ proteins
• Successfully launched 5 products with sales increased by 20% and revenues by 25%
• Designed and developed new pricing policy so as to get maximum profit.
• Implemented new delivery strategy so as to attract customers.
• Designed questionnaire for customer survey technique to get feedback
• Implemented new customer service methods to increase customer awareness resulting in to 25% new accounts
• Executed new strategies for international market

Jan 2001-Jan 2007
Product marketing executive
KPC foods
• Executed and coordinated new product training programs for sales and marketing team
• Designed marketing collaterals for print media
• Implemented new advertising camping for T.V. and radio
• Designed and developed for corporate web site of the priority product KPC 222.
• Participated in many discussion forums with customers to understand customer needs
• Coordinated sales and marketing department to increase revenue by 15%
Jan 1998-Jan 2001
Trainee product specialist
ABC healthcare
• Designed strategies for new product launch ABC Juice
• Participated in training program in product launching and development
• Designed marketing collaterals
Skills:
Professional Skills:
• Customer relationship
• Product launching
• Client acquisition
• Management
• Advertising
• Event management
Languages known (Written/Verbal): Hindi, English
Software Skills:
• Adobe Illustrator
• Corel draw
• CSS
• MS-Office
• Photoshop
Educational Qualifications:
1997-Diplaoma in graphic designing
US designers
1996-1998
MBA, Marketing, First class
Delhi University
1994-1996
M.Sc. (Food Science) First class
Delhi University
Summary

Resume writing can be tiresome, confusing and boring. While writing resume always ask yourself two questions
Why am I writing the resume?
To whom I am sending the resume?
First question defines your purpose and objectives in your career path. Second question defines your potential employer. While writing resume keep all your skills, educational qualifications and work experiences in mind. Before writing take some time in researching about the recruiter. Gather some information about the recruiter and the company. Try to understand employer's needs. Try to match your qualifications with employer's needs.
Once you finished your research focus on your job target. Try to understand different resume types and important resume elements. Choose the correct format which is most suitable for you. Write the first draft of resume. Check and edit it. Always select easy reading formats which will help potential employer to review your resume fast. Always note that resume should never go alone. There should be covering letter attached to every resume. Write cover letter separately for each recruiter.
After completing resume writing post your resume wisely. Post directly to the employer or recruiting agency. Always make maximum use of internet. Establish your online presence on social networking sites like LinkedIn.
A well written resume always attract HR managers, recruiters or employers. A good resume will show case your skills to the recruiters and defines how you are a potential fit for the job position.
A good resume makes you stand among other competitors and makes you job ready. Thus writing a resume may look tedious but it is always rewarding as it offers you a desired job, makes you successful in career and life.