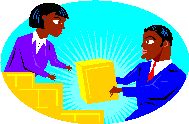 Training is an crucial process for any individual or companies who want to be excel in this ever competitive world. Thus, making the training process effective is also of paramount importance and following four measures helps individual and companies to make the process of training more effective.
1. Get a Sense of your success.
In some cases, it will be fairly easy to determine if training has been successful and effective for example, if the goal of training was to instruct staff in the use of a new fax machine, it won't be long before you know whether training was effective.
But, in other cases, the success of training may not be as readily apparent. For example, if the goal of training was to improve the outcome of training immediately.
2. Make a list of questions to aid your evaluation.
Making a list of questions for evaluation helps in making the training effective but also maintains candidate's and trainer's focus towards result to achieve after training. For example, you may want to ask yourself:
What were the objectives of training?
Was each objective met? How can I tell?
If some objective were not met, why not?
What did employees think of training? Did training accomplish what they thought it should?
What improvement can I make in the training program?
How did the organisation benefit?
Where the benefits of training worth the cost?
3. Keep individual records
Individual records can show you types of training an individual has received, the results of training, and any other details you wish to include.
Proper record keeping is also essential for the training but also consult human resource personnel or training department for the information which is needed to be collected. An individual training record might be set up for the purpose.
4. A group training record may be helpful, too.
A summary sheet that lists the names of all team members and the training completed can tell you at a glance whether some employees need additional training or not.
Click here for government certification in Management