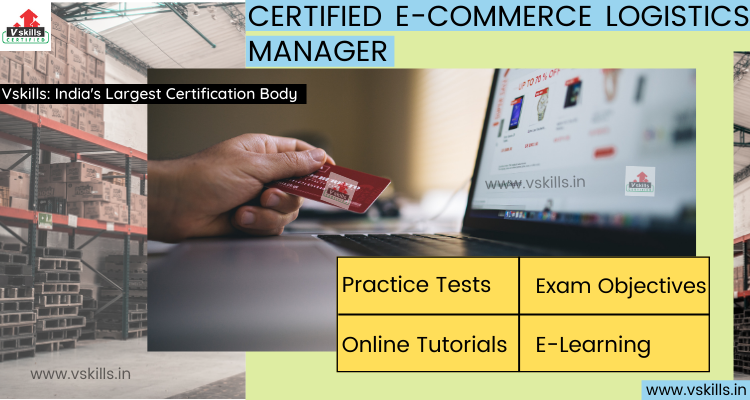 E-commerce Logistics Manager is responsible for managing the entire order cycle for enhancing business development and ensuring sustainability and customer satisfaction. They have the ability to plan and manage logistics, warehouse, transportation and customer services. They also perform tasks that involve optimization and direction for full order cycles including negotiating with suppliers, manufacturers, retailers and consumers.
Further, they have day to day responsibilities that includes:
Keeping up to date track of quality, stock levels, delivery times and arranging warehouse, catalog goods as well as planning routes.
Resolving issues and supervising and training warehouse workforce.
Meeting cost, productivity, accuracy, and timeliness targets. Moreover, maintaining metrics and analyzing data for assessing performance and implementing improvements.
So, let's get started with the in-depth details and resources to become a Certified E-Commerce Logistics Manager.
Vskills Certified E-Commerce Logistics Manager
Technological advancements in internet access and mobile phones have given a push to the e-commerce market. And, the logistics and supply chain become more essential for online order fulfillment which has increased the demand for e-commerce logistics professionals. That is to say, Business to Business (B2B), Business to Customer (B2C) or Customer to Customer (C2C) company, each of them requires e-commerce logistics professionals for order fulfillment and customer satisfaction. With meaning Vskills E-commerce Logistics Manager certification candidates will enhance knowledge and skills in the e-commerce logistics domain. Moreover, Professionals employed in logistics or supply chain companies will get benefits from this certification in terms of career. And, those who are in the role of executives, managers, senior executives or graduates can also learn and get knowledge in the logistics or supply chain domain.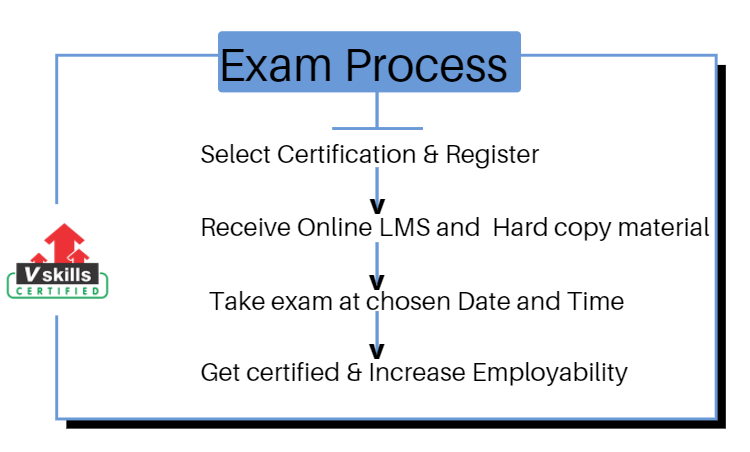 Vskills certification providers give candidates access to top exams as well as provides exam benefits. This includes:
The certifications will have a Government verification tag.
The Certification is valid for life.
Candidates will get lifelong e-learning access.
Access to free Practice Tests.
Candidates will get tagged as 'Vskills Certified' On Monsterindia.com and 'Vskills Certified' On Shine Shine.com.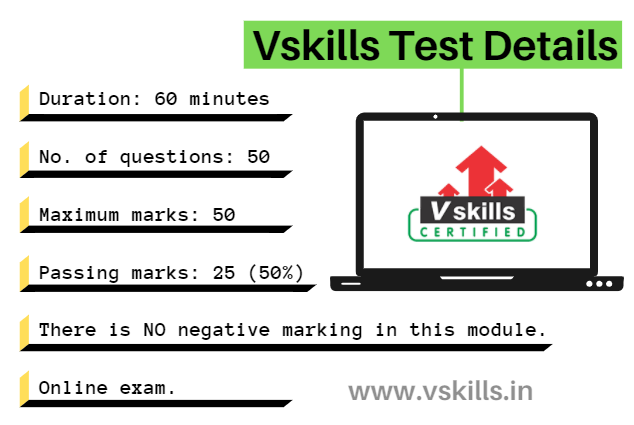 Course Outline
Certified E-Commerce Logistics Manager covers the following topics –
Introduction to Logistics
Supply Chain Strategic Management
Supply Chain Design
Logistics Network Planning
Logistics and SCM Costing
Resource Planning and Scheduling
Resource Scheduling
E-commerce Logistics
Monitoring and Performance Measurement
Management Basics
Thinking Competencies
Negotiation Skills
Time Management
Spreadsheet – MS-Excel 2013
Preparation Guide for Vskills Certified E-Commerce Logistics Manager
A preparation guide basically refers to the essential resources and study materials required for the exam. Candidates here need to research for the best study resources in order to prepare better for the certification exam. Moreover, it will also help them to complete their syllabus quickly and with a good understanding of the concepts. And, for the Certified E-Commerce Logistics Manager exam, below are the resources provided by Vskills that will help candidates to cover all the concepts and prepare well for the exam.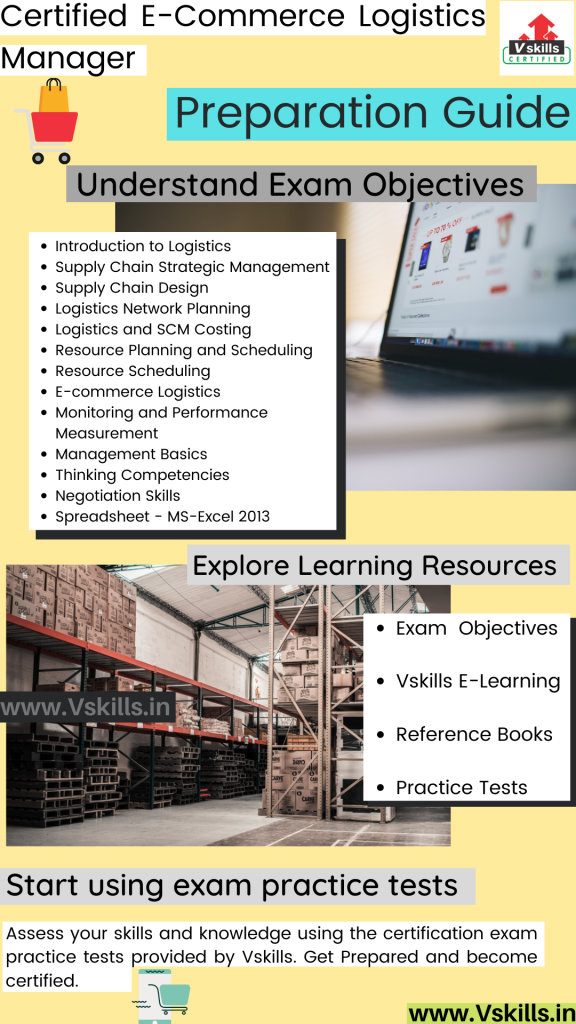 Exam Objectives
Exam objectives provide a brief about the exam topics that includes various sections and subsections. So, Candidates should get exam objectives to get a better understanding of the content and topics related to the exam. Moreover, it also provides a benefit to candidates to learn and explain things better during the preparation time. For Certified E-Commerce Logistics Manager the topics include –
Introduction to Logistics
Supply Chain Strategic Management
Supply Chain Design
Logistics Network Planning
Logistics and SCM Costing
Resource Planning and Scheduling
Resource Scheduling
E-commerce Logistics
Monitoring and Performance Measurement
Management Basics
Thinking Competencies
Negotiation Skills
Spreadsheet – MS-Excel 2013
Vskills E-Learning
Vskills E-learning for Certified E-Commerce Logistics Manager helps candidates to get a better understanding of the content by providing them the online learning material for a lifetime. This learning material comes with hard copy material that will help them in improving skills and staying up to date with the learning curve for getting better opportunities.
Books for Reference
Those Candidates who want to get in-depth details for the topic or content can take references from the books related to the exam. That is to say, reference books can be helpful for understanding concepts and topics fastly. However, for the Certified E-Commerce Logistics Manager exam, there are various books available which you can find online or in libraries. Some of the books are as follows:
E-Commerce Logistics and Fulfillment by Deborah L. Bayles
Logistics and Fulfillment for e-business by Janice Reynolds
Evaluate yourself with Practice Test
Using Practice tests after completing any topic can be beneficial for candidates to understand the weak areas as well as for taking assessments to test their skills. This also helps in improving answering skills so that they can much of their time during the exam. Moreover, by assessing themselves candidates will get a clear view of their preparation and then start working on it accordingly. So, start practicing for the exam and get certified.