Do you know the difference between AML and KYC? You may have heard about AML and KYC but want to know exactly how these differentiate. In this article, we will brief about each one of them individually and then compare and contrast for better understanding.

Know Your Customer (KYC)
Know Your Customer (KYC) refers to the process of verifying a customer's identity. Moreover, in KYC, each client has to provide documents like ID documents in order to use a company's service. And, this also includes collecting information about the customer's identity, address and other details to avoid exploit banking services like money laundering activity and financing terrorism, etc.
Most importantly, KYC is one of the anti-money laundering procedures or a small part of AML and Combating Financing Terrorism (CFT).
KYC Challenges
KYC is a link between a consumer and the service provider. However, it is a big process and often faces challenges. So, let's take a look at some of its challenges.
Lack of Consistency: This is the most common challenge which KYC faces. It refers to a lack of standardization in methods for collecting information from the client.
Reducing Costs: This means that there is constant progress in KYC costs. As a result, this rising expense is prompting banks and companies to question whether the connections make sense for business.
Anti-Money Laundering (AML)
AML practice is wider than KYC. And, it has measures used by financial institutions and governments to prevent and combat financial crimes. Moreover, AML has a set of procedures, rules, and regulations that come up with a view for reducing the money laundering or criminal use of the financial institutions. Also, we have many measures that are present across the globe to reduce money laundering and combating terrorist financing.
Further, you must also some of the challenges faced in AML include –
Firstly, banks and financial institutions may find it hard to handle cross-border and multi-jurisdictional AML-compliance requirements
Also, getting skillful resources with deep knowledge of AML can be another challenge.
AML and KYC: Are they in demand?
Firstly, you should know that KYC and AML have shown rapid growth in the Fintech industry. However, financial institutions have issues like high-level frauds through customers and financial transactions. So, for this KYC and AML compliance programs creates a systematic review of the secure financial system. Moreover, for frauds risk, screening of customers are done using different processes that include,
Customer verification procedures (CVP)
Know Your Customer (KYC)
Anti-money Laundering (AML)
What is the need for AML and KYC?
We all must know the need for AML and KYC compliance, as it has become essential to follow with global and local regulations. Moreover, for those who do not follow the regulations have to go through extreme regulatory penalties. Most importantly, businesses are required to identify the basic company standards and the need for KYC and AML compliance in the business framework for avoiding fines. Further, to understand this better you should know how AML and KYC are different from each other.
Comparison: AML and KYC
In this section, we will illustrate the difference between KYC and AML on the basis of uses and characteristics.
Origin
Firstly, the origin of Know Your Customer (KYC) is drawn back to the Banking Secrecy Act (BSA) in the USA in 1970. Moreover, the act was brought in to mitigate the laundering of black money that grew from drug selling. Above all, the law was passed to eliminate drug trafficking and money laundering. And, according to the law, the banks and other financial intermediaries had to keep an eye on inter-country transactions.
On the other hand, AML regulations were put in place on the basis of BSA (2001) under the US Patriot Act implemented in 2003. That is to say, AML regulations arise from the KYC regulations.
Most importantly, now AML regulations have become the major concern of regulatory authorities. Moreover, AML screening comes as a part of KYC compliance authorities. And, in case there is a high-risk client then, businesses are required to perform AML screening. Otherwise, basic KYC is enough for compliance.
Process
Firstly, in KYC, the main focus is on collecting information about the clients and customers. Moreover, this includes verifying their identities.
But, in AML the process is for preventing the modification of profit from illegal activities into the profits of lawful sources.
Purpose
At first, the main purpose of KYC regulations is to decrease fraud and financial crime. Moreover, it is made sure that the business partners and counterparts agree with anti-bribery standards.
However, the purpose of AML regulations is basically to remove money laundering and terrorist financing. And, for this, there is the detection of money transaction and activities for preventing business crimes and financing terrorism
Scope
Firstly, the scope of KYC and AML regulations is a bit different. That is to say, the implementation of the KYC regulations is for all types of businesses. However, the depth of screening depends on the business model and the risk that associates with it.
Whereas, AML regulations implementation is primarily in the financial sector, including banks, insurance companies, brokerage houses, etc. In addition, it has businesses in real estate, legal, Fintech, precious metal dealers, etc. for the scope of global AML regulations recently.
The Elements policy
For KYC the main policy requirement includes the customer's authenticity validation, monitoring transactions, and risk management.
And, for AML the policy includes risk assessments and data protection, staff training and reporting, client and payment screening and lastly, monitoring the transactions.
Regulations
Most of the regulations are associated with both AML and KYC. Moreover, it is taken as a part of compliance requirements. And, Customer Due Diligence (CDD) is the first step in AML and it includes KYC verification. Moreover, CDD is the basic process of KYC, where there is a collection of customer's data such as proof of identity and address to evaluate the customer's risk profile.
And, the major regulations that include KYC and AML rules are,
AML directive of the UK
BSA of the USA
Proceeds of the Crime (Money Laundering) and Terrorist Financing Act (PCMLTFA) of Canada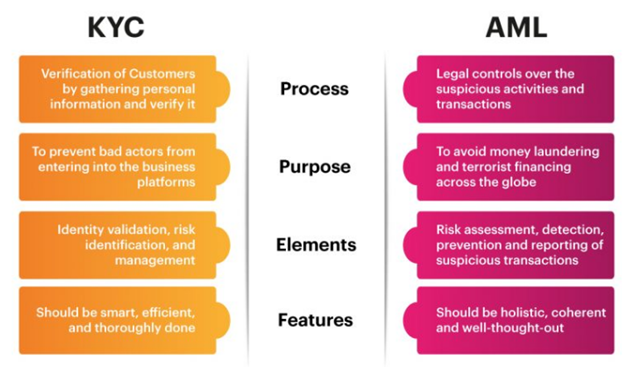 "KYC is a process and AML is a framework".
Firstly, AML refers to the framework, as from it the firms try to find ways to avoid money laundering. On the other hand, KYC is the process of identifying and verifying customers. Moreover, software and tools of KYC are features of the broad AML framework. Also, the vendors usually refer to KYC and regulating entities often have AML regulations. And, the regulated financial institutions and law firms must follow the AML rules. Above all, failing to do this can cause serious situations that can lead to the criminal offense about money laundering.
Further Points of Differentiation
However, the two terms can sometimes get blur as,
KYC is a compliance process that only accounts for one part of the wider AML framework. Therefore, it is not a regulatory framework on its own. However, most of the companies use KYC software as a means of detecting fraud and to verify customer viability.
Moreover, AML and KYC both have roles in the financial context together. And, this is the most confusing part which arises that is, both are also risk-based approaches.
Above all, the two terms include such elements as client identification, client acceptance, monitoring transactions, and risk management. Most importantly, when AML and KYC software are together then, they sum up to much more than simply 'knowing your customer'.
Next, you will know how AML and KYC together can provide advantages.
Can AML and KYC together be beneficial?
This may sound confusing to you but yes AML and KYC together can be a great combination. We will now illustrate each of the features
Fraud Prevention: Most importantly, KYC and AML compliance help businesses with effective risk management. Moreover, after the risk identification, KYC verification helps in the implementation of fraud prevention measures. Most importantly, KYC and AML screening helps in gathering the benefits of such strategies.
Regulatory Compliance: Most of the businesses are responsible for KYC and AML compliance. Also, the global regulatory authorities are expanding the scope of KYC and AML regulations to remove money laundering at a global level. Therefore, the regulatory authorities charge high penalties to the reporting entities in case of non-compliance.
Securing Customer On-boarding and Customer Retention:Firstly, screening the clients before onboarding shows its commitment towards securing the interest of all the stakeholders. Moreover, performing KYC and AML screening on clients gives a positive message to the customers to protect against fraudsters. And, showing your security concern through visible security protocols helps in maintaining clients.
Integrity and Growth: AML and KYC compliance help organizations in increasing their market value. Moreover, compliance with regulations helps in acquiring global acknowledgment and market share. However, in cases of non-compliance with KYC regulations, it will leave faults for fraudsters that they will utilize.
Real-Time KYC:Most importantly, the process of real-time KYC involves verifying the customers in real-time through the internet. Moreover, in real-time KYC and AML screening, the verification of customers is done within a minute without using any physical document verification. Also, identity verification is done using face verification, ID card verification, document verification, etc.
Job Opportunities for AML and KYC
In KYC and AML, you can have many good career opportunities with high paying jobs. Moreover, this will help you get a secure and stable future. We will now discuss the various job options available
Associate: They are responsible to assist with the onboarding process and completing KYC Checks as per the mentorship. Also, they are required to work on bank verifications and exception-based Underwriting
Analyst: As an analyst, you have to solve routine problems, largely through precedent and referral to general guidelines. Also, you will be responsible for detailed instructions on daily work tasks and detailed instructions on new assignments.
Domestic Private Banking-Executive/Manager: In this role, you are asked to identify and evaluate complex problems for areas of responsibility. Moreover, you will be required to curate solutions in situations in which analysis requires an in-depth evaluation of variable factors.
Associate Director: As an associate director, you will be responsible for managing the transition into the new engagement. Also, you should have the ability to engage and communicate, with good people management skills and experience.
Certification Bodies for AML and KYC
Everybody wants a good break in their career and especially when they prepare hard for it. Certainly, KYC and AML, both together provide certification for the Compliance Officer post. Above all, as a compliance officer, you can find jobs in all kinds of finance and banking companies, big or small. So, for this, we have listed some top certifications provider. These are,
Vskills Certification
Vskills is India's largest Assessment Body which works on the principle to improve the scope for professional certification and academic testing mechanism. Moreover, Vskills Certification adds a set of following to your profile –
Relevance and Applicability
Build confidence and Self-accomplishment
Marketability
Salary
Academic Recognition
ACAMS
ACAMS is an international membership organization focuses on detecting and preventing money laundering around the world.
IIBF
IIBF was known as The Indian Institute of Bankers (IIB). It is a professional body which incorporates banks, financial institutions and their employees in India.
Udemy
Udemy is an online learning and teaching marketplace. Moreover, it turns your current online courses into certification courses.
Expert Corner
As you already know, both AML and KYC have shown a rapidly growing demand for regulations especially in fighting financial crimes. Moreover, AML procedures are done for avoiding money laundering and terrorist financing activities. However, KYC refers to the process of collecting customer verification on the basis of their information. However, a business that follows both KYC and AML authorities is known to be trustworthy. Most importantly, the reason is that the chances of fraud become less when a company takes in place strict actions and steps for preventing fraud.