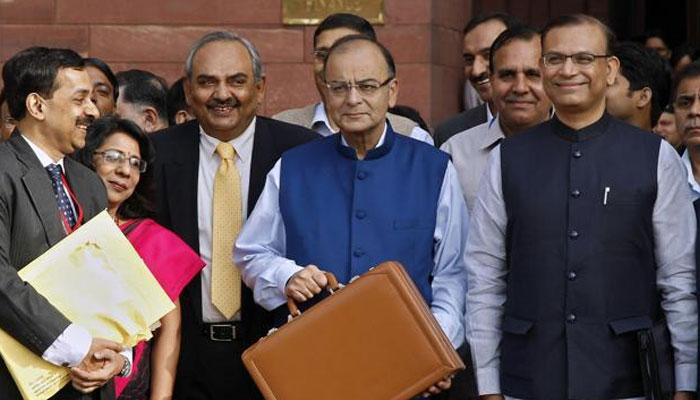 Finance Minister Arun Jaitley presented the annual budget of India on 1st Feb 2017, which was awaited by the entire nation. To analyze the union budget 2017 and understand its implications, it's important to know the background story first. What happened in India and what is expected to happen forms the basis of all the elements of budget.
On 8th December, 2016, at 8:00 PM, Prime Minister Narendra Modi banned the use of Rs. 500 and Rs. 1,000 notes in India. This act of demonetization was aimed to target black money holders, curb its accumulation and channelize national funds by circulating them back into the economy. Though, the move was launched with honest intentions, it had bad implementation process. If analyzed carefully, one would realize that the incidence of this move was born mostly by people who are poor, unprivileged, and needy and who barely have resources to sustain their livelihood. In short, common man had to suffer the most.
Keeping in consideration the ongoing chaos, union budget has been created to ensure maximum benefits for the sections of the society which were hurt the most due to demonetization. Thus, the union budget 2017 can be best described as an aim towards stability. The government made sure that it launches no new big schemes or dramatic reforms. Instead, the entire focus was to make the adversely hit societies feel comfortable.
Major Changes
Union budget 2017 observed many changes. The major ones along with their reasons have been listed as follows:
1.Not a populist budget:
A populist budget can be defined as one which the government uses to empathize with citizens of the nation. It is sometimes used as a political weapon to mobilize a particular group or section of people against a particular government or opponents. By using the budget and including numbers that are people friendly, the government can gain their confidence, show empathy and channelize their will.
Union Budget 2017 cannot be termed as a totally populist budget because the need to include people friendly elements was much felt. Had they not been included, people who suffered due to demonetization would not have been dealt with justice. So, certain favourable points were necessary. Apart from that, there is nothing in the budget that can be called to drive people against other governments and hamper the to-be-held elections in 5 states of India. Whatever values have been included are making sense if we keep in mind the adversities faced by the entire population.
2.Date of budget announcement:
Earlier, the union budget used to be announced on the last working day of February. This year, the finance minister announced it on 1st Feb, 2017. The provision to announce it on the changed date every year was an issue of debate among political parties contesting elections in 5 states of India. They were scared that the budget will be used as a tool of manipulation and drive people's votes towards the ruling party. However, there was a logical reason behind its advancement.
Every government department needs to change its working as per the changes suggested in union budget. When the union budget used to get announced on last day of Feb, the departments felt short of time to run those changes operational. To buy them some time, government took this decision. Moreover, when the recommended changes are done away with before monsoon, growth is expected to rise. This reflects a true and better image of the nation. When the implementation of changes is delayed, it impacts the agrarian decisions and hence contribution to GDP suffers a great deal. Monsoon stands non-beneficial in that case.
3.Merging of Railway Budget:
Earlier, union budget used to come separately from railway budget. Despite being a monopoly of the government, allocation towards railways was not included in the union budget. Since it was a colonial legacy acquired from the British, it was never considered for consolidation in union budget. This year, it was clubbed with the union budget to offer it due importance.
It will ease up the preparation and allocation for government and simplify understanding. Many people feared that railways might end up being privatized if included in the union budget. However, the government made it clear that railways will retain its autonomous powers, continue as a monopoly and not be privatized.
4.Plan and Non-Plan classification done away with:
Earlier, budget expenditure used to be divided into two segments – Plan and Non plan expenditure. Any expenditure that is incurred on programmes which are detailed under the current Plan of the centre or centre's advances to state for their plans is called plan expenditure. Non plan expenditure is the estimated expenditure provided in the budget for spending during the year on routine functioning of the government.
The reason why this classification has been abolished is because it was unnecessary, it used to complicate calculations, hampered presentation and understandability and since there is no planning commission now, it isn't in the provisional mandate of our country to follow it.
Revenue & Expenditure at a Glance
The following graphs show the division of revenue and expenditure of union budget. The figures given are in comparison with the last year's budget.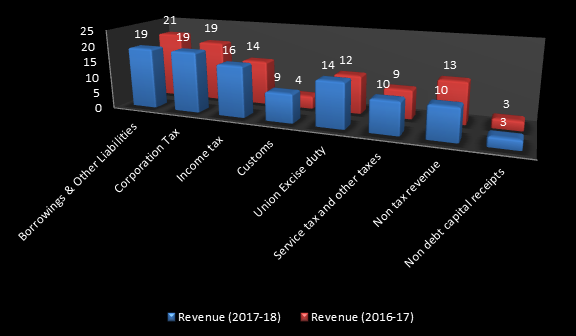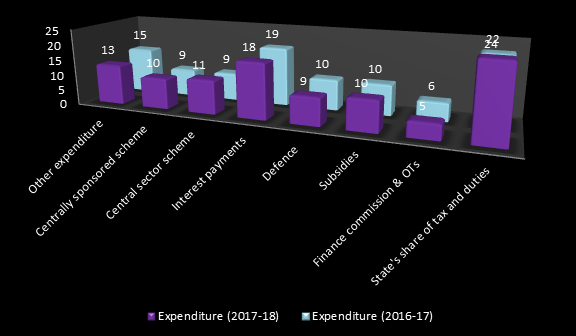 Areas of Focus
Union Budget 2017 kept the following sectors as its major focus:
1.Farmers:
Agricultural credit in 2017- Rs. 10 lakh crores
NABARD computerization and integration – cost Rs. 1,900 crores
100% coverage of all 648 for soil sample testing
National Agricultural Market (e-NAM) to be expanded from 250 markets to 585 APMCs
Analysis – It was feared that demonetization will largely affect the farmers. However, the reports show that the area under Rabi and Kharif crop remained the same. Thus, even if farmers had to suffer, demonetization didn't impact much. E-NAM has been implemented so that the wastage is as low as possible. It is a great initiative for farmers.
2.Rural population:
Total allocation for Rural, Agriculture and Allied sectors – Rs. 187223 crores
MGNREGA allocation – highest ever at Rs. 48,000 crores
To make 50,000 Gram Panchayats poverty free by 2019, the 150th birth anniversary of Gandhiji
Pradhan Mantri Awaas Yojana – Gramin increased to Rs. 23,000 crores
100% village electrification by 1st May 2018
mason training will be provided to 5 lakh persons by 2022
Analysis –The commitments made under this sector are strong and welfare oriented. Electrification of villages is another big mission for the government. However, the definition of electrified villages has not been clearly specified in the legislative mechanism, thereby leaving it just a promise.
3.Youth:
Measuring annual learning outcomes in our schools
SWAYAM to be launched with at least 350 online virtual learning courses
National Testing Agency to conduct all entrance examinations
Skill Acquisition and Knowledge Awareness for Livelihood Promotion programme (SANKALP) to be launched at a cost of Rs. 4000 crores
Analysis – It is very important to analyze whether the incentives being given by government to promote education are resulting in anything fruitful or not. Moreover, whether the students are learning or not, remains a question. To overcome this problem, government launched variety of programs. It has ensured that care should not be limited to education. It is also focusing on skill enhancement and providing job opportunities. Since, all government exams be governed by one authority, there'll be no misuse of power. Donation seats, leakage of exams can be checked upon. IIMs and IITs will be autonomous bodies.
4.Underprivileged:
Maternity Benefit Scheme – Rs. 6,000 each will be transferred to bank accounts of pregnant women
NHB will refinance individual housing loans of Rs. 20,000 crore
AIIMS to be set up in Jharkhand & Gujarat
Allocation for SCs has been increased by 35%
Analysis – It is practically not feasible for government to create separate centers underprivileged groups. Thus, to save costs, it has integrated all the centers. The cash transfers being provided for vaccination are conditional in nature. It means that certain conditions need to be fulfilled to avail the same.
5.Infrastructure:
For transportation sector as a whole a provision of 2,41,387 crores
Total expenditure of Railways pegged at Rs. 1,31,000 crores.
Rashtriya Rail Sanraksha Kosh for safety of passengers
SMS based Clean My Coach Service to be started
New Metro Rail Act will be enacted
IInd phase of Solar Park development for additional 20,000 MW capacity
Analysis – Since demonetization has resulted in a decrease of private investment in the economy, government has made sure to spend heavily on infrastructure. Bringing railways under union budget will also help it making multimodal transport a success. Due to several train accidents, the major concern for government remains passenger safety.
6.Electoral funding:
Maximum amount of cash donation will be Rs. 2000/- from one person
Political parties can receive donations by cheque or digital mode
Amendment to RBI Act to enable the issue of electoral bonds
Every political party would have to file its return within the time prescribed
Analysis – This move has been welcomed by all to ensure transparency in poll funding. However, most of the transfers are unreported. Hence, it will be difficult for the government to monitor.
7.Digital Economy:
Aadhar Pay will be launched shortly
Referral Bonus and Cashback Scheme for BHIM
Target of 2,500 crore digital transactions
All government receipts through digital means
Analysis – BharatNet will enhance economic activity, rural consumption and networking in the backward areas. The idea of digital economy is brilliant, however, it is not so easy to achieve for a nation as huge as ours. Given the latest incident of 3.2 million ATM cards getting blocked, cyber security is being given priority.
8.Fiscal Prudence:
FRBM Committee has recommended 3% fiscal deficit
Allocation for Capital expenditure increased by 25.4%
Net market borrowing of Government restricted to Rs. 3.48 lakh crores
Analysis – The fiscal deficit in 2015-16 was 3.9%. Last year's revised estimates show FD of 3.5%. The best part is, reduction in FD has not been due to reduction in expenditure, but increase in revenue of the government. Budget 2017-18 projects FD to be 3.2%. Low FD will make the economy less prone to crisis.
9.Tax Administration:
Individual income tax of 2.5 lakhs to 5 lakhs income reduced to 5% from the present rate of 10%
Surcharge of 10% of tax payable by individuals whose income is between Rs. 50 lakhs and Rs. 1 crore
Simple one-page form to be filed as Income Tax Return
Analysis – The government is trying to bring more and more people within the tax base so that lesser and lesser number of citizens evade tax. This will relieve the honest taxpayers from suffering the burden of taxation. The change in income tax for companies has been made in order to make MSEMs more viable.
Conclusion
In a nutshell, budget 2017 is well balanced, being received with a sanguine view point. The budget is non-populist, focusing on vulnerable sectors of the economy. Various allowances are being provided to improve the quality of infrastructure, fiscal prudence, digitization, cyber security, minimum role of government and maximum governance, ease of doing business, to reduce uncertainty of post demonetization era and ensure stability.
– Shweta Arora, Intern, Vskills

Shweta Arora is a student of Kirori Mal College, Delhi University, pursuing a Bachelors degree in Commerce. Curiosity to find a logic drives her writing.