Nowadays, social media marketing has become a key growth lever for businesses. Businesses want to go social for brand building. Although, there is an increase in social media marketing campaigns, email marketing campaigns are still preferred and enjoys an upper hand for lead generation, lead conversion and improvement of brand loyalty. Every business, whether small or big requires email marketing strategy to enhance the image of the brand. The efficacy of email marketing campaigns in B2B markets are very strong and have at least twice the chance of conversion than any other marketing strategy. Hence, there is strong need of email marketing campaign for brand building.
What I think of Email marketing?
There are enough definitions when you search online. According to Wikipedia, every email sent to potential or existing customer is known as email marketing. But according to me, email marketing is a trust building platform which grows slowly and steadily by sending emails to new and existing customers.
In current era, companies are promoting themselves through email marketing by asking customers to opt- in for their newsletters, which provide updates on new blogposts, products or services. This ensures that your brand is visible and customers have a higher recall value of your brand. With higher recall value, brand has higher share of awareness that further helps in increasing the market share.
There is a common myth – Some people believe social media channels are more effective than email marketing. Various reports suggest that companies using email marketing have a better conversion rate. The reason for higher conversion rate is simple – Email marketing strategy helps a company in connecting with their customers more closely and effectively.
Why email marketing?
The key reasons that drives email marketing for building a brand are:
Increases website visitors: With exponential growth of internet users and smart phone users, people who are accessing emails on a daily basis have increased manifolds in comparison to the users who are active on social media.
Increases repeat customers: Personalized offers through email marketing helps in attracting customers for repeat purchases
Increases new opportunities/prospects: It acts as a quick mechanism to update customers regarding new products, services, sales events etc. This increases the awareness level of customers and attracts them to visit the website.
Increases loyalty: Personalized offers specifically customized for customers as per his past purchases and requirements helps build trust with the customer and ensures better loyalty, in longer run
Increases transparency: Through emails, we can provide end to end visibility into an order life cycle thus gaining trust of the customer.Eg: When we place an order on bigbasket.com, we get the email notification at each step of the process – Order confirmation – Order preparation – Order dispatch – Order delivered – Payment confirmation End to end visibility is very important in ensuring that the customer is aware of the movement of his order.
Increases brand engagement: Weekly newsletters, sale announcement, new product launch helps users in engaging more with the brand
Increases attendance: With busy schedules, it is difficult to be updated with all the upcoming events. To ensure that customers are aware of any future events, email marketing works as a very effective medium
Increases lead conversion: Periodic reminders and updates helps in staying connected with prospective leads and increasing the chances of lead conversion by making yourself present in the mind of customer.
Maintaining personal connect: With the help of email campaigns, companies can maintain personal connect with the customers by sending birthday/ anniversary wishes, customized discounts and feedback forms to evaluate customer experience.
What are the objectives or what to achieve with email marketing campaign?
Before starting any email marketing campaign one must define the objectives of the campaign and what can be achieved with the campaign. For this, one must answer the following questions:
What is my plan? What I want to achieve?
Who is my target audience?
Where is my target audience?
What template should I use for the campaign?
What is the content?
Whether email should be personalized or generic?
What was the earlier trend?
How many spam complaints were reported earlier?
How many users unsubscribed from the email list?
How many opened the email campaign and how many click the call-to-action button?
Note: to check the history and how genuine the company is, one can visit www.whois.com. This website will tell the details of the company.
What are the key points to consider while drafting an email marketing strategy?
One must check the key points before drafting an email marketing campaign: the email id from which mail is sent (it is very important as it is one of deciding factor of deciding whether mail is a spam or not); recipients mail id (if recipients email id is wrong mail will not be delivered); email content; email design template; SPF and DNS friendly (it helps to check authentication and reputation of domains and lastly, corporate firewall.
While defining email marketing strategy, one should follow the CURVE framework (Curiosity, Urgency, Relevancy, Value and Emotion). Every email campaign is drafted in such a manner that it makes a customer Curious enough to open your email, after that what is the urgency behind email marketing campaign, then show what is the relevancy of the product/ services with the customer who is seeing your campaign, then what value your company holds and lastly what is the emotional connect.
Subject line
For creating curiosity, subject line plays a very important role. First and the foremost thing a customer scans through its mailbox is brand name and subject line. Do not use long sentences in subject line and it should be interesting and catchy. Also, keep in mind it should address the content of the email. For most users, there is no statistical link between subject line length and open rate. But for subscribers reading your campaigns on mobile devices, shorter may be better. You can also personalize the subject line. People consider those email which are specially addressed to them. Do not waste precious space with fillers like "hello", "nice to meet you" and so on. Do not use words in caps in subject line. In order to increase curiosity to open email, you can add deadline in your subject line like "few day left, grab the offer", "offer is ending soon", "limited period offer".

Content
The content should be short, simple and relevant. It should reflect the culture of the company. Majority of people don't want to read long emails. Try to write in bullet points or small paragraphs. You can also add visuals in your mail content as they are more effective than words. Keep in mind that you don't upload heavy images as it will increase time to open and result in exiting without even looking at it. Use file optimization to avoid this error. But, if you deal in such businesses where you need long mails, try to give either a link to the site or use an attachment. One should not feel distracted from the topic; if it happens then there are chances that they may either unsubscribe from mailing list or report as spam or start ignoring your company's mails in near future. It is not compulsory that you follow the same rules. You have to be very clear on the objectives of email marketing campaigns, purpose it serves and the targeted audience.
Closing of emails
While closing the email, one should always add call-to-action button. One must have unsubscribe button, email address of the firm and address/ contact number of the firm, if possible. This will help you to build trust that it is sent via company and not a spam email. In the below example; there is a call-to-action button, email id and contact details of company is given and also, there is a unsubscribe button. Also, company add brands who are influencers, who trusted the company and wrote good about them.
Optimizing email marketing campaign for all devices
Email marketing campaign should be designed in such a way that it supports all the devices. There was a time when people used only desktops to check emails. But now, with the increase in technology, people are using smart phones and tablets, most of the time, to access their email accounts and same is the case with the website. You can use mail chimp or any similar software for drafting and check responsiveness of the mail. You can use imageoptim.com to compress images for website/email without shredding pixels.
Note: images with .png extension cannot be compressed; .jpg can be compressed.
Frequency and timings of email sent
It is important to understand the geographic presence of your customers. While sending emails, one should take into account the time difference between the two locations and send the mails accordingly. Also, keep a tab on the frequency of the emails. You would want to make your presence felt, but not irritate the customer.
Note: email overall size should be <=120 kb or 2 mb. For creating, testing and removal of spam words in email marketing templates one can use www.getresponsenow.com or www.quiteo.com.
Responsiveness of email
Sending an email campaign is one part and sending response to the customers is other. Sending response to customer creates a connect between brand and customer. For this, make sure you have a company address like admin@xyz.com or customerservice@xyz.com. It help customers identify the brand and understand the efforts that brands are putting in resolving the customers queries and concerns. By paying attention to your customer's queries, you can improve your email marketing strategy from potential email mishaps. It also helps in deliverability as email service providers (ESP) will not considered it a spam.
Take an hour or two to send replies to the customer queries and complaints. Do not let customers wait for too long. To avoid this, you can use automated response letting customers know that you will reply within 24 to 48 hours or so and providing them a phone number in case of emergency. Responding in such a way helps customer to understand that their concerns are not taken lightly and hence helps in building the brand. Customers will enjoy good experience and thus resulting in higher customer retention.
Show compassion with negative replies. Negative replies help you to understand what mistakes you as brand and your team is making. See them as an opportunity to change an irate customer into a loyal one. Reply to negative mails very carefully and strategically. While doing this, you can find out what mistakes has been done, its patterns and turn them in making good email marketing strategy. With the help of good responsiveness of email, you can increase the forward rate of email marketing campaign. High forward rate justifies better email marketing campaign and high customer engagement.
Tracking email marketing metrics
Once you have started your email marketing campaign, you should track its progress using email marketing tools like mailchimp, saleshandy, mailshake, Gmass etc. what needs to tracked in email marketing campaign? You need to track.
Number of unique customers opening emails.
Number of customers unsubscribing the emails/ newsletters.
Number of unique customers report it as a spam.
Number of customers who are not opening your email marketing campaign.
Number of email bounces due to incorrect email addresses.
Number of persons who are clicking the link provided in email marketing campaign
What is the CTR (click through rate)
Number of shared emails
Number of hard bounces (you have sent email to those email ids' which are no longer in run)
Number of soft bounce (you have sent email to those email ids' whose mail box is full but is a valid email id)
Number of signups, lead generation, conversion and so on
Best practices to include in your email marketing campaign
In order to gain maximum number of conversions through email marketing campaign, you have make your campaign quirky, short and relevant. No one likes to read long and boring emails. Keep it simple and short.
Try to tell your story. Storytelling is the best practice. But if you have long content then provide additional link (it also acts as call-to-action button, and helps you to know whether a customer is interested in your content).
Do not get too pushy, it may lead to increase in report spam or un-subscriptions.
Your campaign should be more generic; with this I mean to say you frame in such a way that it should cover maximum number of readers as you cannot make campaigns specific to each and every person.
You should divide your customers into small groups depending on demographics, age and interest.
What to keep in mind while building a brand in near future?
Targeted messages
What tactics you choose to send emails those are relevant to the client base? Effective segmentation is very important, try to send differentiated campaigns to the customers based on their sex, age, location and past behavior. Customers now-a-days, are used receiving personalized messages and expected companies to deliver emails by personalizing it. Personalized messages are the key that connects company to customers. A very good example: Amazon and Netflix are sending personalized emails to the customers based on their prior behavior history.
Sending emails at right time to right contact with right automated messages helps in increasing sales and brand loyalty. For example, sending emails on birthdays/ anniversary with an offer or discount is cleverly picked up selling opportunities.
One should be responsive enough to reply negative emails in a positive and professional manner. Don't let your customers wait for too long. Respond them in 24- 48 hours at max.
Make emails interactive
With interactive email marketing campaigns, I don't just mean that the email should look visibly cooler or animated, it should help in bridging the gap between user visiting the mail and clicking on the call-to-action button. Emails should be interactive enough to help user to start their purchase with the given link/ call-to-action. Recently, a big fashion brand Burberry, allowed user to personalize their scarf via emails and people made a purchase without leaving the inbox.
Brand humanization
With the increase in online competition, customer loyalty with the brand has become company's top priority. And humanization of the brand is even more important. Creating emotional connect between brand and its customers is the key to sustain loyalty and brand building.
In 2018, many brands have already, started speaking about what makes them unique and what values it holds to bond with the customer. For example, environment is a major concern now-a-days, so a company like amazon now, recently reduced using of paper bags and sending their delivery in a crate which can be reused, therefore addressing the environmental concern.
Start making a positive impact and tell a story. Customers are bored of aggressive selling, and are becoming receptive of brand storytelling and brand value.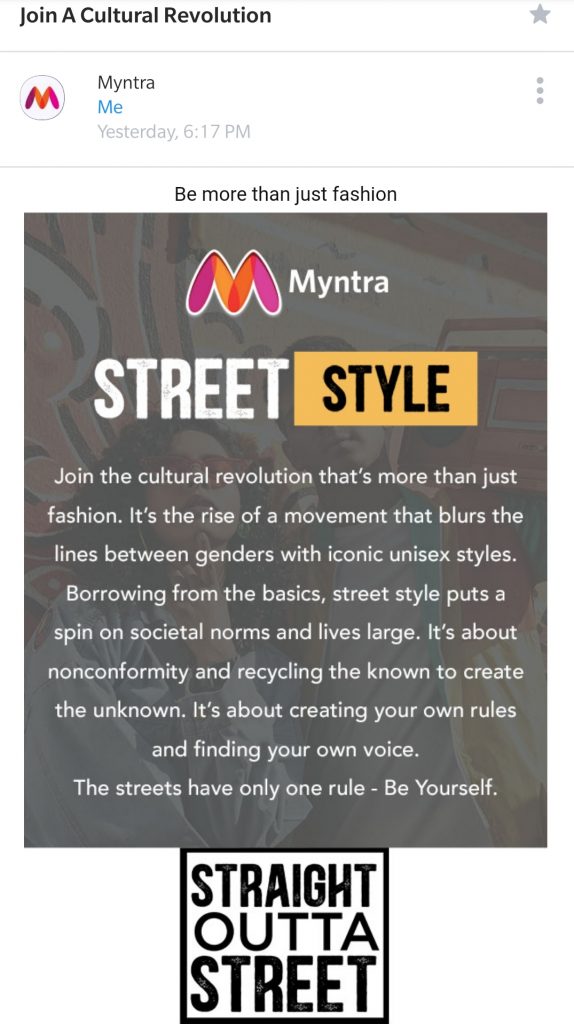 Last, but not the least is data privacy or e-privacy. With the introduction of new GDPR rules, customers are regaining control over their personal data. Companies have to adapt to the GDPR rules to ensure compliance. This new regulation has transformed the way companies targeting their users online. It allows companies to specify whether users want to accept website cookies or not. But GDPR reach is only to protect privacy of people of Europe; India has to learn and go a long way. So, you have to be very clear on which countries you are targeting; what are their internet laws and do you abide them or not.
Happy selling!!