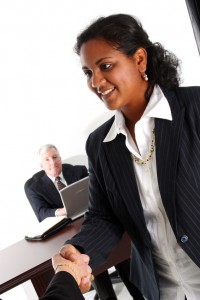 Performance appraisal interview are conducted for performance review of the employees. But, this essential activity of human resource department can also play an effective role of guiding employees by taking a 'looking ahead' approach. The two essentials to remember during performance appraisal are
1. Set clear goals.
These could be expressed in things that are easy to measure, such as time or quantity of work completed. Goals give you a way to track improvement in a team member's performance. They also provide a challenge to the team member – and they get results! Goals are something for you to think about before – and talk about during – the appraisal interview.
Goals are often based on responsibilities from an employee's job description or standards of performance. However, goals can be also be set to improve an employee's performance. For example, if the employee is responsible for:
Sending samples to potential customers, a goal for improvement would be to fulfill such requests in 4 rather than 5 days
Assembling widgets, and 03% have failed due to improve assembly, you could aim to reduce the failure rate to 0.2%.
Work together to set goals you and the team member can agree on.
"Express you faith on the team member's ability to meet or exceed any goals you've set…"
2. Always end on a positive note.
Mention again the team member's accomplishments. Express your faith in the team member's ability to meet or exceed any goals you've set for improving performance. Encourage the team member to discuss any thoughts or issues. Agree on how you'll track progress before the next appraisal interview – by meeting periodically, through regular reports, etc. Focus on how performance will improve – and how to demonstrate that improvement!
Click here for government certification in Management