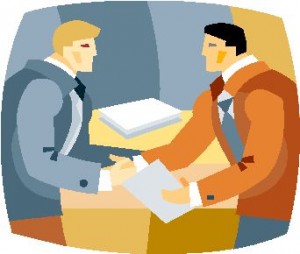 Performance appraisal interview are an important function of human resource department for a continual assessment of employees and clarifying to employees of the deficiencies they need to remove. But, conducting performance appraisal interview is also an tedious task as it is to be handled ski fully. Four guidelines which proved effective are
1. Put the team member at ease
Be friendly, but businesslike. Be aware of your body language- and language itself! A friendly beginning will set the tone for positive two-way communication.
2. Stick to the topic and be tactful
No one likes hearing about shortcomings, so make any criticisms as short and polite as possible. Don't allow yourself to be sidetracked, or to accept excuses for poor performance. The employee should take responsibility for his or her actions yet still feel respected
3. Review successes as well as areas for improvement
Remember, the purpose of the meeting is to evaluate- and hopefully enhance-performance. Keep things positive by praising strengths and specific successes and complimenting work well done. Tell the person how much you appreciate and depend upon his or her contribution.
4. Focus on the future
Discuss way that the team member can improve his or her performance, rather than dwelling on the past. For example, discuss upcoming jobs, new methods, training, etc Try to ensure that the employee is looking forward to the future. Since some employees have trouble adjusting to change, use the appraisal as a time to give advance warning on areas that might alter. It can help pave the way for an easy transition. Listen to any concerns the employee may have.
Click here for government certification in Management