Lean Six Sigma For Everyone
(By Professor Manohar V Dansingani, B.Com(Hons.), DBF, ACMA, CSCA, CSSBBP, MCSI)
Introduction To Lean Six Sigma

"From the moment they wake, they devote themselves to the perfection of whatever they pursue. I have never seen such discipline." Captain Nathan Algren, describing the Japanese in the movie, The Last Samurai.
QUALITY
Difficult to define, but its presence (absence) is easily felt, often with serious long-term implications. Can all of us use the concepts of Lean & Six Sigma for better deliverables & higher profits?
YES WE CAN!
This is not an academic paper on Lean Six Sigma, rather, a guidance on the immense benefits we can derive from implementing even a few ideas.
Lean
It aims to provide optimal value to the customer, thru maximum value creating processes, with zero waste. It involves continuous improvement (kaizen), respect & flow.
Six Sigma
It is a disciplined set of techniques to eliminate defects, (target is 3.4 defects per million opportunities, or 3.4 DPMO) & dramatically increase profits.
DMAIC
Model (Define, Measure, Analyze, Improve & Control) is the bedrock of Six Sigma.
Together they are a powerful tool to reduce costs, improve customer satisfaction via near-zero defects & hence, improve profits.
Defect
It is what the customer experiences. If I deliver only 1 defective product per 1,000 units, the customer who has purchased one unit from me & experiences the defect, will neither pat me on the back, nor accept statistics as an excuse!
5S
Seiri, Seiton, Seiso, Seiketsu, and Shitsuke
Sort, Set in order, Shine, Standardize and Sustain
Here is a typical office workspace before & after 5S.
Please open your desk drawer or briefcase or handbag. Do you know what's inside? Can you find things when you need to? Can you imagine any reason why some items are in there? My intention is not to embarrass you, but to exhort you…..it can be done.
Exercise
BEFORE 5 S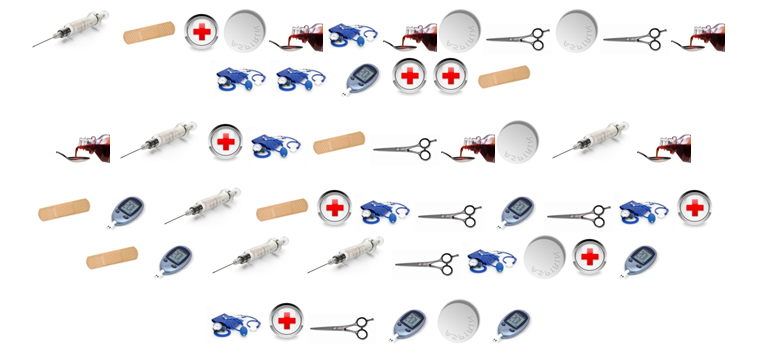 15 seconds

Please select 5 of each (number them in 5 sets, total 25)
You can circle or number or tick.
AFTER 5 S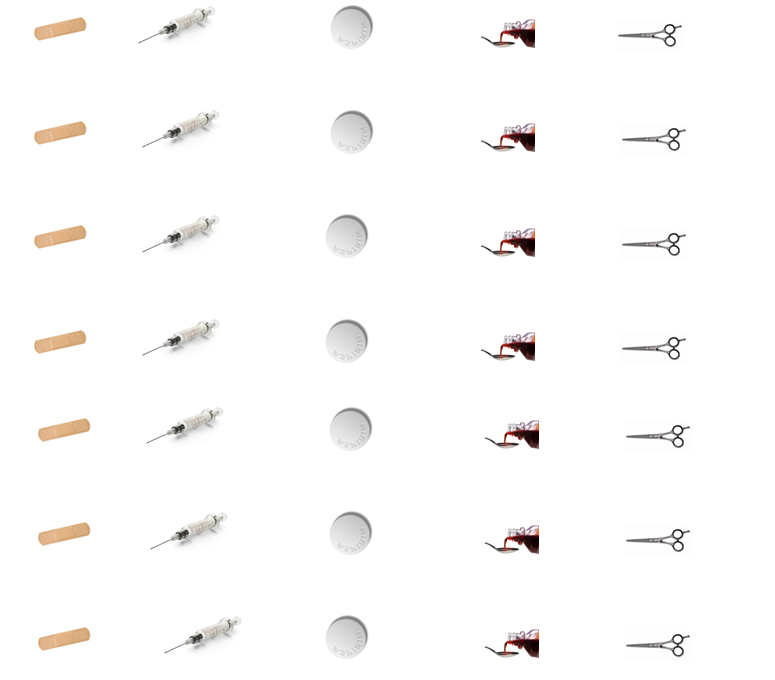 15 seconds
Please select 5 of each (number them in 5 sets, total 25)
I bet most of you completed this in less than 15 seconds & actually asked…"What's the big deal?". Imagine if there was a life & death issue & the workspace was the before 5S type!
Food for Thought: use of Pareto Chart & Histogram
Amy's fancy restaurant was giving her headaches. Even her loyal customers were complaining. Was it the food? Was it the service? The Dessert Trolley?
She had a good manager who for one month, requested every customer, to complete a brief but relevant questionnaire.
"Dear Customer,
Thank you for your patronage. We hope to make your experience as enjoyable as we can, through constant improvement.
Please tick the items you would like to see improved.
Your input is valuable & will be kept confidential.
Thank you for your patience.
Food
Ambience
Service
Billing
Music
Tableware
Waiting for table
Dessert Trolley
Parking"
They received a total of 750 complaints.
Results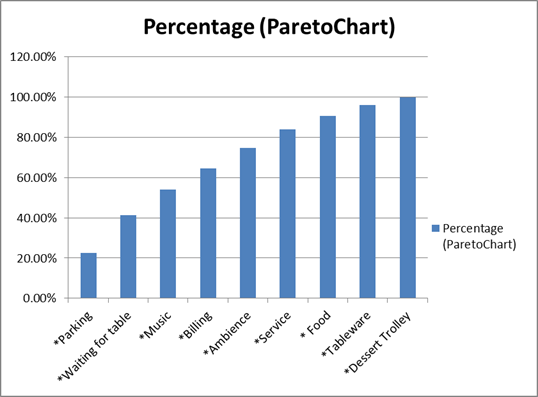 What have we here? Parking was the main culprit. Dessert Trolley was in fact, the most satisfactory.
Action Taken
Parking: Two expert drivers were hired & trained as valets.
Waiting for table: The entrance was redesigned to include a tastefully decorated waiting lounge with comfortable seating. Customers could order drinks & starters right away. (One steward & a waiter added).
Music: Amy turned to her children (both teenagers who loved good music) for help (after toning down some radical ideas)
Billing: A state-of-the art system was installed. The stewards punched orders into hand-held devices, which sent KOTs (kitchen order tokens) directly to the display in the kitchen, simultaneously updating the billing terminal. Not difficult to figure out the results.
Ambience: Taken care of by a professional
Service: Became a non-issue because of 1), 2) & 4) & of course, more training for staff.
84% of the complaints were attended to, leading to customer delight, dramatically increased business & ringing cash registers!
!!THANK YOU LEAN SIX SIGMA BASICS !!
Don't Get Cross; Cross-Check
Acme Accounting Agency has on an average, 20 entries, per client, per day. They have an accounts assistant who makes the original entries, with 1 error every 20 entries, or 95% efficiency. 95% is pretty good, right? But this translates into one error per client, per day! Certainly unacceptable.
The Managing Partner is upset, but frankly, can we really expect much more than 95% efficiency from the average employee?
The good news is, if Acme employs another accounts assistant at the same level of efficiency, just to cross check the work of the first employee, the results are startling.
Here goes: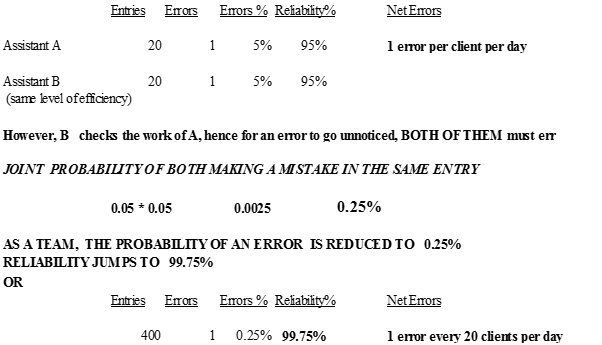 A SIMPLE CROSS-CHECK SYSTEM CAN IMPROVE THE PERFORMANCE 20 TIMES. Champagne, anyone?
Spaghetti can be tiring & wasteful. Huh?
The charts visualize the actual flow of work, people, paper, things. In our everyday lives, it is astonishing how much of wastage we incur in time, motion & transport.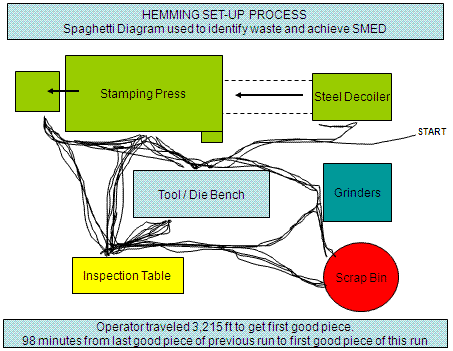 Seven (plus one) Deadly Wastes (Muda)
Everyone must guard against:
T: Transport
I: Inventory
M: Motion
W: Waiting
O: Over-processing
O: Over-production
D: Defects
S: Skills- unused
Conclusion
Lean has its origins in the Toyota Production System (TPS), founded by Taiichi Ohno. (Now used in services as well) Six Sigma was visualized in Motorola in the 1980s, the brain-child of Bill Smith (who coined the term), & Dr. Mikel Harry.
Proof of The Pudding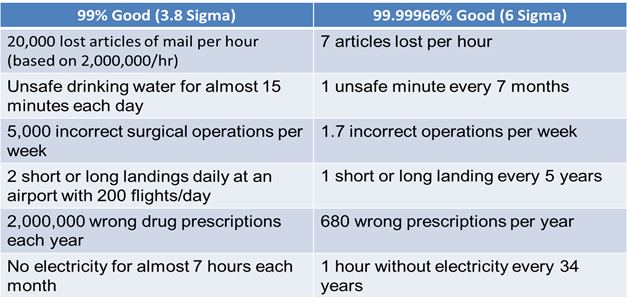 Fun Quote
"We don't know what we don't know.
We can't act on what we don't know.
We won't know until we search.
We won't search for what we don't question.
We don't question what we don't measure.
Hence, we just don't know."
Dr. Mikel Harry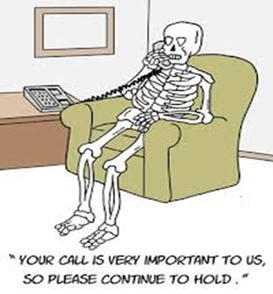 All the above are illustrations, not real companies nor actual data. These facts suggest the value of six sigma in your daily use. Get the Vskills Certification in Six Sigma and enhance your skills.