Do you want to create a career in the banking sector? If so, well then you are at the right place. Here you will learn everything about the banking sector and its related certifications. The purpose of any certification is to unlock better opportunities, thereby giving a boost to your career. Saying so, let's start with AML/KYC certification which is the ultimate key to your banking sector door.
We all know the fact that Anti-money laundering (AML) and Know your customer (KYC) are prevalent in the financial world. Moreover, it has taken a rise over the past years. However, the main question here is what do they really mean to you? What are the career opportunities it offers? Why is it in demand?
The blog explores all the relevant knowledge you must possess to excel in the field of AML/KYC. Therefore, let's start first with unveiling what AML/KYC actually is.
Anti Money Laundering (AML)
AML is the process that incorporates a set of procedures, rules, and regulations that are designed with a view to curtailing the money laundering or criminal use of the financial institutions. There are many measures across the globe to curtail money laundering and combating terrorist financing.
Trends in Anti-Money Laundering
We will now highlight some of the emerging trends in AML compliance –
Firstly, focus on digital payment-related issues. Therefore, the regulatory focus is currently centered on containing money-laundering risks related to new payment methods. Some of the examples include mobile wallets, e-payments, and e-money issuers. In addition, the top priority is being accorded to combating cybercrime and curbing potential money-laundering risks associated with virtual currencies
Secondly, increased use of third-party utilities: This indicates, rise in third-party services like the shared services utility model for KYC compliance, managed services. We have encountered increase in the use of skills of third-party providers for KYC verification and due diligence, to spot new AML risks and violation methods.
Thirdly, adoption of enterprise-level approaches: We are witnessing enterprise-wide case management for an overall view of risks at the enterprise level. Also, effectively centralized control is becoming the norm. Moreover, banks are implementing AML or fraud platform convergence in order to detect both WHITE PAPER fraud and money-laundering activities to derive operational synergies. Risk-based approaches are replacing traditional rule-based approaches.
Know Your Customer (KYC)
On the other hand, Know Your Customer (KYC) is the process of obtaining information about the customers regarding their identity, address and other details in order to avoid misuse of banking services like money laundering activity and terrorist financing, etc.
''KYC is an anti-money laundering procedure or a small part of AML''.
Trends in KYC
Here are some trends in KYC compliance you must know, and how technology solutions are moving banks away from manual processes.
Firstly, increased focus on hidden financial crime results in new and evolving regulations. Also, one thing is for sure that regulation will continue to augment as media coverage draws attention to corruption in the shadows. It is basically a cycle wherein new forms of financial crime create political pressure to crack down on issues, resulting in further regulation at the G20 and country level.
Secondly, the use of better data sources to make ownership more transparent. Both the FinCEN CDD Rule and the 5th Money Laundering Directive (5MLD) mandate the identification and verification of beneficial ownership as a top priority on the regulatory agenda. However, banks often face problems gathering beneficial ownership information directly from clients through a back and forth of forms until documentation is complete. Further, it is quite easy for data inaccuracies to slip for an organization with a view to hide ownership structures.
Thirdly, an increase in the use of new data solutions makes KYC research more efficient. Since, the volume is a hindrance rather than an advantage, irrespective of extensive data at hand with financial institutions. Leading to KYC processes that are damaged and disconnected eventually resulting in redundant data entry, mistakes, data quality issues, as well as boarding delays.
Since you now know the trends and options available, it becomes all the more important to understand the challenges as well. So that you are not just taken away by awe.
Challenges in AML/KYC
Anti-Money Laundering: Challenges
Banks and financial institutions often face some serious AML compliance challenges. Here are some of the challenges banks face:
Firstly there is increased governance. Due to which banks and financial institutions can find it difficult to manage cross-border and multi-jurisdictional AML-compliance requirements.
Secondly, the challange is a lack of skills. Getting proficient resources with in-depth knowledge of AML is another challenge. Further, organizations need to invest considerable time and effort to keep personnel alongside changing regulatory requirements.
Know Your Customer: Challenges
KYC is the bridge between a consumer and the service provider. However, it is one of the most cumbersome processes and often face challenges. Therefore, let's give a quick look at some of its challenges.
The first challenge is the lack of Consistency. One of the most common challenges which KYC faces is a lack of standardization in methods for collecting information from the client. In other words, there is a variance in the documents requested by the client.
The second challenge is the rising costs. After that, there is a constant rise in KYC costs. Consequently, this rising expense is prompting banks and FinTechcompanies to question whether some of their connections make sense for business.
Now that you are well aware of the challenges and upcoming trends, we are now going to shift our focus on the career opportunities available. Together with the strategy to reach your goal, using relevant AML/KYC certification.
Career Opportunities for AML/KYC Professionals
Apparently, everybody wishes for a big break in their career and especially when they strive hard for it. In other words, you may try to build on your current experience or branch out on a new and exciting career path. Here are just a few career opportunities that you will encounter on your pathway to become AML-KYC Professionals.
Associate
Responsibilities of an associate include,
Firstly, they are responsible to assist with the onboarding process. Also, completing KYC Checks as per the mentorship.
Secondly, they are required to work on bank verifications and exception-based Underwriting
Thirdly, maintain the agreed TAT
Analyst
Responsibilities of an analyst include,
Being an analyst, you have to solve routine problems, largely through precedent and referral to general guidelines.
Also, responsible for detailed instructions on daily work tasks and detailed instructions on new assignments whenever required.
Further, an individual has to make his/her contribution as a part of a team, along with a predetermined, focused scope of work.
Domestic Private Banking-Executive/Manager
Responsibilities of a manager include,
In this role, you are asked to identify and evaluate complex problems for areas of responsibility.
Moreover, you will be required to curate solutions in situations in which analysis requires an in-depth evaluation of variable factors
In addition, requires adherence to the strategic direction set by senior management when establishing near-term goals.
Associate Director
Responsibilities of an associate director include,
Firstly, the role may be used on either a large engagement as a deputy role under a Director or on a small engagement as the lead Operations role.
As an associate director, you will be responsible for managing the transition into the new engagement as well as delivering the objectives and business case for the client. Your role will be to manage a team of up to 50+ people in the delivery of services referred to above.
The ability to engage and communicate, with good people management skills and experience, are therefore essential, with a demonstrable track record of having successfully led a small to medium team in an operational environment.
What makes AML-KYC Certification different from others?
Is AML-KYC certification worthy? Should I go with this? Will it be beneficial for my career growth? You might have these questions fluttering in your head. It is quite obvious since there is less clarity about the value and significance of the certification of the marketplace. Thus, we have provided a clear picture of this certification in order to clear your headspace. So, let's start.
Certification is basically a third-party authentication of an individual's level of knowledge or proficiency in a certain industry or profession. Moreover, certification for professionals is also known as trade certification. It is a badge that is earned by an individual to perform a particular task or job. Remember, your certification is not just a piece of paper; however it is a badge that will shine moreover.
Some of the key characteristics that a certification program focuses on are:
Learning
Validation
Recognition
Top AML/KYC Certification 2020
There are various certification providers for AML/KYC. Some of the top certifications include –
Vskills – India's Largest Certification Body
Vskills is India's largest Assessment Body which works on the principle to improve the scope for professional certification and academic testing mechanism. Moreover, Vskills Certification helps enrich your profile –
Improving relevance and applicability
Helps to build confidence and self-accomplishment
Improves marketability
Hike in salary
Further improved academic recognition
Automatic Continuous Air Monitoring System (ACAMS)
ACAMS is an international membership organization focusses on detecting and preventing money laundering around the world.
Indian Institute of Banking and Finance
IIBF was formerly known as The Indian Institute of Bankers (IIB). It is a professional body which incorporates banks, financial institutions and their employees in India.
Udemy
Udemy is an online learning and teaching marketplace. Moreover, it turns your current online courses into certification courses.
Indiaforensic
Indiaforensic offers forensic accounting certifications that are based on the global financial sector including banking, insurance, and capital markets.
Your choice of certification will help you lead for a better career path and superior opportunities. But more importantly, you must also know about the career options and profile placement that will help you search suitable job options.
Profile Placement
After scrolling through all the details, you might be keen to know the profile placement which involves the name of the company and the average salary of the company. There are many top-level companies ruling over the market space for a long time. Some of top financial institutions hiring AML/KYC professionals include –
Citibank
TCS
Cognizant Technology Solutions
ICICI Bank
Social Generale
Travelex
Equiniti
Teamware Solutions
RBS
NTT Data, and many more
A breakdown of salaries and the job market for compliance professionals is shown in the table below.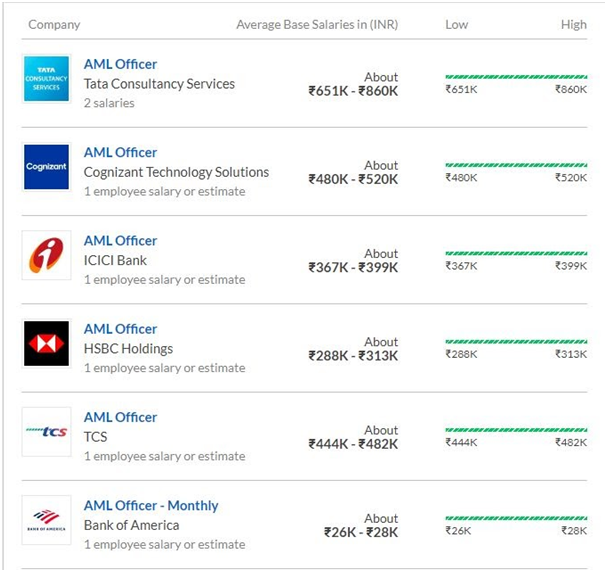 Expert's Corner
In conclusion, AML-KYC certifications aim at enhancing the quality of compliance with the directions of RBI in combating illegal operations. Therefore, it is very crucial for you to upgrade your skills for better job opportunities and advance skills. And the only way to do this is to choose the most suitable certification to become a Certified AML/KYC Compliance officer. Just remember, your certification is not just a document but a badge that will help you to highlight your skills amongst employers.