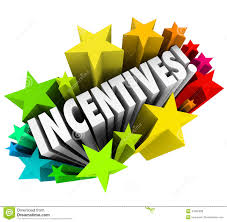 Wage incentives are extra financial motivation. It is a type of payment to stimulate greater investment. They are designed to increase human efforts by rewarding the person over and above the normal remuneration for the improvement in the future growth.
Types of Incentive systems:-
1. Profit-sharing
Team incentives are related to the organizational profit, organizational productivity. In this type, the teams are rewarded when the organization makes a certain amount of profit. The rewards are generally shared equally among all the teams in the organization.
2. Team goal- based incentive systems
In this type of incentive system, targets are set to achieve short or long- term objectives. When the team's work meets the target, they earn monetary or non-monetary reward.
3. Team discretionary bonus systems
In this incentive system, a team is rewarded only when the organization feels that the team has performed an outstanding job in the monetary or non-monetary form.
4. Team skill incentive system
Team members are rewarded for acquiring team- related skills. Skills such as oral communication, leadership, problem-solving etc are demonstrated.
Advantages of Incentive Plans
Wage incentive plans are beneficial to both the employers as well as the employees. Wage incentive plan provides an opportunity to do hard work to earn more. Incentive plans helps to improve discipline and industrial relations in an organization. Wage incentives make the employee ambitious for their work. They help in improving the level of productivity. There is reduction in cost of production per unit, so the consumers are benefited by the reduction in the selling price. The cost of supervision is reduced because the workers are satisfied with their work and are motivated to do more and more work efficiently. Employees find out new ways of doing work so that the wasteful activities can be eliminated. Wage incentives help in reducing the labor turnover and absenteeism.
Disadvantages of Incentive Plans
Despite of the above benefits, wage incentive creates jealousy and greed among the workers. Workers tend to sacrifice the quality for the sake of the quantity. The results of the workers are adversely affected because they tend to do more and more overtime with lots of work. Workers do not pay any attention to their safety to increase the production which may result in injury to the workers. Goal conflicts occur between individuals and organizational goals. It does not promote team work.
Hence, the incentive plans are beneficial for the organization as well as create some limitations.