After completing your degrees are you still in dilemma of choosing QA testing as your career?
Well QA Testing is the way to move forward. In this article we are going to discuss in length the career opportunities as a QA Testing professional, to help you make the correct career choice.
Why QA testing is a good career Choice?
Are already employed as a software tester and still worried about your career growth? Then these points are definitely going to confirm that you have made the right choice.
Testing high in demand
With years of implementation now software testing has become an essential technique to validate any software. Since we know software always have a market so does the need for testing which actually leads to the need for the tester.
Experimenting with Designs
A Quality Assurance Tester is someone crazy who designs and experiments to bring about the actual qualities and the real potential of the software. Given the opportunities, there is a lot of potential for you to build a successful career in this domain.
Good Payouts
This is one of the biggest summits of any profession. Although, being a fresher you tend to accept less on the table. But with increase in experience, the payscale also increases.
Coding is rocket science
First let's just please get over this old prevailing myth that those who cannot code can become a software Tester resultant. You cannot give this argument every-time there is a question about software testing. In this automation age quality assurance Testers do adopt writing code to automate the scripts. Leading to a great scope for people wanting to join this field of software testing.
En route to Success
If we speak of career growth then yes eventually a tester can become Test Lead and then Project lead. Further, Automation Architect and then Test Manager, etc. Eventually everyone will reach the manger level at some point in their 'Testing' career. Therefore the career graph is extremely well defined and purely based on your skills.
Get to explore latest technologies
Testing profession necessitates the requirement of using latest tools and techniques along with the updated technologies. Therefore, you get a strong grip over the prevalent Testing Tools, as per the desired standards.
As a matter of fact, if you have an appetite for puzzle solving, or love taking challenges to understand and explore to find bugs to get them fixed. Then QA Testing is a perfect career for you.
Skills required for QA testing job
Indeed QA testing plays a vital role, starting from tracing bugs to ensure the end product is smooth to use. Together with, being compatible with a series of devices. The QA Testers have a varied range of responsibilities. Thus we have enlisted a few ways one can adopt in becoming the compatible QA Tester.
Get Certified
It is suggested to qualify some foundation course in QA testing in order to get qualified as a QA Testing Professional. There are a number of certification bodies offering short-term courses to enhance your skills including –
ISTQB
Vskills
Udemy
Coursera
Test Yourself
It is suggested to go through a lot of online learning resources and practice test. This will help to keep yourself updated.
Documentation and Testing process
You should know the process to obtain conditions from the required document, also ways to devise test-cases from the test conditions along with ways of writing test procedures.
Attitude matters!
As a good Tester you must have the ability to take advantage of any security risks and display the fit output is ready for the release.
Tips on getting a QA testing job easily
Finding any job requires your time and efforts, along with that the correct way to look for the perfect job suiting your requirements.
Renovate your Resume
First make a note of all your past and current experiences, along with your qualifications. This may involves even the short-term courses you may have done. Look for the apt format for your resume. Put the noted details in the format and make sure you don't over load your resume.
Feedback is important!
Reviewing your resume is good but getting the approval of experts you may know will do wonder. So, always ask for advice from your senior or the experts you may know.
Shortlisting job options
In dilemma, which one to choose between the competing offers. Then you should look for – Industry type, geographical range, work hours, day in a week, etc. Because even if you're getting pretty well paid job options still these factors matter in longer run.
Enlist potential firms and employers
Prepare a list of the companies you'd like to work for. Thereafter, consider the factors to work with smaller companies or start-ups or you'd like to join the organization established with Quality Assurance and testing practices. This will help you make a better choice.
Focus on networking
Moreover, you should approach other experienced QA professionals through their LinkedIn profiles to learn to present your skills and experience. Also be sure of having your LinkedIn profile at par with your updated resume.
Gauge the company's practices
Now that you have shortlisted the companies you'd like to work with. It is time to look for the best employer by finding out the Current QA practices, future goals and methodologies.
Don't make decision in haste ever
In the same vein, pay attention to each step of your job search. Thereby, understand the crucial things prior confirming your acceptance of the role to your respective hiring manager.
Companies that Hire
This should be the first and foremost part of anyone's job search. There are numerous websites offering you an insight of the companies, like Glassdoor and PayScale, etc. Just look for the organizations you'd like to work for over these portals and you'll get complete details from the number of employees to the experience of the employees there.
Also, you'll find interview question level along with some questions asked there.
Top companies like Amazon, Dell, J.P. Morgan, and Capgemini, etc. offer the best perks and salary. But also mind one thing these perks require experience and expert knowledge with strong grip over the tools.
Roles and Responsibilities as a QA Professional
A QA engineer's duties can be varied and extensive. They generally perform the following tasks with some consistency:
Document test cases
Perform and document risk analysis
Record test progress and results
Code automated tests
Create test plans
To determine product quality and release readiness develop standards and procedures
Discover bugs within software
Drive innovation and streamline overall testing processes
Identify, isolate, and track bugs throughout testing
Identify any potential snugs that users might encounter
Perform manual and automated testing
Research and analyze product features being tested
Research new tools, technologies, and testing processes
Review user interfaces for consistency and functionality
What is the salary for Quality Assurance Tester job?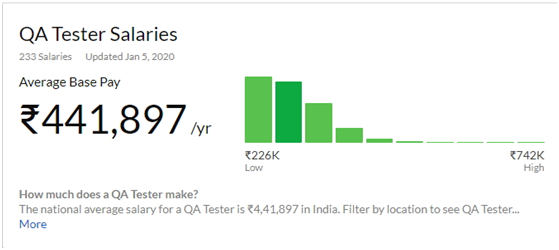 Software Quality Assurance (QA) Tester Salary
Software and computer technology prone to be the higher paying fields
Median Annual Pay: $88,510 ($42.56/hour)
Top 10% Annual Pay: More than $139,390 ($67.02/hour)
Bottom 10% Annual Pay: Less than $46,240 ($22.23/hour)
Keeping the assumptions aside, your interview plays a vital role in deciding your salary. Because if your interview went really well then you may expect a good amount, But if the experience was just that you qualified the interview and have no clear picture then keep your fingers crossed. Your negotiation skills are tested here even if you're a fresher you need to speak for your salary figures with your interviewer.
Job Interview Tips
Preparation before your Job interview is vital. Here are a few tips on getting ready for that day.
Check with the job profile in detail for the company you've applied to. This is because even if you know your duties still every company has its own work culture. First understand the job role's requirements. You need to understand if only Quality Assurance techniques are required or amalgam of different techniques. For this reason always check your experience and knowledge matches with what is expected.
The interviewer will stick to the questions around the given job profile and the details you've mentioned in your Resume. Thereupon you should answer questions confidently which are based on your details you've provided. It all depends on how your discussion goes with the interviewer leading to a discussion in other areas.
Arise with confidence!
The most common patter of interview is to start with the standard questions like- brief about yourself. You may answer this by following a simple sequence – your name, the qualifications you hold, how and when did you develop your interest in testing software. But you must keep one thing in mind, unless asked about your personal details, don't start with it. This is because not every interviewer is interested in such questions.
Stick to the point
While answering any questions mention what you know. Don't involve the ideal cases details. The interviewer is more interested in knowing the practical approach. Tell them the ideas you have, your problem solving abilities and your way of tackling any tough situation.
No Bad words
Do not talk anything bad about any person especially about developers/programmers.
Think and Answer
These days in most of the interviews, scenarios are cited rather than direct questions and answers. If the scenario is new to you, always take a few seconds to think about it and then answer. Do not hurry up things.
Attitude Matters!
The way you present yourself in interviews is vital. Consequently the right attitude is too very important. Many managers can easily infer if you have really worked on projects or it's just a fake experience. The confidence level with which you answer makes all the difference.
For some question if you're not sure know the answer then please don't make any assumption, just try to think. Try to explain about your experiences and your interests. This will prove you're a continuous learner and have the tendency to take initiative.
Expert Corner
Usually many of us must have experienced that the interviewers stick to the processes that you have followed or you're familiar to. But this doesn't mean, you should be worried if the processes is not followed. As a matter of fact processes are followed as per the company's requirement and as a tester you cannot do much regarding the same.
But of-course even if you're a complete fresher still you can follow some processes like your own tasks. This just not only helps you to manage things but also inspires others follow some or the other processes. Any process with proven positive results can be followed.
So, instead of complaining about others not adopting any processes you should take initiative by adopting some. Never forget change and initiative is what defines a good tester.
Always remember that the person who is going to interview you would be a person only from a QA background. This means he could be a person from a developing background taking Software Testing job interviews. The crux here is the interviewer need not to be from actual QA processes.
In such instances, it becomes quite imperative to answer the questions intently. It's not illogical when an interviewer isn't from QA Testing background, take it as a positive thing. This is because it will be a very good experience as you will get to experience how testing is adjudged by other domains.
Boost your chances for better job opportunities. Practice and Prepare for Certified Software Quality Assurance Professional Now!