Are you planning to become an accessibility testing professional, then lets get started. Now before you begin your journey towards becoming a testing professional, you must gather all necessary details. We will start by discussing the purpose of testing and the career opportunities available.
Purpose of Accessibility Testing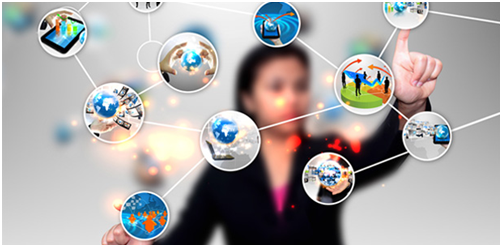 You must understand the criteria behind Accessibility testing. Correspondingly your purpose of this kind of testing is to ensure that the tested application is viable to people with disabilities. This may include color blindness, hearing, old age or any other disadvantaged groups.
Disable people use dependable technology which completely assists them in operating any software product, including
Firstly, we have speech recognition software used to convert the spoken words into text, which resultant serves as an input to the computer.
Secondly, we have screen reader software used to read the text displayed on the screen.
Next, we have screen Magnification software used this to enlarge monitor and makes the content readable for the vision-impaired users.
Further, for those with motor control difficulties we have specially keyboard designed to make typing easy.
Why Accessibility testing job is a good career choice?
Want a future with amazing technology?
Prioritize and demand accessibility. Yes, we are talking about accessibility . It involves work to ensure technology, products, services and spaces are navigable and usable for disabled people.
We all know, technology is changing at a very fast pace, this in turn requires every application to be user-friendly. With this in mind, there will be surely an increase in accessibility testing. As for now IOT technology is in the evolution stage hence hold tight time will surely come.
As we see, there are some creators who treat accessibility as a barrier to innovation. Not because it requires foresight, time and testing but it is taken as an excuse for avoiding good work.
You must think about it this way – Accessibility provides options, and options lead to innovation. Clearly, accessibility must not be treated as a barrier -  it's what removes them. It frees us from one path and gives us many.
With this intention, your should put your mind ahead by 3-5 years from now. You will surely be able to achieve a flourishing future through accessibility.
Testing Tools and Techniques
In the first place, you must make sure that your website is easily accessible. This will help to make it more user-friendly and acceptable. For this purpose, different tools are available to check the website's accessibility. We will be briefly discussing them in this section.
Wave: You may use this tool to substantiate the web page manually for varied sides of accessibility. Further, it can be utilized to check on the password, dynamically generated or sensitive web pages, and intranet. Further you may use this tool to ensure 100% private and secure accessibility reporting.
TAW: You may use this tool to determine the accessibility of your website. In accordance with W3C web accessibility guidelines this tool analyzes the website and shows the accessibility issues. Moreover, the most interesting feature of TAW is the ability to generate fragments of WCAG 1.0 to test against.
Accessibility Valet: You can use this tool to check web pages against the WCAG compliance. Such that all the HTML reporting options show your markup in a normalized form highlighting deprecated, valid or bogus marks along with misplaced elements.
Accessibility Developer Tools: This tool is a chrome extension. It allows you to conduct accessibility audit. The results of audit display the violet rules of accessibility by the Page under Test. Therefore, this extension has high reviews is updated frequently.
Quick Accessibility Page Tester: You may use this tool to bookmark for quick analysis of the web page.
WebAnywhere: This tool is browser based and works similarly to the screen readers with Jaws. Specifically, it assists the readers in reading the web page.
Web accessibility toolbar: This toolbar is an extension of internet explorer or Opera that offers useful features in analysing the web page to web page designers. Further, it has GreyScale feature which helps in finding low contrast spots in the design.
Skills required for Accessibility testing job
As discussed earlier, knowledge of relevant tools is very important. But it is equally important to equip yourself fully to crack it in the first go.
Since, you have finally decided to be an Accessibility tester then you need to inculcate patience. Because there could be instance where you'll feel like switching to other roles. It surely feels good to see yourself growing in career but it doesn't means to switch jobs every now and then. It is therefore suggested to first gain enough knowledge in one particular role and alongside explore other segments of testing.
Go for certification /training
Training can be in any form you may start with freelancing for senior testers or can start with some internship at start-ups. Start applying for internships in some IT start-ups because they provide a professional exposure to the freshers. This prepares for to your dream job with all the required basic skills and experience. It will therefore becomes easier for employers to hire with no experience in regular job. You will further gain hands-on training in some start-up as an intern or at least free lancing.
Try taking some certification course. Yes you heard it right freshers too can opt for certification courses to have a grip over the concepts and prepare themselves for their first job. There are numerous certification bodies in the market like- offering: Certified Accessibility Testing Professional. This will not only help you gain the knowledge but also will boost your confidence too.
Let's Practice
Also you should take Practices tests. In your free time you can take available free tests on different websites under different domains to upgrade your skills.
Lets grab your books!
Tips on getting job easily
We will now share some expert tips and tricks to pave your ways through to the interview seat.
Keep your Resume Updates:Although we all know resume is the first thing we think of while looking for a job. But there are a few things you need to consider while writing or updating your resume. First of all don't treat it as a trivial fragment of your job search mission. You need to research a lot for preparing the best resume. Go visit a number of websites and check with all the working profesionals you're in contact with so far. Always try to approach any HR you may know or you have passive connection with.
Lets make Connections: Social media is always there to help, try making connections on LinkedIn. As you all know, LinkedIn is a very professional social media platform to connect with experienced professionals and also to approach HRs of different organizations. List your skills well and make the most of it.
Companies that Hire
Before looking for the companies, connect with the IT industry by attending the software testing conferences, happening near you. There are videos available if you're unable to attend the event, but honestly it's always better to visit and attend the vent personally. Attending conference will make you more confident and you get to network.
The best part is you get to question the speaker at the end of their talk or discuss with them in person afterwards. Speakers genuinely like to connect with people for discussion in details. This could also give them an idea about if they need to make any changes in their speech next time.
There are a lot of Top tier IT companies hiring accessibility testing professional including Amyx, NewWave HQ, optimal solutions HQ etc. There profiles may include Accessibility Tester, Senior Performance Tester, Accessibility Consultant, etc.
What is the salary for Accessibility testing job?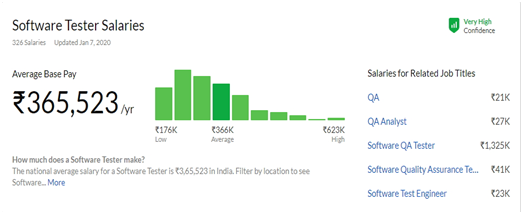 Salaries in a Software company depends on many factors in other words,
Type of Company – Firstly, it depends on the type of company you are applying for. Whether it is an MNC, Limited Companies, Partnership Companies, Start Up Companies etc.
Experience is measured not by the length of your service (in this case, .6 years is the period you spent in the company) but on what technologies you have worked on, skills on hand and what has been your role in the Projects. This alters the salary package you may receive.
There are Accessibility Testers with 2.5 years of experience drawing salary ranging from Rs.2.5 LPA to even Rs.20 LPA depending upon their skills and the companies they work for.
So, every Accessibility tester must always keep pace with the fast changing technologies, keep attending interviews at least one or twice in a year to know where he/she stands in the competition and constantly keep oneself updated. Thus, one must not get delayed down by doing routine jobs, repetitive jobs, boring jobs just because the company is reputed; instead, the job profile must be exigent that will open up career growth likelihood.