Securing your first job isn't easy still with the amalgam of right skills and efforts you may find your dream job. Testing as a career choice is more about having technical skills and knowledge. And if you have decided to become an Agile Testing Professional then let's first understand how good it is as a job profile all about it.
Why it is a good career choice?
In recent years a large number of companies are adopting the agile methodology, and not just in development but also in testing as well. This is because this involves higher returns and a reduced time to market. So, we need to understand what agile testing is and how your business can be benefited from it.
How do businesses benefit from agile testing?
In layman's language, agile testing is the practice of testing software based on the agile methodology of the software development. So lets understand how it benefits organizations –
Early identification of defects
After your code is in a decent shape the testing begins. An early detection of defects is done. Moreover, 47% of defects can be traced to requirements and another 28% to design. Such that the cost of fixing these defects increases with time. Further, this process of instant feedback ensures no time is wasted in fixing defects constantly.
High quality of products
Since we discussed that testing and development go hand in hand. So, testing isn't compromised due to lack of time as frequently happens in the waterfall model. This Agile Testing finds defect every 5-6 minutes when compared to 10 hours of traditional testing. Resultant the businesses that went agile have reported an increase of 63% in quality and therefore 70% lower defect rate is there.
Easily adapt to changes
With its flexible nature it responds quickly to the changes in requirements or in customer expectations given by a changing business scenario. Since the work is done in small accruals over small period of time. It has the potential to absorb changes and also ensure the functionality is relevant as per the customers' needs at that fraction of time. Therefore leads to better and greater customer satisfaction.
Lower Risk
Instead of a big bang release, developing software in accrual makes it possible to release a pre-release version of the product to get a feel of the market. Customers' opinion actually helps in including the beneficial features in successive repetitions resulting in a wholesome product.
Easy to handle
In general, agile teams are small in size having very few resourcing challenges and it is easy to handle. Moreover, it gives the ease –
Firstly, to plan the work culture
Secondly, to monitor risks
Also, to set practical deadlines
Further, measure ROI.
Skills required for Agile Testing Job
Testers always have had lots of pressure on their shoulders to perform well. However, the Agile Testing has made a significant change on how the tester fit into the overall development process.
There are many skills an agile tester must possess and to gain a good knowledge of the processes involved –
Agile Testing Tools
Worksoft
This is the industry leader in continuous test automation for enterprise applications. Moreover, it continues to be the top choice for global enterprises looking to accelerate Agile-plus-DevOps initiatives. This will help to achieve true end-to-end business process automation at a massive scale.
The Worksoft Certify gives an Agile testing framework enabling test automation professionals, non-technical users, and developers to work in concert with an Agile fashion and easily incorporate into DevOps tools, chains, and the processes.
JunoOne
This is one of the best tools for Agile Test Case management and Issue Tracking with powerful JIRA integration. It works systematically with sophisticated Test Case Management system JunoOne. Moreover, it is designed to smooth Test management and Incident management.
JIRA
This is an Agile Testing as well as a Project Management Tool developed by Atlassian. Atlassian is well known for its tool – JIRA which is used for tracing defects, planning, reports, and managing all agile software development projects.
PractiTest
PractiTest is used as a test management tool for agile testing. Moreover, it is easy to learn, affordable as well as flexible. Also, this tool helps both the developers as well as testers. It handles development and testing processes and has control of each and every task.
Tips on getting job easily
Securing a job was never a piece of cake. So, to make it easy for you we have enlisted a few ways as tips to make the best out of your efforts and skills.
State your career goals-
An old aphorism it may sound but knowing your career goals, is actually a good way to determine what you want your job to be like. So, first ask yourself this- "Where do you see yourself in 5 years?"
Identify your Skillset
Identifying your skill is very important, as the employers look continuously for skill sets including – strong work ethics, dependable, be able to handle responsibilities, time management, etc.
Get Certified
Certification in AgileTesting helps to certify your skills and improve your chances of getting hired. Moreover, you may come across prominent certification bodies offering short term courses in Agile Testing.
Invest in your Resume
The only way to make your resume convincing is to make it stand out. And for that to happen design your resume well and systematic. Remember to be brief but at the same time detailed and list all your relevant accomplishments.
Honesty is the Key
When it comes to find a job whether it's your first job, always be honest with your employer or say hiring manager. Mind one thing there are several fake details that the candidates carry in their resume. So make sure you aren't a part of that faulty squad.
Understand the job
Sometimes while searching for a job we get so involved that we forget to read the job description completely. Always read the job description intently because this will give you a clear picture on what is being offered. Therefore, it will save your time and if in case unable to understand any of the points mentioned then ask the company.
Make Connections
Look for hiring mangers over LinkedIn to make connections. Also, this will keep you connected in the job market.
Join Networking Events
Attend local networking events or job expos. Also, join online forums where the professionals connect for virtual events/talks or have personal meetups.
Companies that Hire
There are several companies offering jobs under Agile Testing profile. Companies like- Accenture, HCL, Capgemini, Ericsson, etc
Some of the tasks involved as an Agile Tester includes –
Firstly, you should have a good knowledge of implementing, and updating Agile Test Strategy.
Secondly, you should be able to work with product owners to define Acceptance Criteria and the Definition of Done.
Next, you should be able to measure and report test coverage across all applicable coverage dimensions.
Also, you must ensure proper use of testing tools
Lastly, you should be able to execute and automate checks.
What is the salary for an Agile Testing job?
In every job interview a salary related question comes up sooner or later. Well the good news is that you're certainly doing well when this question comes up. So, make sure you answer it well, as now you're on the verge of getting hired.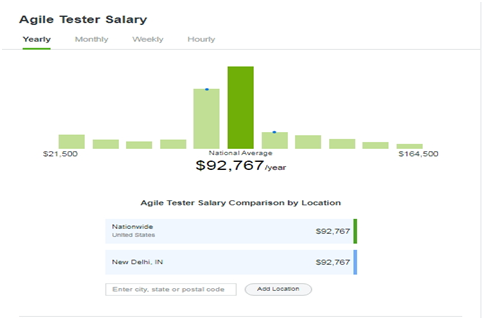 So here you need to understand when asked this question- "What are your salary expectations?" Never use this term frankly ********** per annum. As it may sound rude to answer this way, be honest but not blunt.
"This is a difficult one! Let me put this way. I am here for the interview today because this job looks promising and exciting enough to me. I see myself progressing in the corporate world while working for your esteemed organization. Money is surely an important aspect but the primary thing for me is to settle down here as soon as I can. The quicker I adapt to this environment, the better it would be for me. Until then it would be disrespectful to the job position if I randomly guess an amount."
Job Interview Tips
When in an interview just think you're there to showcase and sell your abilities & skills. Here we have enlisted a few tips to ace your interview:
Review all the common interview questions. And try practicing them with someone or in front of a mirror. Come up prepared with stories exhibiting your skills that the employer wants, while emphasizing your:
Strengths
Willingness to work and flexibility
Leadership skills
Ability and willingness to learn new things
Contributions to the organizations in which you have worked or volunteered
Creativity in solving problems and working/coordinating with people
Analyze and figure out how well you qualify for the job or say how your skills justify your ability to work for the respective organization. This will give you an idea where do you lack and also meet your strengths. Learn the convincing skills to make the interviewer know that you can learn the skills along your new job.
Enlist the questions that you would like to ask during your scheduled interview. Pick questions that will demonstrate your interest in the job and most importantly the company. This might involve commenting on the news you learnt from the company's website, and then asking a question related to it.
Be prepared
Remember to bring important items to the interview:
Notepads and pens
A few extra copies of your resume and a list of references (if any)
Also Xerox of letter(s) of recommendation, licenses, transcripts, etc.
Portfolio of work samples (if any)
On the day of the interview, remember to –
Firstly, try to reach 10-15 minutes early as per the scheduled time.
Secondly, you should dress professionally
Thirdly, turn off your cell phone.
Lastly, SMILE!
Exhibit your confidence during the interview, but first let the interviewer start the dialogue. Send a positive message with your body language.
A firm handshake is always welcoming, (but only if a hand is offered to you first).
Maintain eye contact throughout.
Listen carefully. And also welcome all questions, even the difficult ones, with a smile.
Give honest and direct answers.
Develop answers quickly in your head before you utter. If unable to understand any question then do ask again instead of assuming a wrong answer. You don't have to rush, at the same time please don't sound indecisive.
Conclude your interview with a good impression: A positive end to the interview is another ladder to ensure your success.
Be polite and allow the interview to end on time.
Restate any strengths and experiences that you might not have emphasized earlier.
Introduce a particular accomplishment or activity that fits the job position.
If you want the job, say so!
And find out will there be additional interviews.
Ask when the employer plans to announce his/her decision.
Also specify a time when you may contact the employer to learn of the decision.
Get ready to boost your learning and become a Certified Agile Testing Professional Now!!
Practice and Prepare with hundreds of mock tests on Agile Testing to get Certified Now!