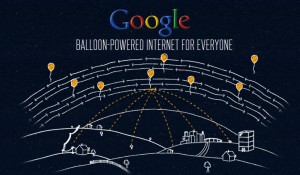 Project Google Loon is a research and development project being developed Google with the mission of providing Internet access to rural and remote areas. Google loon blows, above twice as high as the planes i.e. in the stratosphere, at heights somewhere around 18km and 25 km. The stratosphere is beneficial because of its moderately low wind speeds and insignificant turbulence. In the stratosphere there are numerous layers of winds which differ in directions and velocity and consequently the heading of balloons can be changed by rising or descending into the layer for the wanted direction. Algorithms are used to figure out where the balloons need to go and afterward they move into a layer of right direction. The inflatable piece is called balloon envelope. A well-made balloon envelope can help it to last around 1oo days in the stratosphere. The balloons envelope are produced using sheets of polythene plastic, and they measure 15 meters wide by 12 meters tall when completely filled with gas. Google has moreover shown that balloons may be built from different materials or highly-flexible latex or rubber material. At the point when a balloon is prepared to be taken out of work, gas is discharged from the envelope to land it easily. In an occasion when a balloon drops too rapidly, a parachute attached to the highest point of the envelope come in action.
Every balloon connects to a ground area of around 40 km in distance across utilizing wireless communications innovation called LTE(Long-Term Evolution). To utilize LTE, Project Loon accomplices with telecommunication organizations to share network so individuals will have the capacity to get to the web all around straight forwardly from their telephones and other LTE-empowered gadgets. Balloons transfer traffic from phones and different gadgets back to the worldwide web utilizing rapid connections.
As of now, the balloons impart utilizing unlicensed 2.4 and 5.8 GHz ISM bands, and this setup permits it to convey speed similar to 3G to clients.
The balloons envelopes utilized in the project and are made out of polythene plastic about 0.076mm thick. The balloons are super pressurized balloons loaded with helium and carry a custom air pumped framework. It pumps air to counterweight the balloons and control its height. A little box measuring 10 kg containing its electronic gears, hangs underneath the inflated envelope. This case contains circuit boards that control the framework, radio antenna and universality systems Rocket M2 to help in communicating with different balloons and with web reception apparatuses on the ground. The container additionally contains batteries which can store sunlight based power in order to work around evening time. Every balloon gadgets are fueled by a variety of solar panels that sit between the envelope and the equipment. At the point when the sun is full, the boards can create power up to 1oo watts which is adequate for the unit to continue working furthermore to charge the batteries for work around evening time. A parachute is connected at the highest point of the envelope which is utilized for safe arriving of the balloons. If there should be an occurrence of a surprising disappointment, the balloons deploys naturally. Till now the inflatable can last up to 100 days however with new plan it will last up to 200 days. At the point when balloon is taken out of work, it is guided to a spot where the group can be come to effectively.
This project aims at the new level of technology. It is the new era of communication. This project is introduced so as to reduce the barriers in communication. Each and every individual who has access to some gadget that has Wi-Fi access would have the capacity to look for any type of media on the web. Its greatest advantage is for the uneducated students in remote places that the will get access to all the information and can also learn new things own their own by accessing to educational websites and tutorials.
This revolutionary technique can bring internet to everyone on this planet irrespective of their location. It can bring complete world to be linked together. And most important internet will be easily available to everyone especially in ruler areas. Even during a natural calamity there will be no effect to these balloons and the service will go on effectively. We always think of our future, and thus this is our future.
By – Shubham Kumar