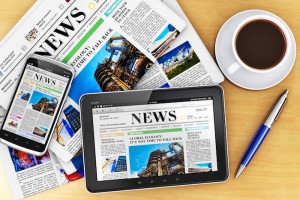 It has become a common affair to watch people reading the news on various apps on their smartphones while commuting in metro trains or buses or their private vehicles. Gone are the days when everybody categorically made time in the morning before starting to get ready for work or read the important news headlines during their morning breakfast. I have seen my father and grandfather taking the newspaper as soon as it came and tidying up the corners of the crisp paper and reading it with utmost concentration and sincerity as if it were some kind of duty to oneself.
But this generation now has even many people who don't even care to touch newspapers or to see up the news on some app but depend on social media to know about the trending topics of the day and read vaguely about some selected news which manage to reach the social media. They hardly have the patience or interest in reading one complete article on some news or read some editorial till the very last line so they don't ever appreciate the satisfaction and enjoyment one is filled with on doing so. Even though social media seems to be active about every big topic in the whole world and seems to be talking about each and everything voraciously with diverse viewpoints it still has not been able to penetrate the way print media has done over all these years. It sometimes provides fragmented news as nobody cares to read deep into the articles and can prove to be damaging to the social fabric of our country as we have people from such diverse backgrounds and a pluralistic society. If a comment by a certain person is edited from his speech and played as a clip is shared with certain views on that clip then this may cause unnecessary controversy and lead to undue maligning of that person who must have said that particular point in a particular context and that fragment of his speech when presented independently of the rest of his entire speech appears to be offensive and derogatory to a section of society. This leads to quoting people out of context and leads to tension in the society.
Newspapers and magazines have very able reporters and networking which has helped the print media to spread its roots deep into our society since time immemorial. Their quality reporting and wide outreach has helped quench our thirst of information over the years and continues to do so. The smell of the paper in the newspapers and the fresh ink has nostalgia of its own and even after storing these newspapers after a long time a different smell can be smelt and it is a fragrance with a charm of its own. Similarly, magazines with their glossy pages and an exciting cover page have a unique identity of their own and give an enriching experience to the reader and help him enjoy a personalized experience of the magazine and information he gains through it is ingrained in his mind till a longer period of time and help in shaping up his views about various debates in the country compared to those information cards he scanned through in a hurry to check what is going on in news.
One significant point which separates print and electronic media is the cost factor which is a big factor keeping in mind the large rural population in our country. Owning a smartphone, television or a PC is not affordable for every citizen of this country still after 68 years of independence.
Apart from print media radio is another significant medium of conventional media in our country. Many people still wait to hear the daily headlines at specific times of the day on All India Radio and the wide outreach of radio is well evident by the fact that even after India becoming so progressive and a fast developing nation and so many people digitally literate the Prime Minister of India Shri Narendrabhai Damodardas Modi chose radio as his means to communicate effectively with the people of the country through his much talked about popular show "Mann ki Baat" which helps the PM to connect with all sections of the society with great ease.
The thing to understand here is that most of these media channels on television or these websites and apps form the chunk of unconventional media are born out of their parent companies which publish independent newspapers.
So both forms of media- conventional and unconventional must help in reaching to a wide range of people and complement each other with their respective strengths to provide the citizens of this country the right information to help them shape up their views in a constructive manner.
– BY SAMRAT BANERJEE