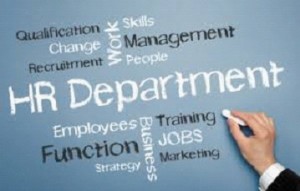 Keeping in mind the changing environment, the function of HR is most critical specially in 21st century. The need of the hour is to facilitate the HR services in a most efficient way. It is only an efficiently run HR Department who can provide to the organization with structure and the ability to meet business needs and accomplish organizational goals through managing the company's most valuable resources- its employees.
The function of HR is debatable and differs from organization to organization depending on the size and nature of business of an organization. The areas in which the HR maintains control can enhance employee's perception of HR throughout the workforce when they believe HR considers employees to be its internal customers and renders services with that in mind. HR Department is considered as an internal change agent and consultant act as an expert and facilitator.
A typical Human Resource Department carries out the following functions:
Manpower Planning
Rightly speaking it is the HR Department who lays the foundation of an organization by selecting right people for the business growth. Manpower planning involves analysis of information to predict future human resources needs for business requirements and finding out how many employees will be needed in the future for the business and what types of skills should they possess.The basic human resource planning strategy involves staffing and employee development. While analyzing and planning for manpower requirements, HR Department takes into account the following factors:
Attrition Rate
The projected growth in terms of sale of business
Technological updation
Job analysis and Job description
HR Department is involved in designing the Job analysis and Job description(JD) for the prospective vacancies arise or likely to arise in future.Job Analysis is the process of describing the nature of a job and specifying the human requirements, such as skills and experience needed to perform it whereas Job Description spells out work duties and activities of employees to be carried out by him.
Job descriptions are defined and handed over to employee on its joining that describe the:
duties,
responsibilities,
most important contributions and outcomes needed from a position
reporting relationship and co-workers of a particular job.
Determining wages and salaries
HR Department is also involved in conducting market surveys from time to time and determining the wages and salaries for different position in an organization. These decision may be taken in consultation with top management. To motivate the employee to deliver desired results, it is the duty of HR to ensure that employees are compensated rightly they deserve for.
Recruitment and Selection
One of the most important jobs HR department performs is to recruit the best people for the organization. This is of crucial importance as the success of any organization depends on the quality of its workforce. HR recruiters manage the employment process from screening resumes to scheduling interviews to processing new employees. To select the right people and to place them in right position is the primary job of HR Department.
Performance Apprasial
Performance Appraisal is considered to be one of the most crucial functions HR renders in an organization. The role of HR Department is not completed once the employees are recruited but to review their performance on a regular basis through proper performance appraisal procedure designed as per the organizations need.
The worth of an employee is obtained and analyzed through performance appraisal procedure. The main objective of performance appraisal is to measure and improve the actual performance of the employee as per the business requirement and also for the future potential of the employee. It is designed to measure what an employee does. Action plan for each employee is designed by the HR Department on the basis of performance appraisal. It is a tool in the hand of HR Department to monitor employee performance to ensure that their performance are satisfactory as per the requirement.
Training and Development
HR department is constantly keeping a watch over the employees of the organisation in order to determine the area of improvement whereby an employee needs a particular training. To improve the efficiency level of the employees they have to undergo regular trainings and development programmes. The object of training and development area of HR also provides training that supports the company's fair employment practices and employee development to prepare aspiring leaders for supervisory and management roles.The Training and Development function provides employees not only the skills and knowledge to perform their job effectively but also provides useful means for new or inexperience employees and also to experienced employees whose jobs are undergoing change. It also helps to prepare employees for higher level responsibilities in an organization.
Employee welfare and motivation
Happy employees mean a healthy organization. Welfare measures adopted by a company determines the motivational level of the employees. The more people oriented welfare measures are in practice, chances of retention of employees and also secures to attract potential employees to the organization are more. HR Department conducts various employee welfare activities which might include employees get together, annual staff parties etc. HR department also reviews organizational policies and its impact on the motivation of the employees.
Addressing employees grievances
HR department is the link between the workers and the management. Employees grievances related work environment are usually entertained and resolved by the HR Department. Grievances Redressal of employees is treated as the most critical function of HR Department for employees satisfaction and ways the employer can sustained good working relationship.
Labour management relations
For the smooth operation of any organization, it is crucial to have good labour management relations. HR department has to ensure that these relations are cordial. In case of any labour management conflict the HR Department will play a vital role in bringing both management parties to the negotiation table and resolving the issue. HR Department is a facilitator between workforce and management for maintaining a cordial industrial relation for betterment of organisation and its people.
Implementing organizational policies
Formulating and implementing organizational policies in a proper manner is the main task of HR Department. In case of non-compliance of organizational rules and regulations, disciplinary actions can be initiated against employee by HR Department. HR Department has to ensure that a cordial and conducive atmosphere prevailed in an organization for its smooth functioning.
Dismissal and redundancy
Every organization has its defined "Service Rules", whereby code of conduct, rules and regulations are prescribed for employees to govern by it. In case of non- compliance of any rules and regulations or violation of code of conduct amounts to firm action initiated by HR Department. Any action related to dismissal and redundancy of employees is under the preview of HR Department.
Sometimes, an organization may no more require the services of an employee. The employee may be made redundant. HR Department has to ensure that organizational and government regulations are being followed in this process.
HR Department is considered as a pillar of the organization which can bring transformation and revolutionary changes in the organization.When everything is said and done it will be readily admitted that the contribution of HR Department to a organization in general and to its people in particular is to help build its people and organization. It is only the courage, principles, innovation and relentless focus on execution by HR Department will carry an organization to greater success . No company can achieved success without a long journey of aspiration, hard work,commitment, focus , hope, confidence and sacrifice of HR Department.
– Debleena Sinha