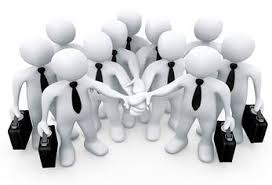 The role of Human Resource Department is related to the proper functioning, administering and developing the organisation's human resource. Human Resource Department performs two kinds of functions that are Managerial and Operative functions.
Managerial Functions
1. Planning
Planning includes determining the workforce that will help in achieving the goals of the enterprise in advance. Planning involves who is to do the work.
 2. Organizing
Organizing consists of division of work and designing the structure of relationships among personnel and physical factors as per the plans laid down.
 3. Directing
Direction is beneficial for the organization as it helps in instructing, guiding,communicating and motivating the people to act effectively.
4. Controlling
Controlling means ensuring whether the actual progress is relevant to the objectives or not. Causes of deviations are found out and corrective actions are taken so that the mistakes are not repeated.
Operative Functions
 1. Recruitment
Recruitment is the process of making available the prospective employees to fill different vacant post in the organizations. In simpler words, it refers to attract the pool of applicants for a particular job application.
2. Training & Development

Training refers to the improvement in the current job performance. It helps in enhancing the knowledge and skills of the employees. Development means to make employees expert in all the fields i.e. to develop versatility among them.
 3. Compensation & Benefits
An another important aspect of the human resource department, includes not only the salary but also the indirect and the direct rewards and benefits provided to the employees in return of their contribution to the organization.
4. Employee & Labor Relations
Employee relations includes various employee related activities  such as reward and recognition programs, handling workplace issues, identifying employees complaints, performance appraisals, ensuring HR compliance with employee's laws and regulations.Labor relations includes negotiation of union contracts, collective bargaining agreements, employee 's grievances.