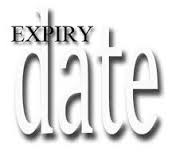 Derivatives, namely Options, Futures, Forwards and Swaps, are time bound instruments. Like we have already studied, they have an expiry date, a date beyond which they cease to exist. But, how do we decide this date.
Since the regularization of the options trading, that is when options were first introduced in June 2001, we have made options a standard instrument, and not a tailor-made instrument or Over-The-Counter (OTC) instrument. This means that we can't allow the trading parties to decide the expiry date on their own.
Thus, the exchanges were given the duty to define the expiry date for instruments traded on their exchange. We shall here talk about the NSE, as it handles about more than 90% of the options traffic in the country. The NSE has fixed the last Thursday as the expiry date for each month. Moreover, it provides options for at least 3 successive months- Near, Next and Far.
Suppose that I purchased a call options on the NIFTY of the strike price of 8000, on 16th June, and the option is of the Far month, it means that the option expires on the last Thursday of August. Similarly, options that expire in Near and Next months will expire on the last Thursdays of June and July respectively.
The NSE also provides us with contracts for the next three quarterly closings, that is, the applicable ones from March/June/September/December. Apart from these, the a minimum of 3 years half-yearly options of the months of June and December are also to be made available by the exchange at every time.
Click here for government certification in Accounting, Banking & Finance