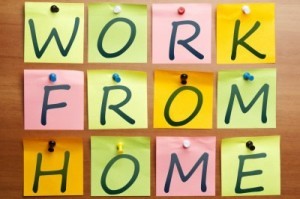 As you go to any Starbucks near you, you find employees working even on their breaks. Having a jaw-aching-permanent-smiley-face meeting with a client or looking at the same computer screen, doing the same work just at a different table is on their daily to-do list. By looking at them, you wonder at the kind of life you'll have in a few years, the kind of monotonous routine you'll helplessly accept as your future.
Come to think of it, a job where you can relax in pyjamas, work late nights on weekdays and maybe noon on weekends because, party time! No, it's not one of the Kim Kardarshian or Paris Hilton sort of jobs where you're being paid for… existing? We're talking about "Remote Jobs". Loosely speaking, remote jobs are work at home employment opportunities that provide a respectable title as well as a handsome payment, if found the right one.
As websites like FlexJobs, Working Nomads, Staff.com are popping in every state and country, finding the profile suitable to your needs is now a piece of cake. To top it all, they practically do all the work for you. A complex algorithm searches for acceptable, most appropriate job offers for you on the basis of the details you give on your profile. The outcome is a filtered list of suitable employers, all set to go in your e-mail, every week!
This works both ways. Not only do they help provide employment opportunities to situation-struck people, it delivers quality workforce to firms looking for them. The ones most benefited are the enterprises that don't have enough infrastructure to support a large staff or the companies looking for expansion. The types of jobs available might be part-time or full-time on the discretion of the employee and the employer but the result is the same- better job offers, higher employment opportunities, more suitable work field and a happily ever after…