Digital Media is an emerging field, which has a wide scope. Various designations are possible in this field. Nowadays, everything is becoming online. Even, our government wants us to do everything online (Digital India). So, the growth of someone, who chooses this as a field is quite good.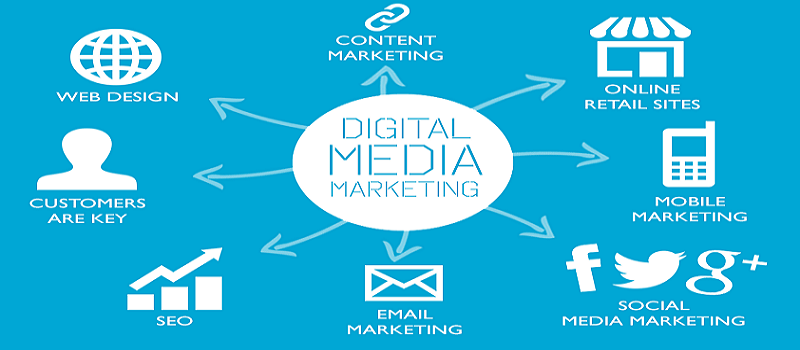 Jobs Trending under Digital Media
Analytics managing
The main role is to track progress with Google Analytics, giving suggestion and implementation of every possible way for the growth of business.
Email marketing
It is all about sending email, creating attractive contents for email and acquiring customers via emails.
Content Marketing
This role is so important as the content of the website mainly decides the success of the business.
Pay per click/Search engine marketing
We are aware of many brands because of the advertisement. Search engine marketing allows us to display our website on the very first page of search with investment. Pay per click is a way to get maximum return and reach many people with minimum investment. So, every word used in SEM and PPC is going to make or break a campaign.
Search Engine Optimization
The role includes both on page and off page optimization. On page optimization is something that we do on website like links inclusion, call to action, contact us, FAQs etc…Off page optimization is something that is done outside webpage like writing review, giving rating, social media marketing etc.
Social Media Marketing
Social Media Marketing includes marketing by creating and developing curious contents and thereby acquiring the customers.
Web developer
The role is to develop the website user-friendly, mobile-friendly and attractive
Customer Relationship Manager
The role is to deal with existing customers and generating new customers.
Salary in Digital Media
The starting salary is somewhat low. It will be decent if you have great knowledge about the field. But, with experience, you can get good salary.
Future
Future will be bright, if you choose this as your field, as it is an emerging field.
Dependency
You don't need to depend on someone for salary, you can do one among the following instead:
If you have a sparkling idea and knowledge on digital marketing, you don't need to depend on anyone. You can start a digital marketing company.
You can start digital marketing training center, if you feel you have good knowledge in that field.
Opportunities
There are various roles as well as so many companies for digital marketing which keeps on hiring digital media experts.
Conclusion
Everything is becoming digitalized. Even a small shop in our area started creating Facebook page and adding it to google local dictionary. The power of digitalization is so high, that's why even government started Digital India project. It's easier to get customers online than via traditional way. Every company started investing for digitalization and searching for good talents for various roles in digital marketing. Choosing digital marketing as a career is a wise choice, as career scope is good and the change in scope will be positive.
Content Submitted By
Kiruthiga S. (Vskills Intern)
Government College of Technology, Coimbatore