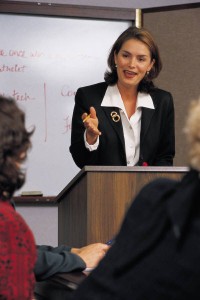 This can be an important tool for "selling" or explaining your ideas, or for handling personal, sensitive or emotional issues. Here are some tips that can help make speaking face-to-face as effective as possible:
Plan ahead and make a list of points you want to cover. Tailor your remakes to your audience.
Get comfortable. Whether sitting or standing assume a relaxed yet professional posture (no slouching).
Maintain eye contact.
Be aware of body language-yours and your audience's. Beware of fidgeting or uninterested expressions- they could indicate that you're losing your audience's attention, or that they are losing yours!