No matter! You are a novice or a seasoned professional, starting your career in the logistics and supply chain industry can surely give you an edge. However, choosing the best certification can be difficult.
So, in this article, we will talk about the pathway and some other important things about logistics and supply chain. Let's, first understanding the basics of logistics.
Logistics: Overview
Logistics is a part of the supply chain process that includes planning, implementing and controlling storage of goods, services, and related information, in order to meet the customer's requirements. However, the main objective behind logistics is to provide surety that the customer receives the desired product at the right time and place with the right quality and price. Further, this process can be divided into two subcategories, inbound logistics, and outbound logistics. Where Inbound logistics covers the activities concerned with obtaining materials and then handling, storing and transporting them. On the other hand, Out-bound logistics covers the activities concerned with the collection, maintenance and distribution to the customer.
Role of Logistics in Manufacturing
In manufacturing, logistics is responsible for getting components into the manufacturing plant and further, how to get the finished product delivered to the customer. And, this involves good planning and analysis, especially for large companies with many products and components. Moreover, the Logistics specialist provides the surety that the parts will be available at the right time. Logistics specialists are trained to find a unique way to get these parts to the manufacturing plant.
In the next section, we will talk about the key differences between logistics and supply chain.
What makes Logistics different from Supply chain management?
Some key differences between the two terms are,
Firstly, Supply chain management links with the major business processes across companies into a high-performance business model that drives competitive advantage.
On the other hand, Logistics refers to the movement, storage, and flow of goods, services and information inside and outside the organization.
However, the main focus of the supply chain is a competitive advantage, and for logistics, it is to meet the customer requirements.
Logistics has been used for a very long time, emerging from its roots, whereas supply chain management is a new term.
Most importantly, logistics is an activity within the supply chain.
Coming on the part of the certification.
Logistics and Supply Chain: Certifications Overview
Logistics and Supply Chain Management certification is known to have the most powerful source for providing a competitive advantage. Due to its popularity, more aspirants are showing their interest in becoming Certified Logistics and Supply Chain Management Professional. However, pursuing this certification will help you in learning about analytical tools and various approaches in the operation of logistics and supply chain systems. Moreover, you will learn about developing logistics networks for minimizing costs and delivering the best customer service.
But, in every certification, there are some basic skill requirements and exam concepts that you need to focus on before applying or preparing for the exam. So, let's get started with it.

Skills Requirements
The logistics industry is built on the mathematics of distribution as many companies use equations and computer systems for analyzing the market factors. Moreover, this not only includes mathematics but the logistics industry has a wide variety of employees in many different roles. Some of the skills include,
Quantitative Math Skills
The important part of any logistics business is data. As many companies are dependent on data to evaluate their performance and to recognize trends or problems. And, this requires familiarity with planning logistics concepts, spreadsheet data management, and statistics applications.
People Skills
Logistics companies require communication between many parts to identify problems and make changes. For example, analysts who have solved the problem must be able to tell importers and exporters how to implement that solution.
International Business Skills
Many logistics companies depend on professionals who have knowledge of international laws and regulations. And, this knowledge comes from experience as an importer/exporter having knowledge of the international business.

Management Skills
Roles like consultants, who are working with clients on specific problems have to manage their client relationships including the staff working on their project.

Important Topics for the Exam

Introduction to Logistics
Supply Chain Management
Materials Planning
Warehousing
Inventory Management
Logistics and SCM Theories
Logistics Network Planning
Supply Chain Design and Analysis
Tools and Techniques for Logistics and SCM
Quality Management
Future Development
But, the thing that needs to be highlighted here is that is no official certification for logistics professionals as there is no direct authority. Therefore, you may come across many bodies providing the same. So, in the next section, we're providing our top training providers for the Logistics Certifications.
Top Certification Bodies
If you are willing to understand and become advanced in logistics then there are many websites and portals that provide training for this exam. Here, you will get to learn all the core and advanced concepts of logistics and supply chain management. In addition, you will get the best study material including practice tests. The training providers include,
Vskills
APICS
IISCM
Academic Courses
Cilt International
In the next section, we will talk about the steps to learn logistics.

Preparing for Logistics Exam
Getting certified in logistics and supply chain management will help you develop and learn to apply analytical tools with different approaches in the operation of logistics and supply chain systems. In addition, you will learn to design and setting up a warehousing facility. Moreover, this certification will also teach you about developing logistics networks in order to minimize costs and deliver the best customer service. Below, there are some ways that can be helpful that includes,
Joining Training Course
This will help you to gain knowledge and become advanced in areas of logistics that includes,
Firstly, Logistics Manufacturing & Material Management
Secondly. Distribution Channel Management
Thirdly, Warehouse Management and Control
After that, Transportation and Supply Chain Management
Then, Distribution and Networking in SCM and so on.
Moreover, the benefits of taking an online course are that you will well study material including tutorials on Logistics and Supply chain. In addition, you will get expert assistance to solve all your doubts and queries.
Practice test
We all know the importance of practice tests when we prepare for the exam. Practice tests can help you to know your weak points and then get perfection in that. That is to say, after completing the topic try to assess yourself using the practice test questions. There are various training providers that even provide free practice tests for logistics to help you in the preparation.

Logistics: Job Roles and Responsibilities
The basic Logistics responsibilities include,
Firstly, planning warehouses and distribution centers for efficiency in both operations and capacity
Secondly, organizing transportation activities, including storage of goods, managing information accrued from point of origin to delivery, orchestrating transportation movements, and arranging for services as necessary
Thirdly, coordinating and tracking the movement of goods through logistic pathways
Moreover, executing the logistics plan to move products and packages to reach destinations.
Lastly, maintaining the quality throughout the logistic processes
Top Job Roles for Logistics and SCM Professional
The top job roles include,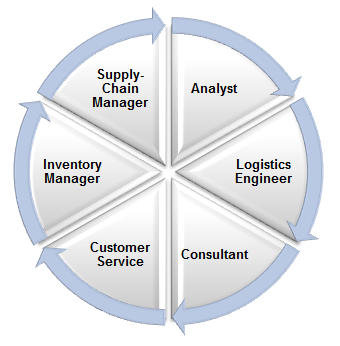 Analyst
The analyst is the entry-level logistics position in which there is a collection of data and then analyzing process is done to look for problems. For this, basic understanding of logistics planning is required with good mathematics skills.
Logistics Engineer
A successful analyst can be promoted to Logistics Engineer. However, the task of an engineer is to evaluate the supply chain and logistics systems for trends or problems using computer systems and mathematics.
Consultant
Consultants work directly with clients with implementing logistics solutions for specific problems. And, this requires the consultant to be a free agent that moves from city to city solving problems.
Customer Service
Customer service specialists do not require college degrees or entry-level knowledge of logistics, but knowledge of logistics offers both clients and customer service representatives a greater grasp of the situation.
Inventory Manager
Inventory managers check the collection of resources and material goods. Moreover, they are responsible for identifying problems with inventory and implementing solutions by managing data and computer systems. And, they generally have experience with logistics and importing/exporting.
Supply-Chain Manager
Supply-chain managers supervise the entire supply chain including purchasing, warehousing, inventory, and production. Moreover, supply-chain managers should understand logistics planning in order to predict long-term financial needs.
Top Recruitment Companies for Logistics and SCM
The top companies hiring for logistics and supply chain includes,
Microsoft
Flipkart
Nokia
HCCBPL
Citrix
Flex
Average Payscale
The average base salary of a logistic supply chain is Rs. 497k per year. Moreover, this salary can change depending upon the experience and the companies.

Below there is a chart showing an average base salary of some top companies.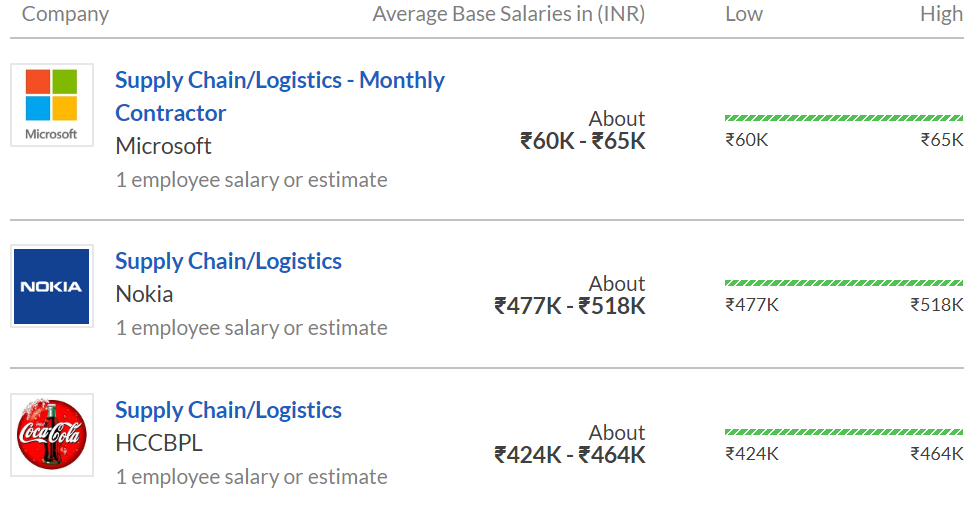 Expert Tips
Getting certified in Logistics will provide many advantages in your career as it is a growing industry. Moreover, it will provide you access to explore many new opportunities with a large salary pay. So, get started with the logistics certification and enhance your career in this field.
Learn and enhance your logistics and supply chain skills with hundreds of free practice questions on Vskills. Become a Certified Logistics and Supply Chain Management Professional Now!