Do you have an interest in finding patterns in numbers, predicting future outcomes, and using that knowledge to achieve organization goals? Then, data science is the perfect place where you need to be. Data Science Certifications provide you with proof of the qualities and knowledge you have. Moreover, for beginners, it is the key to having an aspiring excellent career.
Before knowing about the ways to learn data science, let's have a brief about the basics of it.
Data Science Overview
Data Science has shown rapid growth in the past few years. Many new startups are focusing their businesses using data science technologies. Talking about jobs, the number of data science jobs have also increased in the past few years. And, these numbers are growing at a constant rate as well as are the number of positions. As a result, top companies have shifted their base from traditional software development and are adopting Data Science.
But, one question arises here that is, why is it in demand? Let's put some light and understand the need for it.
Is Data Science in demand?
There are a few points that will help to know about the importance of data science.
Firstly, the supply for Data Scientist is intensely rare, but the demand is large. And, this supply-demand gap is limiting its size as there are many data scientists who are entering the job market.
Secondly, the Data Science professionals have knowledge of at least one programming language as well as experience in tools like Hadoop, Spark, NoSQL. Not to mention, all these skills are usually hard to find in one person.
Due to its high demand, the salaries for the position have also increased. And certainly, this job is among the highest-paying in the industry right now.
Data Scientist: Knowledge Requirement
In the Data Science field, you must have the required skills to dive into the world of data. However, it doesn't matter whether you are an expert or not because the data scientist is available for all. Below we will see the different areas where data science is applicable and what knowledge you should have. So, let's begin with BI.
There is a big similarity between Data Science and Business Intelligence as they both focus on data to provide outcomes and offer reliable decision-support systems. The BI works with static and structured data whereas Data Science handles complex and multi-structured data from data sources. Moreover, BI helps illuminate the past data for reporting and Data Science analyzes past data to make future predictions in predictive analytics or prescriptive analytics.
Statistics and probability
Probability and statistics refer to the basics of Data Science. Where Statistics means using mathematics to perform technical analysis of data. And, using statistical methods, the estimates for further analysis. Statistical methods are mostly dependent on the theory of probability, to make predictions. However, as a beginner data scientist, you can start with basic statistics concepts that include,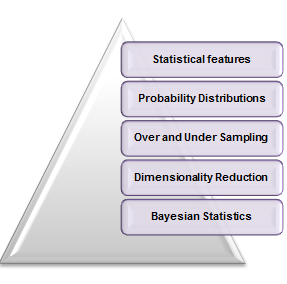 This area is quite complex and requires high-level knowledge as a large number of data scientists are not proficient in Machine Learning areas and AI techniques. However, in Data Science you have to work on large amounts of data sets that require knowledge of machine learning techniques.
Whereas, at the entry-level, Machine Learning does not require much knowledge of math or programming, just interest, and motivation. The ML has three main categories of algorithms that include:
Programming Language you must know to become a Data Science Pro!
Data Science is a good field to work in, as it will advance your statistical and quantitative skills with real-world programming. Moreover, you can choose a programming language according to your background. Not to mention, the most popular ones are,
R Programming
R is a powerful language designed for Data Scientists. Moreover, it stands out a huge variety of statistical and data visualization applications. And, R is considered as a magnificent tool for solving complex statistical problems. However, to turn into a proficient Data Scientist, it is necessary that you learn R.
Python
Python refers to a common language in Data Science. Because of an all-rounder, Python can be used in almost all steps of data analysis. Moreover, it allows you to create datasets and is perfect for entry-level and easy-to-learn.
SQL
SQL is considered as a data processing language rather than as an advanced analytical tool. And, it helps you to perform operations like add, delete and extract data from a database and transforming database structures. Even though NoSQL and Hadoop have become a large component of Data Science, still data scientists can write and execute complex queries in SQL.
Advanced Microsoft Excel
Excel is a perfect tool for Data Science and is generally utilized for data analysis, making spreadsheets, perception and complex calculations. Moreover, you can actualize the essential ideas of Statistics in Excel.
Based on the above skill there are levels of certification that are available to become data scientists.
Top Certifications For Data Scientist
To get started with Data Science, there are a few certifications available in the market depending upon the skills and programming knowledge you have. Some of the top certifications that can choose as a beginner includes,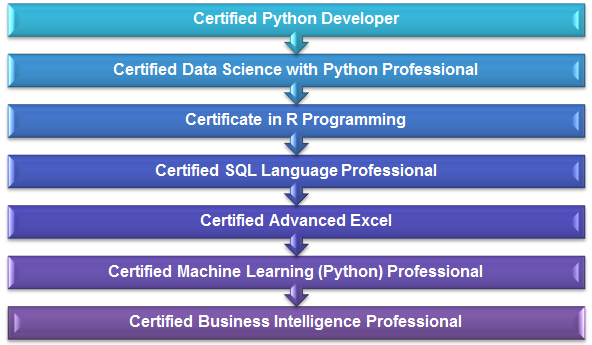 Top Certification Providers
Getting certified will provide value to your resume that will help you a lot during the hiring process as well as it will enhance your skills. And, there are various certification bodies that can help you in becoming a professional in Data science. These certification bodies help you in understanding the concepts of data science according to your field. However, you have to select the certification that matches your profile and the knowledge you have. The certification providers include,
Vskills – India's Largest Certification Body
Edureka
Udemy
Simplilearn
Coursera
Things to Consider as a Data Scientist
There are several things to take into consideration in Data Science.
Analytical Mindset: This is a common requirement for any person working with data. However, it is required to have a statistical background and good knowledge of data structures and machine learning algorithms.
Focus on Problem Solving: The goal of Data Science is to solve problems by extracting the knowledge from data. And, a data scientist first understands the problem after that it defines the requirements for the solution to the problem.
Domain Knowledge: Data scientists need to understand the business problem and then, choose appropriate models for the problem. Moreover, they should be able to understand the results of their models.
Communication Skills: Data scientists should be able to clearly document their approach so that anyone can easily understand research work published in their area.
Value of Data Science in the Industry
Data science is considered as the best field. Also, you can get the highest paying job depending upon the role. Below there are various jobs of data scientists.
Top Job Roles in Data Science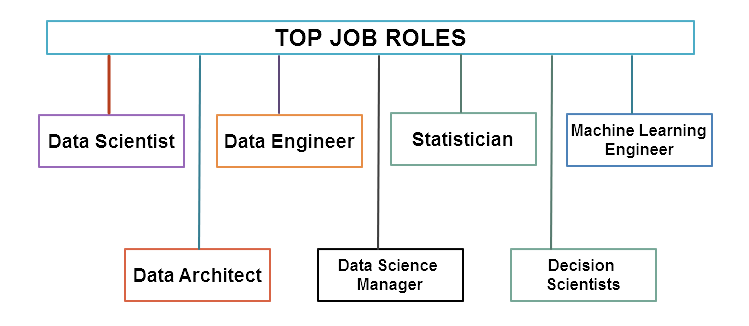 Data Scientists are analytical experts responsible for finding visions and patterns in the data. Moreover, a Data Scientist is responsible for handling raw data, analyzing the data, implementing various statistical procedures and visualizing. For this role, you must have knowledge of various tools like Hadoop, R, Python, SAS, etc.
Data Architect performs operations like implementing the blueprints of a company's data platform. Moreover, it organizes and manages data at the macro level and micro level.
Data Engineer performs operations that include building big data pipelines and models for the data scientists. Moreover, the knowledge of database models and ETL are the most essential requirements for a Data Engineer.
Data Science Manager role includes handling and managing projects. And, it is required to have an average of five-year experience in any of the data science domains like data engineering, data analysis.
Statistician uses statistical modeling for understanding various trends in the market. And, a statistician is responsible for implementing A/B testing, describing data, developing inferential statistical tools and performing hypothesis testing.
Machine Learning Engineer
Machine Learning Engineer have operations like tailoring machine learning models for performing classification and regression tasks. Moreover, it has the knowledge of various techniques like clustering, random forest, and several other deep learning algorithms.
This field is new in data science, where a decision Scientist helps the company to make business decisions with the help of tools like Artificial Intelligence and Machine Learning. However, it is a part of data science used for design thinking and behavioral sciences to better understand the clients.
Data Science salary based on Industry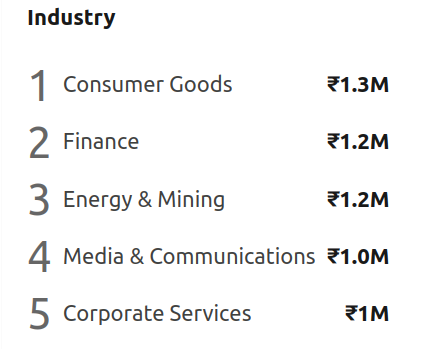 Top Companies that Hire!
Roadmap to becoming a Data Scientist
Data Scientists require proficiency in fields like statistics, mathematics and computer science. Moreover, to become a Data Scientist, you must be familiar with various topics of Data Science. However, you must start step by step preparing for the exam. Below you can see the steps.
Aim for the goal
If you have a good interest in solving problems, finding patterns and understanding the problem logic then, this is the perfect field for you. Moreover, it is important to know that Data Science is spread over multiple disciplines, so you need to have the right analytical mind. Furthermore, you must be able to translate business problems into Data Science.
Achieve Data Science Certifications
In the data science industry, certifications will help you to prove your skills. Moreover, there are several certifications offered by many training providers. So, you need to select the certification according to the skills and languages you are familiar with.
Start taking Projects
Taking projects will help you a lot in gaining experience in data science. There are various sites available from where you can take the projects and start working on them. Moreover, this will help you earn a good reputation in the Data Science world. This will help your resume to not get buried under the mountain among other applicants. For this, you must have the statistical knowledge and programming skills to do projects.
Join groups and community
Engagement and joining the data science community matters as this will help you to build a strong presence online. Furthermore, you can get answers to all the queries you have.
Practice test
The field of Data science requires performing operations and this needs a good practical knowledge. So, when you are preparing to pass the certification exam you need to study as well as practice for the exam. And, to get the best practice you can take help from the various sources that provide free practice test questions for data science. The main reason for practicing is that this will help you point out your weak points and then work on them.
Summing up
Data Science is a wide field that includes various fundamentals subjects. So, to get advanced in these subjects, you must have the right direction. And, there are various statistical techniques and tools that a data scientist must be familiar with. Also, a data scientist should have strong communication skills to explain the findings in a very easy to understand language as well as the core knowledge and technical expertise in data science. At last, your future is in your hands, and this is the time to make it secure. So, prepare well and become a professional.
Learn and enhance your data science skills. Become a Certified Data Science with Python Professional Now!